Custom Pop Up Tents Made For Events & Outdoor Experiences
Heavy-Duty & Battle-Tested for All Types of Weather
3-day Turnaround | 100% USA-made | Free Mock-ups & Renderings
Custom Pop Up Canopy Tents Printed with Your Logo & Branding
If you're investing in a custom pop up tent, you want to invest in a heavy duty frame that is battle-tested and designed to take a beating. Between unpredictable weather, frequent setup and takedown, and transporting your customized tent between events, the unexpected is bound to happen. To help protect you from the unexpected, we manufacture our custom tent canopy from 600 denier polyester with your custom graphics and a robust aluminum frame and tent leg that comes with an all-terrain carry bag. As the manufacturer, we control quality rather than outsource it—in fact, we take great pride in our craftsmanship and offer a Lifetime Frame Warranty on all our MONARCHTENT lines.
Professional Pop Up Tent Models
PROFESSIONAL HEAVY DUTY POP UP TENT
MONARCHTENT
Lifetime Frame Warranty
Think of MONARCHTENT as outdoor event armor—specially designed to protect your brand, your team and your investment. The all-weather, all aluminum pop up tent model is engineered for lifetime use and backed by a lifetime warranty. It's also made 100% in-house—so you have a full range of customization options to help you stand out & capture the attention your brand deserves.
Choose from standard and custom pop up tent sizes, custom printing and accessories like custom walls, footplates, counters, peak flags and more.
MEDIUM DUTY POP UP TENT
mightyTENT
5-Year Warranty
If you still care about quality and durability but don't necessarily need the best, mightyTENT is a great introduction to the world of professional-grade pop-up tents. The mightyTENT frame design and construction uses less aluminum and contains fewer features to offer a lower price point compared to the heavy duty MONARCHTENT model. Visit the mightyTENT product page to learn more about available sizes, custom printing options and accessories.
Not sure about which pop-up tent is right for you? Here's an in-depth comparison of MONARCHTENT and mightyTENT.
BILLBOARD-STYLE CANOPY TENT MODEL
MONARCHSTOREFRONT
Lifetime Frame Warranty
The STOREFRONT canopy is another customizable pop up tent variation that helps you stand out and attract more attention. This quick-deploy event tent can be used two different ways. Use the taller front face like a billboard or flip it around and position the taller face against a building for a sloping awning.
HEXAGON-SHAPED CANOPY TENT MODELS
MONARCHHEX
Lifetime Frame Warranty
The MONARCHHEX uses the exact same heavy duty framework as the MONARCHTENT but in a hexagon shape. Six sides gives you more branding and a 360-degree experience. Counters can be added around the perimeter to support concessions, sampling, ticketing and many more outdoor experiences. A HEX-TEND model is also available, which gives you a hexagon shape but with an elongated middle.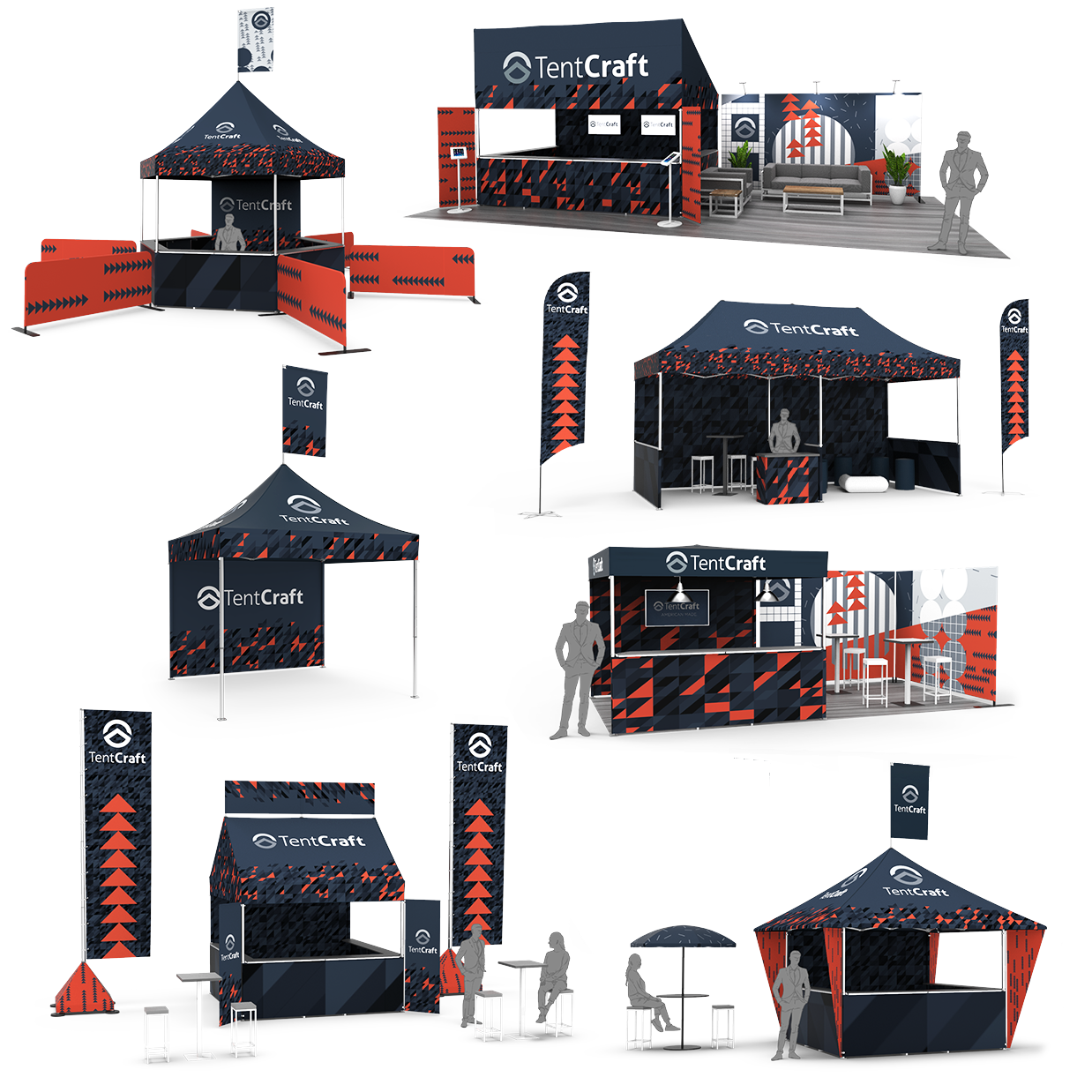 The MONARCHTENT Collection
One framework. Seven canopy tent designs.
The MONARCHTENT Collection started with our standard peak canopy and evolved into a handful of unique designs that let event power users stand out in a sea of boring tents.
Manufactured using American ingenuity in our production facility in Traverse City, Michigan, MONARCHTENT is as heavy duty — and custom — as it gets for pop-up canopy tents. We have some much confidence behind the durability of our tents that all frames include a lifetime warranty.
You're in the right place if:
You're looking to invest in professional, lasting quality
You've experienced the frustration of having to replace poor quality
You can't afford to misrepresent your brand
You're looking to stand out and capture more attention
You need something fast
You value American made products
You need a custom event tent built for heavy use
You believe that investing in quality is cheaper in the long run
You're comfortable investing at least $1,499 toward a professional pop up tent that is customized with your branding
You expect professional, responsive service before, during & after your purchase
You expect claims of "amazing customer service" and "lasting product quality" to be backed with case studies and customer testimonials
You want an event setup that can be rebranded and scaled over time
You want to work with a company that will make it right if something does go wrong
You want someone who takes the time to answer all of your questions and helps you feel confident and well-informed about your options
Understanding Your Options for Personalized Pop Up Tents & Accessories
Determining which type of custom pop up canopy is best for your needs can be a time-consuming process that leads to more questions than answers. Our goal is to answer all of your questions and help you feel well-informed in your purchase experience on all things from pop up tents, to customization, and accessories. As the manufacturer we are not only an industry leader when it comes to heavy duty pop up tents, but we also know what solutions could best meet your needs like an easy transport carry bag or a custom printed tent wall. We are here to help you throughout your buying experience—even if we're not the right fit, we can still help you navigate the marketplace and provide a recommendation.
Comparing Pop-Up Tent Models
When it comes to pop up tent models, there are two frame options: steel or aluminum frames. Steel frames are cheaper while aluminum frames last longer and provide greater durability.
Read: Steel Pop Up Tents vs. Aluminum Pop Up Tents: An Honest Comparison to learn more about the pros and cons for each frame type.
If you've decided that quality and durability are important for your needs, then you're in the right place. We make two professional pop up tent models available in standard and custom sizes. Both models can be fully customized with your logo and exact branding. We can accessorize and build additional features like heating and lighting, tent walls, counters, and a matching table cover—the options are endless when you invest in a custom canopy that is 100% USA-made and built to last.
We make two battle-tested and professional grade pop up tent models that can include a customized canopy. Our MONARCHTENT features an all aluminum frame that is heavy duty and includes a lifetime frame warranty. The mightyTent features a more efficient medium-duty frame design to better balance budget and quality.
Some competitor tents cut corners when it comes to product design, materials, features, and attention to detail but we take pride in offering both durability and quality. You'll find that TentCraft is at the higher end of the market—and you know the saying: you get what you pay for! We're focused on being the leader in the industry, which means we can provide cutting-edge frames, fabric, custom printing, and a pop up canopy tent that's made to last! We protect your investment by representing your brand with the lasting quality and durability it deserves. While most companies import frames, our pop up tents are built-to-order, making your event tent or promotional tent the best it can be.
Standard & Custom Pop Up Tent Sizes
While most brands require a stand pop up tent size, like 10x10, 10x15, or 10x20, our pop up tents can be made in custom sizes to best serve your needs. Whether you need a specific size, or a telescopic leg design for additional height, or a custom printed tent wall, chances are we've done something similar in the past. You can also connect custom pop up tents together to create unique shapes or layouts such as "L-Shape" or a "U-Shape." Bottom line—you're not limited to anything standard by going with TentCraft because we design and manufacture everything we make. We can even build you custom solutions such as a full tent wall or half wall, unique height adjustments, a matching table cover or banner, and endless support to help you through the artwork and design process.
Standard Sizes:
5X5
10X15
15X15
5X10
10X20
13X20
10X10
13X13
13X26
8X8
10X30
Here's How to Get Pricing on Your Project
Understanding Customization Options
Custom Printing
When adding your company logo to your custom canopy tent, walls, and other event signage, the quality of the printing process matters. We use dye sublimation, which is one of the best methods for displaying graphics outdoors. We utilize dye sublimation on the canopy and tent walls because it's less prone to scratches, scuffs, and fading. Like the aluminum frame, printed tents and event signage handle a lot—constant folding and unfolding and spending hours under the sun—that's why we take your investment seriously and provide you with the best quality printing possible.
Black Frames
Black frames are a unique option to customize your pop up tent and help your brand stand out. Most companies only offer frames in clear. Because we make our frames in-house, we're able to offer both standard (clear) and black anodized aluminum frames.
Accessories and Add-Ons
Pop up tent accessories and add-ons create opportunities for differentiation, additional weather protection and support specific use-applications like concessions, sampling and retail sales.
Full Walls and Half Walls
Printed tent walls are the most common pop up tent accessory. Not only do they provide additional shelter from wind and rain but also give you additional real estate for brand messaging and graphics. We've helped brands customize their pop up tents to reflect their product packaging, look like the interior of their restaurant or to support a mobile tour and experiential activation.
Peak Accessories: Custom Flags, Banners & Toppers
Some pop up tent models, like our MONARCHTENT, feature special peak hardware that allow you to add a printed peak flag, banner or custom logo topper. Most brands use the accessory to communicate event-specific messaging such as "Free Samples" or display their logo and tagline. Either way, peak top accessories are an ideal opportunity to stand out at an event filled with other branded pop up tents.
Counters
From breweries to mobile food vendors, pop up tent counters are perfect for use applications like sampling, food vending and event registration. Installation takes a couple minutes and requires no tools. The entire kit also breaks down to fit into a transport case.
Leg Clamp Hardware: Flags & Signage
Like peak top accessories, leg clamp hardware allows you to display additional printed event signage like flags, menu boards, logo cutouts and other custom tent accessories.
LED Lighting Kits
Some events like concerts and microbrew festivals start in the evening and run late into the night. LED light kits keep your brand illuminated, supporting foot traffic and engagement as late as you need.
Technology Mounting Hardware
Many brands are looking to incorporate technology into their outdoor event experience. A heavy duty pop up canopy like MONARCHTENT is built to support technology integration. Whether you want to mount a TV, iPad or projector—it can be done.
Custom Fabricated Accessories
Sometimes you might need something that isn't considered a standard pop up tent accessory. Maybe you need one side of your pop up tent to have custom shelving for displaying product or maybe you want to attach a custom backdrop for selfie opportunities with your brand. Our custom fabrication capabilities can support any crazy idea or napkin sketch. Just ask.
Other Event Signage
There are also printed event signage products that aren't accessories but are often included in custom pop up tent packages or bundles. Some of these products include:
Peaked Roof or Flat Roof
While a traditional, peaked roof is most common for branded tents, sometimes you want a pop a structure but don't necessarily want it to look like a pop up tent. A flat roof pop up tent may give you that look. You can even have a fabric ceiling created to hide the scissor elements.
Laser Frame Etching
Laser etching is a very niche customization feature. We haven't seen any other pop up tent companies offer it—so it may be exclusive to TentCraft. Etching is available on the legs of the pop up tent. Whether you want to add your logo, brand messaging or even tag all of your pop up tents with property of _________, it's a unique add-on.
Custom Head Clearance / Leg Heights
Another niche customization feature is to have shorter or longer legs created for your pop up tent. We've had customers attend events that required a specific head clearance. We've also customized our frames for a number of brands within the drone industry—creating pop up drone containment cages to demo technology. Some of these tents require a 15' or 20' head clearance.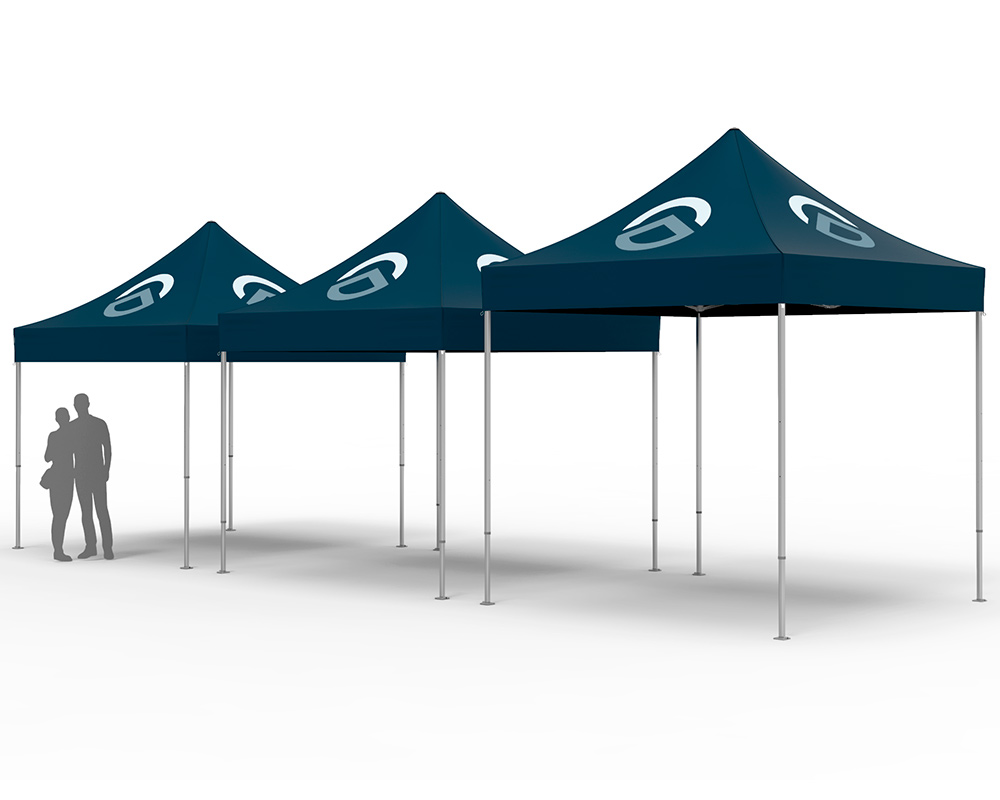 Need More Inspiration?
What do people normally buy? This is a pretty common question when folks are trying to decide on the right pop up tent setup. With countless accessories and customization, options can be a bit daunting, so it makes sense to share the most common configurations that businesses and brands have found success with in the field. None of these the feel right? Ask one of our event experts about our custom frame and accessory options.
6 Of the Most Common Configurations for Customized Pop Up Tents
We're often asked about the most common pop up tent configurations. After a deep dive into the customer vault, we pulled together the 6 most common configurations for custom pop up tents. Custom 10x10 pop up tent pricing starts around $1,499.
How to Get a Price Quote for a Custom Pop Up Tent
If you're ready for a detailed price quote, you can click the button below to launch the quote request process. We also provide FREE renderings and mock-ups to help you visualize a custom pop up tent with your branding and artwork.
FAQs about Custom Pop Up Tents
How much does a custom pop up tent cost?

It really depends. You'll find pricing all over the place—from $500 to $3,000 for a custom printed 10x10 pop up tent. The frame design, quality of materials, and labor all impact cost. While steel pop up tents are the cheapest, they aren't designed for frequent use nor can they handle heavier winds and rain. Most brands expect greater durability and a longer product life which is why aluminum frame pop up tent models make up the majority of the custom tent market. There are two categories of aluminum frames: medium duty and heavy duty. Heavy duty frames feature an all aluminum frame construction with tent leg diameters closer to 2" and a thicker wall construction (think pop can vs soup can) and have thicker, reinforced footpads. Medium duty frames use engineered plastic in the connecting elements and less overall aluminum so they're not only lighter but also have a lower price point. The quality of materials and design also impacts the cost. Many custom pop up tent suppliers import frames from overseas and only make the canopies. While this model gets you cheaper labor and materials, this often comes at the price of material quality or frame design. You're also not able to make improvements or customize the frame as most pop up tent suppliers are not the manufacturer of their products—they are often the reseller of imported goods. There are a few companies like TentCraft, who manufacture the entire pop up tent in-house—creating full control of quality—including material grade, frame design and construction, product enhancements and customization. This is why our custom made tents are going to be on the higher end. On average, our customers are investing $1,500 to $3,000 for a custom 10x10 pop up tent. For many brands, that may seem expensive. However, we didn't design our tents to be expensive—we designed them to last.
Can I have a pop up tent made in a custom size, shape or height?

Short answer—yes. While there are standard sizes, pop up tents can be made in custom sizes and heights if you're working directly with the manufacturer. There are some limitations as you're working in specific size ratios like 1:1, 1:2, 2:3, 2:4, etc. If you're looking for something custom, provide us with the dimensions you're looking for and we can work with you to make it happen.
What is the turnaround time for a custom pop up tent?

First thing is to establish what turnaround time means. Some individuals refer to turnaround time as when the product is received and some refer to it as when the product ships. At TentCraft, our turnaround time is based on when your order ships.
Our turnaround time varies from week-to-week. Sometimes we're able ship orders out in 3-4 days and other times a big project may come in and push turnaround time out to 7+ business days. If you do have an urgent need, call us direct at (800) 950-4553 and we can tell you what our exact turnaround time is.
Why should I invest in a heavy duty pop up tent over cheaper options?

Sometimes a cheaper solution may be better. You're trying to balance a number of decision criteria such as budget, durability, and frequency of use. If you're only planning on using the tent 1-2 times a year and maybe only want your logo on one peak, spending $2,000+ on a custom tent may not make sense. A heavy duty pop up tent is designed for a busy event season and meant to be cheaper in the long run. If you're thinking more in terms of ROI and cost-per-use, a heavy duty tent makes the most sense. You should also consider your brand and position in the marketplace. If you're promoting a premium product or service does it make sense to represent your brand with cheaper quality? Responsible purchasing is also a phrase we hear many non-profits and municipalities use. While they don't have unlimited budgets, they can't afford to make the wrong decision and have to replace a cheaper solution within 12 to 16 months. Best thing to do is list out your goals and make a list of pros and cons. We speak with a lot of brands who are hesitant to spend $3,000 on a custom pop up tent setup—but they never regret professional quality once they have it in-hands.
---
Why Partner With TentCraft?
When planning for an event, every decision you make leading up to it impacts its success. A million little pieces snowballed together to create a successful space to engage, entertain, or even enthrall your customers. TentCraft's goal has always been to help our clients produce successful events with maximum impact and ROI. How do we do that? We aren't just the manufacturer — we are your partner in WOW'ing, and a true extension of your team.

We help with renderings and pitch decks, experiential design and logistics, and most importantly, we help you exceed expectations with every setup. Because we have creative design, production, and print all under one roof, our event experts follow your project from idea to implementation and into a box bound for you.

Over a decade of experience and 20,000+ projects under our belt makes TentCraft an ideal partner for your next outdoor event adventure.