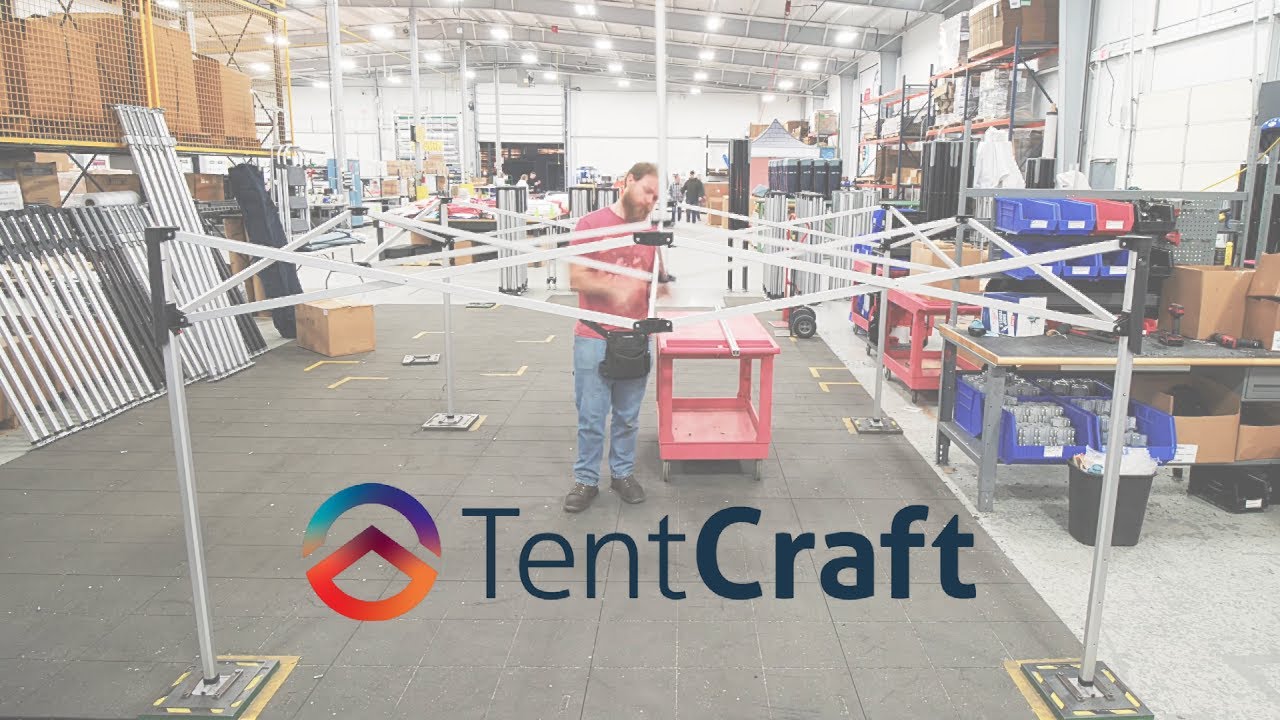 About TentCraft
TentCraft is an American manufacturer of custom tents, structures, and event products that provides businesses — from small mom-and-pop shops to globally-recognized brands — the visibility and quality they deserve at events across the country.
We are rooted in humility, hard work, fun, and a little weirdness. American craftsmanship drives our mission to Make it Better — for businesses, brands, and agencies.
We focus on continually improving three facets of our organization to serve you better: SPEED, QUALITY, and CUSTOMIZATION.
Founded in 2007 and headquartered in Traverse City, Michigan, TentCraft is a Veteran-Owned Small Business (VOSB) that's proud to continue the tradition of high-quality, innovative American manufacturing.
Speed
Built-to-Order | 3-Day Turnaround
Quality
American Made & Battle-Tested
Customization
If You Can Dream It, We Can Build It
What is TentCraft?
TentCraft is an American manufacturer of custom tents and structures — and other assets — for the event industry.
---
Where is TentCraft Located?
TentCraft is headquartered in Traverse City, Michigan.
---
Who Owns TentCraft?
TentCraft is owned by its president and CEO, Matt Bulloch.
---
How Many Employees Does TentCraft Have?
TentCraft employs about 85-100 people throughout the year.
---
Which Brands Invest in TentCraft?
TentCraft helps small businesses, like Bettylicious Bakery, Cattail Organics, and Right Brain Brewery — as well as some of the world's most recognizable brands, like Coca-Cola, Nike, and Disney — stand out in a world of boring white tents. While a lot of our business is with experiential marketing agencies that represent those big brands, we love helping those mom-and-pop businesses invest in a quality, American-made canopy tent that's going to last a really long time.
As a certified Veteran Owned Small Business (VOSB) and a GSA-Certified manufacturer, TentCraft also does significant business with government and military agencies, including the U.S. Navy and Air Force.
And schools and nonprofits also love working with TentCraft because we accept purchase orders and can help with tax-exemption paperwork.
The TentCraft Story
In the early 2000s, Matt Bulloch was working an investment banking job on Wall Street that he... well, hated. He hated the hours, the culture — he hated that it didn't excite him. Matt craved a career as an entrepreneur, but couldn't put his finger on one specific idea.
A chance meeting in Manhattan in 2007 with Paul Britten, of Britten Inc., over some beers in New York City ultimately led Matt to Northern Michigan and to start TentCraft. Paul had a custom tent product in his digital print business' catalog that none of his employees were interested in selling.
So, Matt decided to give it a shot.
TentCraft started with a couple of tent offerings primarily geared toward experiential marketing agencies representing major brands, like Verizon Wireless and Blackberry.
Over the next few years, Matt grew the company, but questioned whether he wanted to be in the tent game for the long haul.
While keeping equity in TentCraft, he enrolled at the Stanford Graduate School of Business and landed an internship with Apple. He decided, however, working for a large company wasn't appealing to him.
He convinced his then-girlfriend and now-wife Kelly to leave California and return to Traverse City to put in three years of hard work to scale TentCraft. If growth wasn't in the cards for the company, Matt said he would have found a new job.
The company did grow, and the TentCraft name started to gain name-brand recognition among the largest experiential marketing agencies.
Made in America
In 2016, Matt saw a big opportunity to manufacture tent frames in-house in Northern Michigan instead of importing them — which is what most of the industry does today. By fully integrating the company and shifting to a build-to-order strategy, TentCraft could compete faster and better control the quality of its custom products.
When customers called TentCraft complaining about cheap tents they purchased elsewhere that fell apart after a few uses, the TentCraft sales team could now show them photos or videos of their custom tents being manufactured and the level of craftsmanship that goes into every product.
The power of American manufacturing has instilled confidence in a customer's decision to spend a little more on a quality solution, knowing it was backed by a lifetime warranty. And if anything were to go wrong, a team dedicated to best-in-class customer service could quickly help them out.
The Pivot to 'Save Lives'
The bet to manufacture tent frames in-house really paid off in 2020 when the COVID-19 pandemic hit the U.S.
Seemingly overnight, millions of dollars in TentCraft revenue evaporated as some of the country's largest events, from the SXSW Conference to the NCAA March Madness Tournament, were canceled due to the fast-spreading virus.
On a Saturday afternoon in March, Matt sent an email out to the TentCraft team — a document they would later frame and gift to him — saying TentCraft was going to retool as a company and shift all of its efforts toward life-saving medical tents to be used for COVID-19 screening, testing, and, ultimately, vaccinations.
The team packed months' worth of work into a couple of weeks, and TentCraft became the nation's leading manufacturer of quick-deploy medical tents.
TentCraft Today
With experience in the medical space and events back in business, innovation at TentCraft has flourished since the pandemic. With a team of in-house engineers, an industrial designer, and an experienced production team, several new heavy-duty tent products have been added to the lineup, including the MONARCHGABLE, MONARCHSTALL, and the Event Dome.
And we're not done.
At TentCraft, we're students of Lean Manufacturing and are dedicated to continuous improvement. Our motto is "Make It Better."
Sustainability at TentCraft
At TentCraft, we are committed to following sustainable practices when manufacturing our tents. We prioritize the use of eco-friendly materials and work with suppliers who share our values. Our manufacturing process is designed to minimize waste, and we make sure that any excess materials are repurposed or recycled.
In a world of cheap, disposable tents, we work hard every day to handcraft a solution that lasts a lifetime.
Sustainability at TentCraft
Meet the Team
Incredible custom structures for some of the world's most recognized brands don't happen by accident. They require a dedicated team that's innovative, thoughtful, collaborative, and, yes, a little fun and weird.
We consider our team of employees our greatest asset, and that's why we work so hard to find people who will challenge, inspire, and elevate each other on a daily basis.
Meet the TentCrafters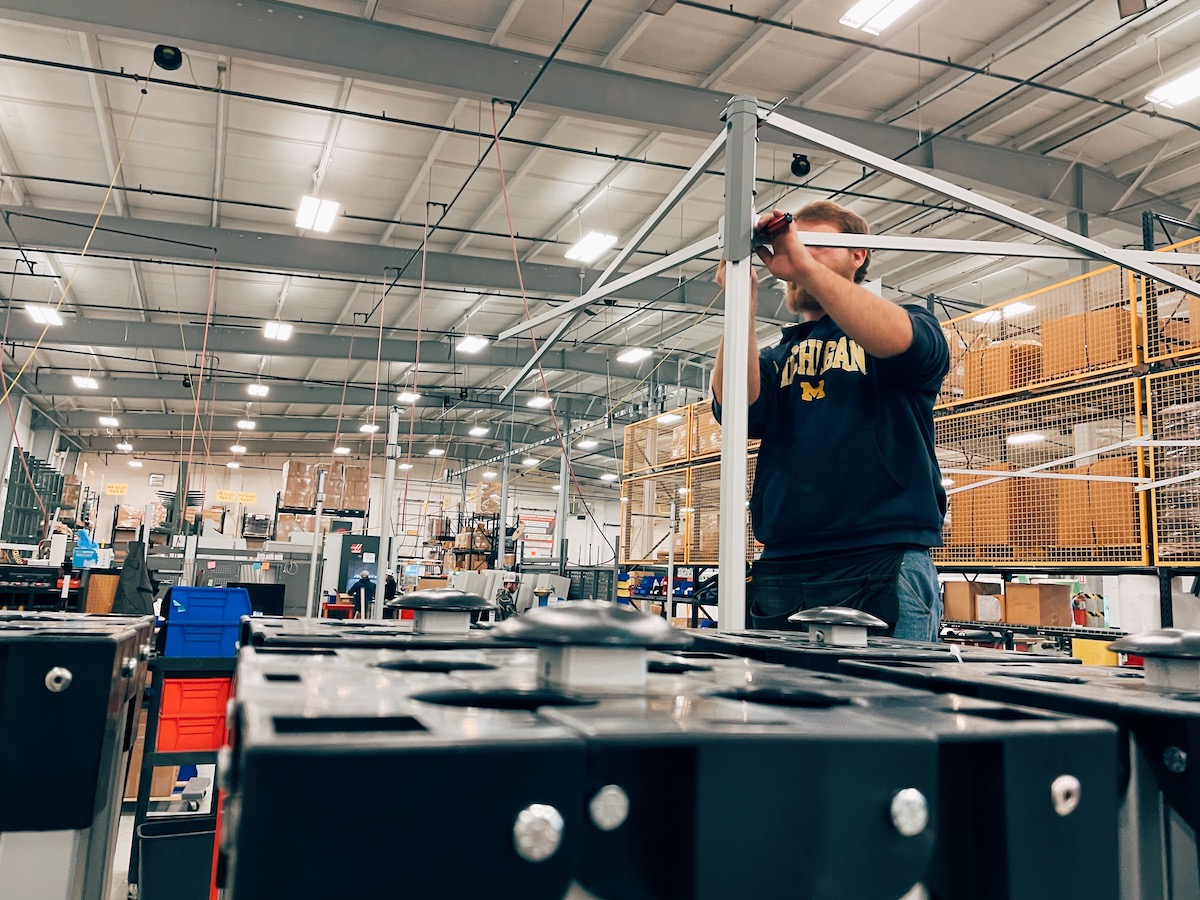 Jobs at TentCraft
Are you Interested in moving to Traverse City, Michigan – one of the most beautiful places on earth! — and joining a team dedicated to building cool things?
Head to our careers page to see the latest opportunities with TentCraft, and learn more about our benefits and culture.
TentCraft Careers
Inside TentCraft