Custom Pop Up Trade Show Booth Displays
In the fast-paced world of trade shows, the importance of a polished presence cannot be overstated.
But many businesses don't have the time or resources to devote to massive indoor event activations that require teams to install and tear down. That's why the team at TentCraft has focused on creating custom pop up trade show booth displays that are not only easy to transport and assemble, but also are unique and guaranteed to stand out in a crowded field of exhibitors.
As the leading American manufacturer of custom tents and structures for the event industry, TentCraft knows a thing or two about event assets and what's needed to make your brand shine at its next trade show or indoor event.
An American-made, portable trade show display allows you to effortlessly set up and dismantle your trade show exhibit without compromising on quality or aesthetics. When combined with other custom-printed trade show products, you can transform that blank 10x10 or 20x20 trade show floor into a work of art.
Build Your Booth
Pop Up Booths for Trade Shows
At TentCraft, we love custom projects. We combine our portoflio of event solutions to create unique activations that attract attendees on the show floor.
From innovative booth designs that score big points in creativity to interactive experiences that leave lasting impressions, our team of event experts is driven by a passion for pushing boundaries and crafting unforgettable moments.
Explore our pop-up trade show bundles as a starting point for your custom project:
Explore our custom trade show exhibits for larger indoor event activations.
Rookie: Entry-Level Trade Show Booth Bundles
1. Custom Banners • Event Counter • Table Covers
Quick setup! Perfect for companies that want to promote multiple products.
2. Branded Backdrop • Custom Event Counter
Make a big impact with a big backdrop. Fast setup and easy transport.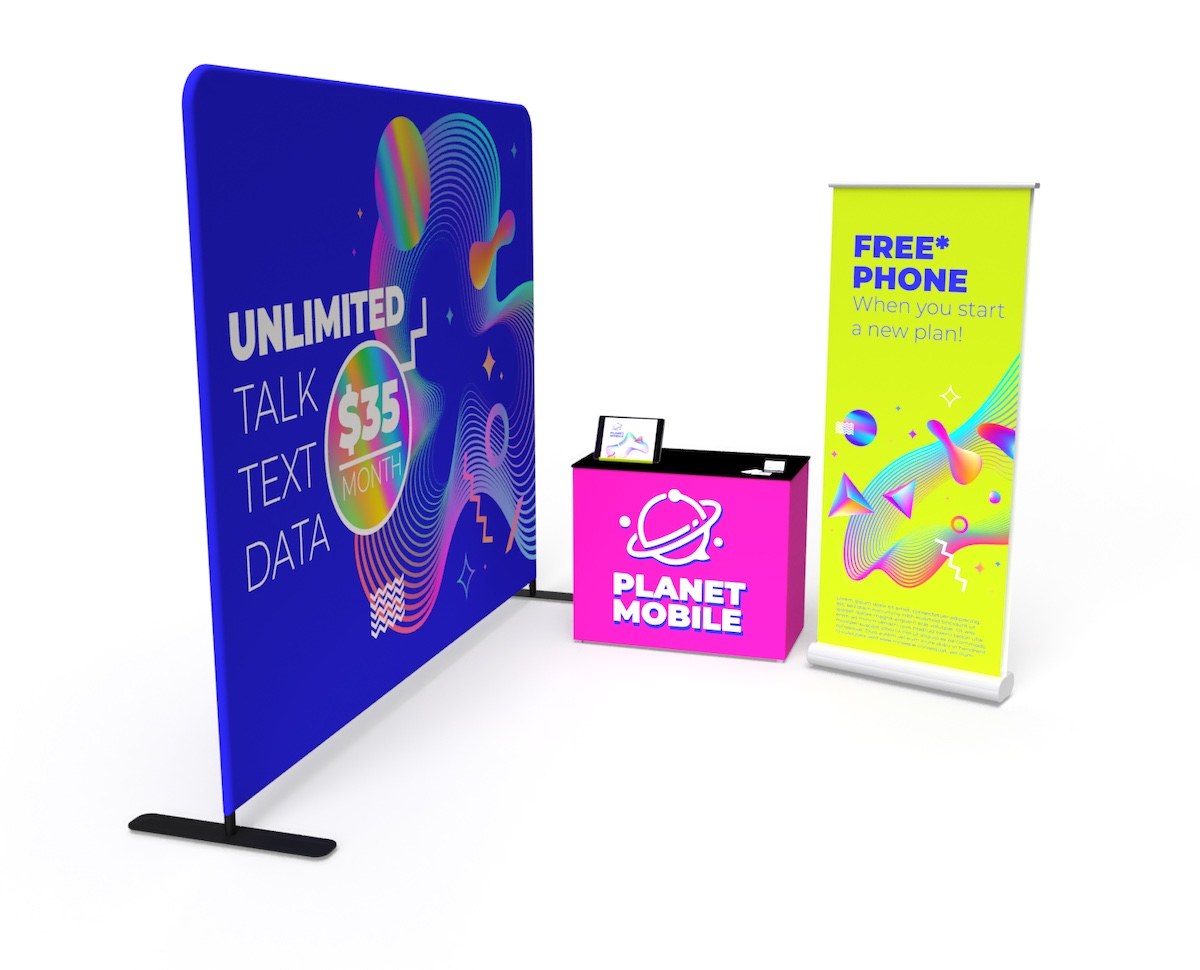 3. Media Wall • mightyTABLE • Retractable Banner
Flexible booth setup with a big impact.
MVP: Mid-Level Trade Show Booth Bundles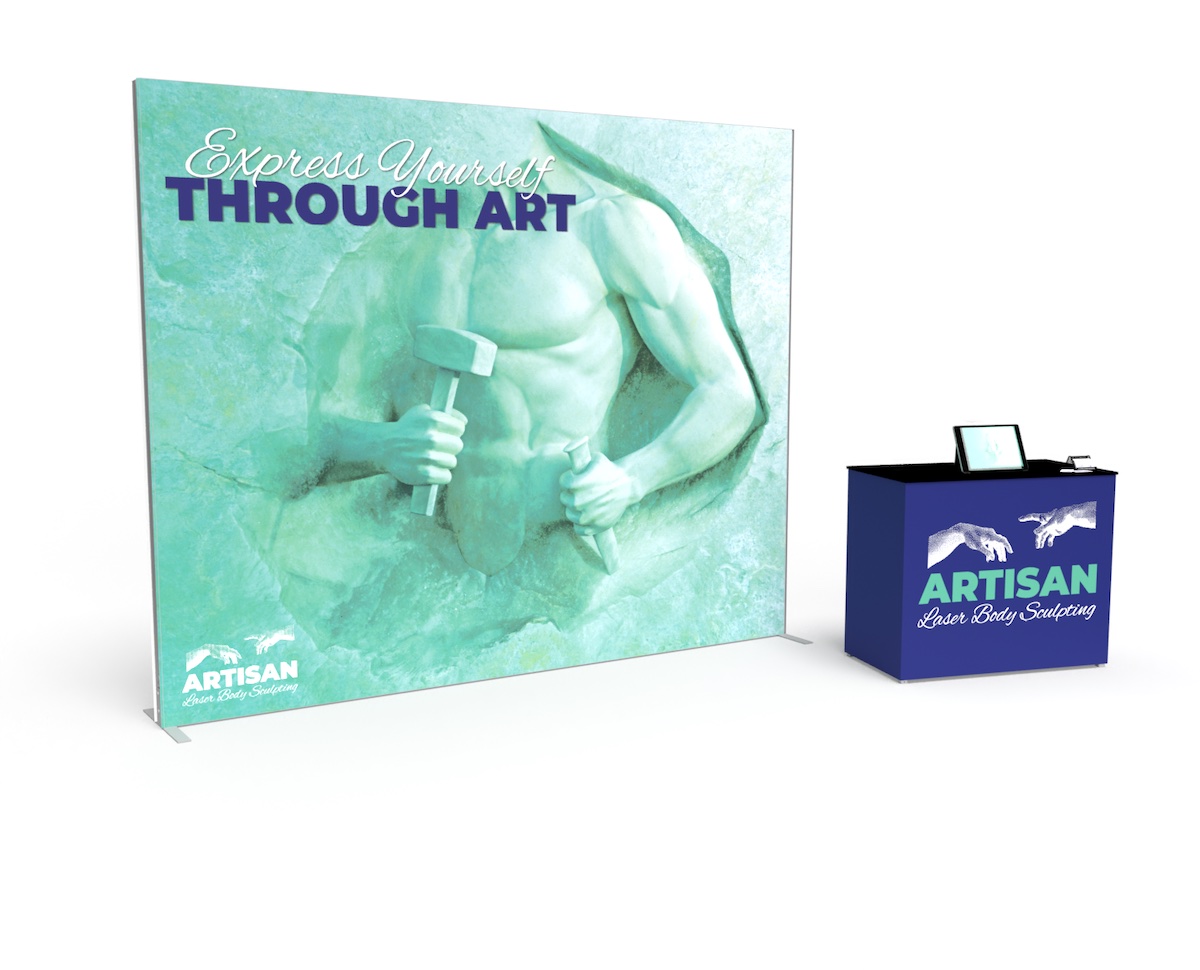 1. SEG Tension Fabric Display • Custom mightyTABLE
The perfect upgrade: A crisp, professional, edge-to-edge SEG backdrop.
2. Custom Backdrop • Arched Media Wall • Custom Event Counter
An innovative, layered event backdrop with 3D rigid signage.
3. Flatroof Canopy with Backwall • Retractable Banner • Custom Table Cover
An indoor flat roof tent for a distinguished look
Hall of Famer: Top-Tier Trade Show Bundles
1. Backlit SEG + Custom Event Counter
A bright and inviting booth setup using edge-to-edge SEG
2. Double-Arched Media Wall with Custom 3D Rigid Signage
Make your products pop with custom-cut rigid signage.
3. Heavy-Duty Canopy Tent with Backlit SEG
A versatile booth setup that shines with a backlit backdrop.
10x20 and 20x20 Trade Show Built-Outs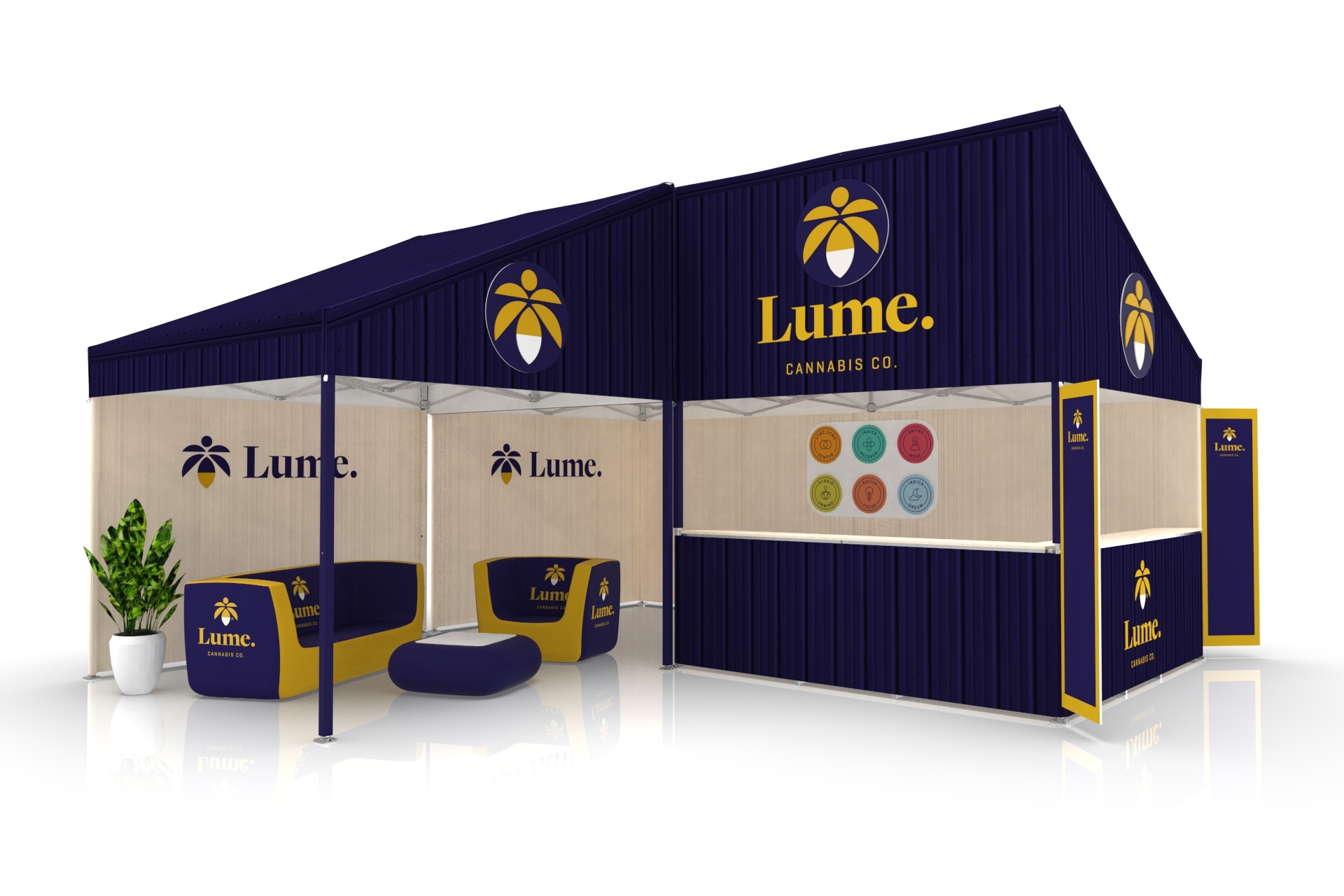 Modern Pop-Up Tent Lounge
Combine a heavy-duty MONARCHFLATROOF with tent counters and a back wall — and with two event backdrop media walls — to create an activation with multiple use cases.
Flat Roof Information Booth
When you combine our MONARCHFLATROOF with four counters and half walls, you create the ultimate modern-looking trade show booth for dispersing information.
Add in an arched media wall that connects to your tent and suddenly create an engaging area for prospective customers to sip coffee and learn about your brand.
Modern Truss Structure Lounge
We love using truss for trade show activations because it's so versatile. In this rendering for T-Mobile, we incorporated an arched media wall with a basic truss layout to create a beautifully layered lounge experience.
You can dress up your truss structures by wrapping the legs with your company's branding, and then wrap the top to ensure attendees don't miss your booth.
Pop-Up Trade Show Booth Products
Trade Show Booth Case Studies
Trade Show Booth Articles & Resources
Frequently Asked Questions
What is a pop-up trade show display?

A pop-up trade show display is a trade show booth activation that can easily be transported, set up, and taken down quickly. Typically, this type of trade show booth display can be installed by two people, as opposed to a team of people who typically tackle larger exhibitions.




Common solutions include pop-up tents, retractable banners, and custom table covers.
What are the benefits of a pop-up display?

The biggest benefits of pop-up displays are the ease of transportation and installation. Many trade show exhibitors want a solution they can easily put into their car (or onto a plane!) and carry with them to the show floor.




As a bonus, many pop-up solutions — like canopy tents — can also be used at outdoor events, giving businesses an extra bang for their buck.
How much does a pop-up trade show booth cost?

The cost of a pop-up trade show booth depends on the overall size and scope of the activation. TentCraft trade show booth solutions can cost anywhere between $1,500 and $10,000, but it really depends on what you're investing in.




A more basic activation with a custom table cover and a custom-printed backdrop is obviously more affordable than a custom tent setup with backlit SEG walls.




If you're concerned about budgets, the best thing to do is talk over your project with a sales representative to come up with solutions at different pricing tiers and work toward something that fits your event goal and your budget.
How fast can TentCraft turn around my custom pop up trade show booth?

TentCraft can typically turn around your custom trade show project in three to five business days. That's because we manufacture and custom-print all of our trade show solutions in the United States (in Northern Michigan, to be exact!), and operate under a build-to-order model.
How quickly can a pop-up trade show booth be set up?

The beauty of a quality pop-up trade show booth is that it can be set up really quickly. On average, you can set up many of the displays found on this page in 10-15 minutes. SEG (silicone edge graphics) displays and truss structures will take a little longer than that timeframe, but are easy to set up after doing it a few times.
Can you use a pop-up trade show booth indoors and outdoors?

Some elements of a pop-up trade show booth can be used indoors and outdoors.




A canopy tent, for instance, can easily be used indoors and outdoors because there are multiple ways to anchor it against high winds.




Other elements, like media walls and SEG, are trickier to recommend for outdoor use. Those large activations essentially act like a sail in the wind and would require heavy-duty ballasting.




Reach out to our team if you have questions about specific event solutions for outdoor or indoor use.
---
Request a Quote for Your Trade Show Booth