Heavy-Duty Tent Weights for Easier Ballasting
52 lb Tent Weights Made of Ultra-Durable Cast Iron
Pop-up canopy tents and the wind don't go well together. In fact, unpredictable winds are the No. 1 cause of tent damage. That's why TentCraft set out to create an easy-to-use solution to anchor your canopy and protect your investment from the worst conditions.
Say, "Hello!" to the TentCraft footplate, a 2-piece cast-iron solution that snaps and wraps around each leg of your custom pop-up canopy tent — giving you enough weight to properly anchor your tent and the peace of mind to not worry about those random gusts of wind.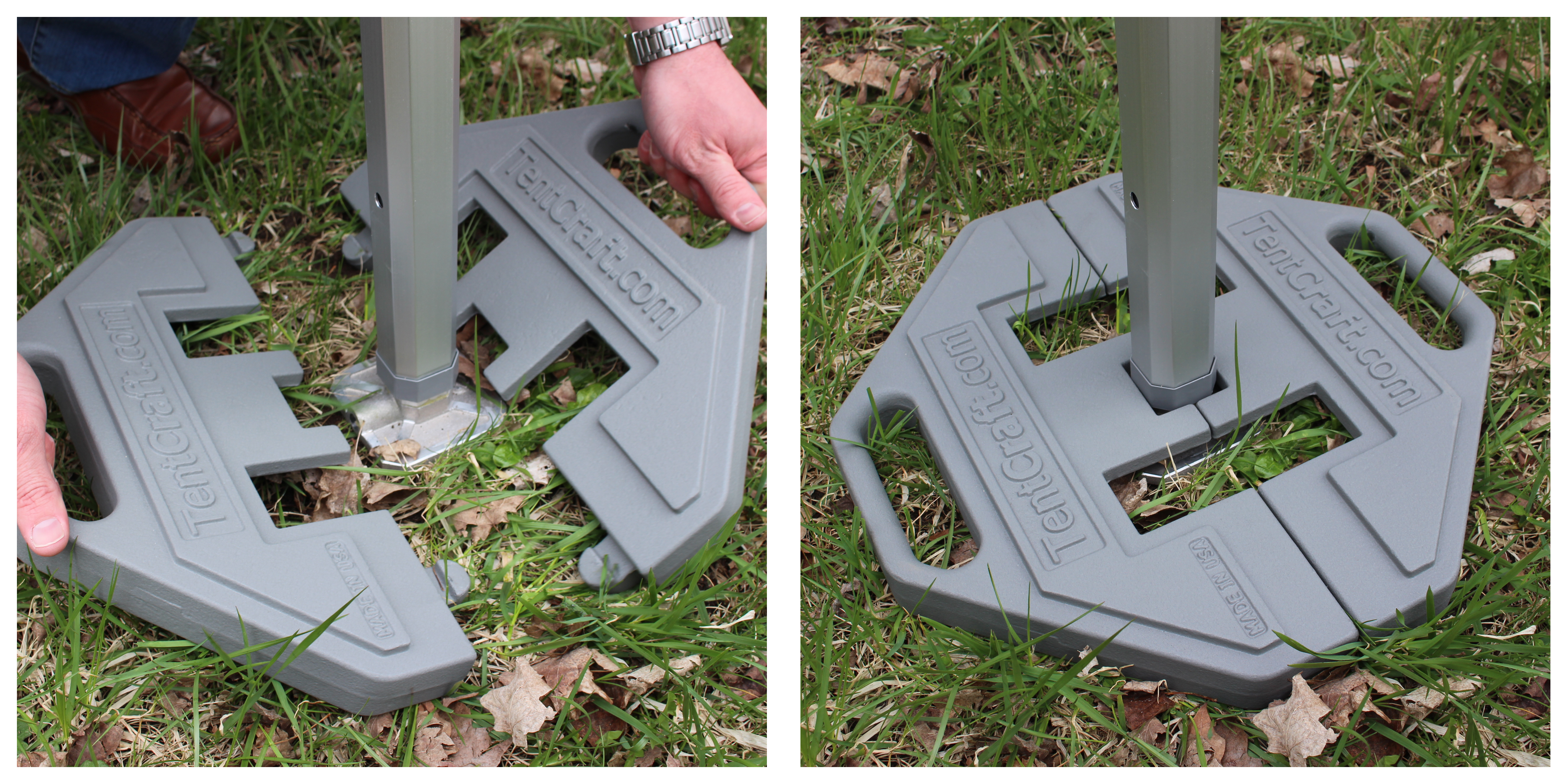 Do I Need Footplates For My Pop-Up Canopy?
You need footplates for your pop-up canopy if you're unable to properly stake your tent to the ground using its included heavy-duty staking kit. TentCraft customers most often use the footplates when they are set up on concrete or asphalt and are unable to stake into the ground.
Weight
52 lbs per footplate
Installation Time
< 10 seconds
Cost
$169 per footplate
Colors
Gray or Black
Ballasting & Wind Ratings:
Wondering how much weight you need for your pop-up tent? Well, that depends on a few factors. Let's say you've invested in TentCraft's 10x10 MONARCHTENT, which comes with a certified wind rating of 40 mph when properly ballasted. According to our engineers, 200 lbs is needed to achieve that wind rating. The amount of weight you need goes up with size, and note that wind ratings are negatively impacted by adding walls to your tent.
How to Use TentCraft Footplates
Our footplates are extremely easy to put together.
First, place one half of the footplate on the tent leg.




Then bring the other half to the leg.




lift both up slightly and push together until they "connect" and then lay flat.




Simple as that!
Footplates Are Versatile
TentCraft footplates aren't restricted to our pop-up canopy tents. They can also be used to anchor our E-Series frame tents, in addition to media walls and event flag stands.
Anchoring Multiple Tents
The beauty of TentCraft's footplate design is that a single footplate can ballast multiple tent legs. For example, if you set up two 10x10 pop-up tents next to each other, four legs (of the eight total) can share two footplates — saving you the cost of two footplates. A single footplate can anchor four separate tent legs at once.
Here's How To Get Pricing On Your Weighted Footplates