Custom Brewery Tents for Craft Breweries
From showing up with the ultimate beer tent at your city's popular craft beer festival to providing shade over that picnic table inside your beer garden, breweries big and small — and from all over the country — have trusted TentCraft to custom-build tents that are super-durable and stand out at a special event.
The TentCraft team is not only filled with beer lovers, but also tent experts who can help you customize a solution that fits your needs and budget. We love a good challenge (and a delicious beer), so let's tap the keg and get to work!
More Than a Pop-Up Tent: The Ultimate Beer Tent
When a brewery owner searches for a custom pop-up tent, they're likely only going to see a basic 10x10 tent, which isn't necessarily a bad thing. TentCraft structures are anything but basic, though. We've worked with countless brewery clients over the years to the point where we're well-versed in what the industry needs to be successful at events and with day-to-day business.
Because we manufacture our tents — including the frames! — in-house in our Northern Michigan production facility, we are built for customization. We follow a build-to-order business model, which means your tent doesn't exist today. (That also means it's not sitting a warehouse shelf collecting dust!)
Explore our capabilities, and let's create the perfect tent for your brewery.
Tallest Canopy Peaks in the Industry
We typically don't toot our own horns, but when it comes to helping our brewery clients stand out at crowded beer festivals, it's important to note that the peak on our 10x10 MONARCHTENT is the highest in the industry at nearly 12 feet — and that's not including the free custom-printed peak flag that comes with it, bringing the total height to more than 17 feet! Learn more about the differences between our heavy-duty MONARCHTENT and medium-duty mightyTENT, including the differences in peak heights.
Countertops & Storage
Do you know what 99% of beer festival tents don't have? Countertops, and we think that's silly. Countertops are the perfect solution to all your organizational needs. Ours, in particular, are custom-built with sanitation, storage, and conversational purposes in mind. Not only will your tent be the talk of the festival, but it will also be the number one hangout spot for attendees looking to converse about your beer. We can already envision a patron enjoying a cold beer while leaning against your custom tent.
Accessories That Make Your Brewery Stand Out
If you want more beer in more hands, you need to make it easy for festival-goers to find your tent. We can help with that. Our peak flags, custom signage, social media-worthy photo walls, and LED light fixtures guarantee your brewery's name and all its glory will shout from the peak-tops wherever you go.
Wayfinding flags are an obvious use case at beer fests, but they can also be used at your brewery, especially if you have a large footprint. Custom signs or flags can direct customers toward your beer garden, tasting room, or outdoor space — the possibilities are endless!
Additionally, some breweries have opted to print signage to highlight their beer and food menu or to share information on making a reservation for a private event or a brewery tour.
Flexibility
Not all beer festivals are created equal. Some are outside, others are inside; some are big, others are small; some are restricting, and others are more versatile. We get that. And that's why our custom beer tent setups are adaptable to any surroundings, meaning you can pick and choose which parts you use depending on the festival environment.
Flexibility also means your tent can grow with your business. Sure, we all want the Schottenhamel Tent, but we need to start somewhere! Connecting our tents — like a 10x10 pop-up MONARCHTENT — using our innovative gutter system easily allows you to grow your footprint when it makes sense for your business.
And when your brewery wants to turn its outdoor seating space into an indoor seating area during the colder months, our semi-permanent frame tents are a perfect solution — just ask our friends at Lake Ann Brewing Co.
Designing a Custom Tent for Your Brewery
One of the best ways to make a splash in an overcrowded festival scene is to turn heads with a custom-made tent. So, it's a good thing we know a thing or two about custom solutions. From tents to table covers to creative signage, we can do it all thanks to our impressive fleet of digital printers and in-house production floor. We don't just manufacture tents. We create one-of-a-kind, carefully crafted experiences that propel your brand and your craft beer forward.
The process is quite simple. It starts with a phone call to first determine the size and configuration of your tent. Make sure to have a general idea about how you plan to use your tent. If it's being set up on your outdoor patio, for instance, have those measurements ready for our tent expert.
Next, is the fun part: Designing your tent! Brewery owners either have a very specific idea of what they want (and have their print-ready logos on hand to send over to our team!) or they need help from our professional in-house art team. Whatever the case, TentCraft is here to help. Our art team is more than capable of creating an "artist choice" tent for your brewery or working with you to execute your vision to perfection.
From there, our production team will handcraft your tent — right here in beautiful Northern Michigan — and typically turn around your custom project in 3-5 business days.
Ready to clink pint glasses and say cheers? Request a quote today and let's chat!
Gallery: Brewery Tents
Not sure what your breweries custom tent should look like? Check out some of these awesome examples for inspiration. And if you still need help, remember that the TentCraft art team can help you land on a design that perfectly fits your brand.
If you're ready to start your project, request a quote today.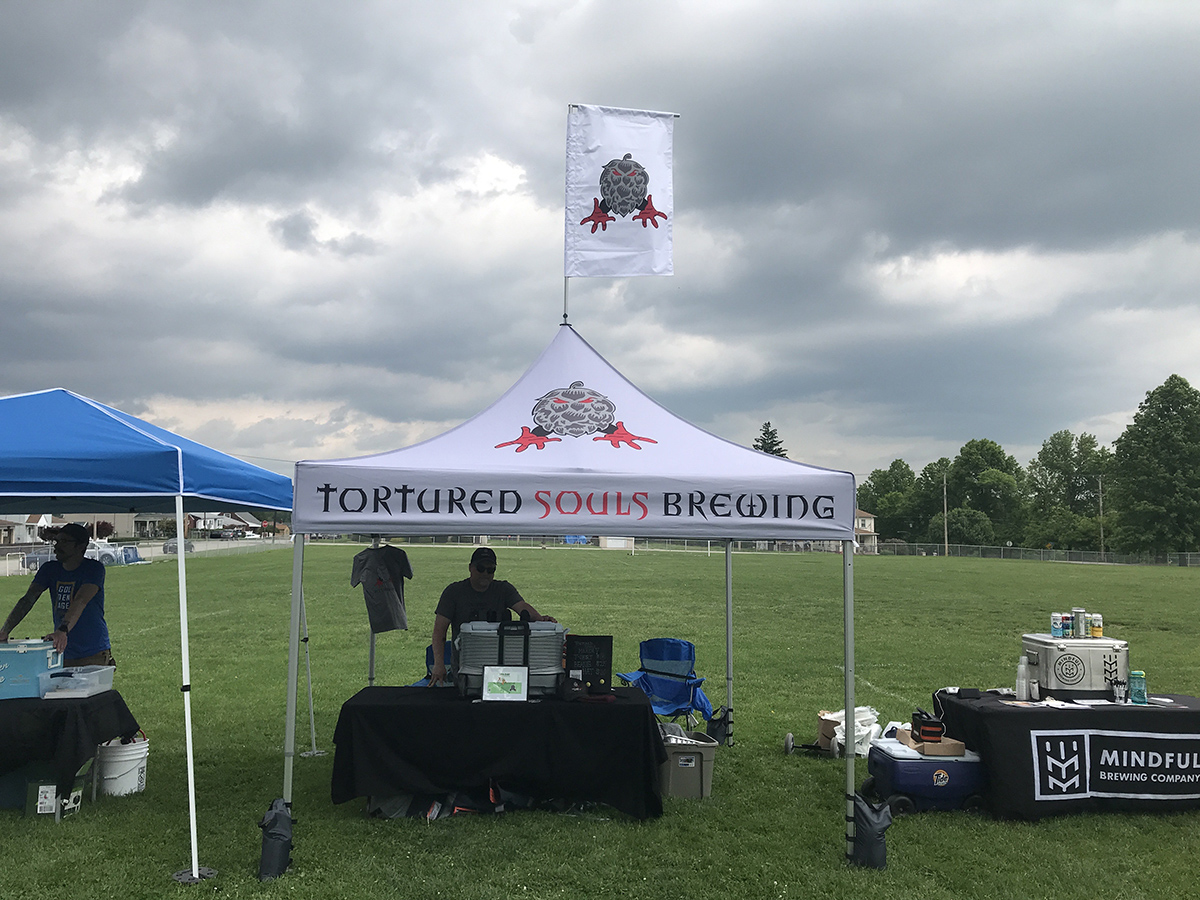 Video: Brewery Tent Reveal
Want to watch our products in action? Check out the video to the left and see how we helped one Michigan-based brewery dominate the beer festival scene with a completely custom, totally transformative beer tent setup.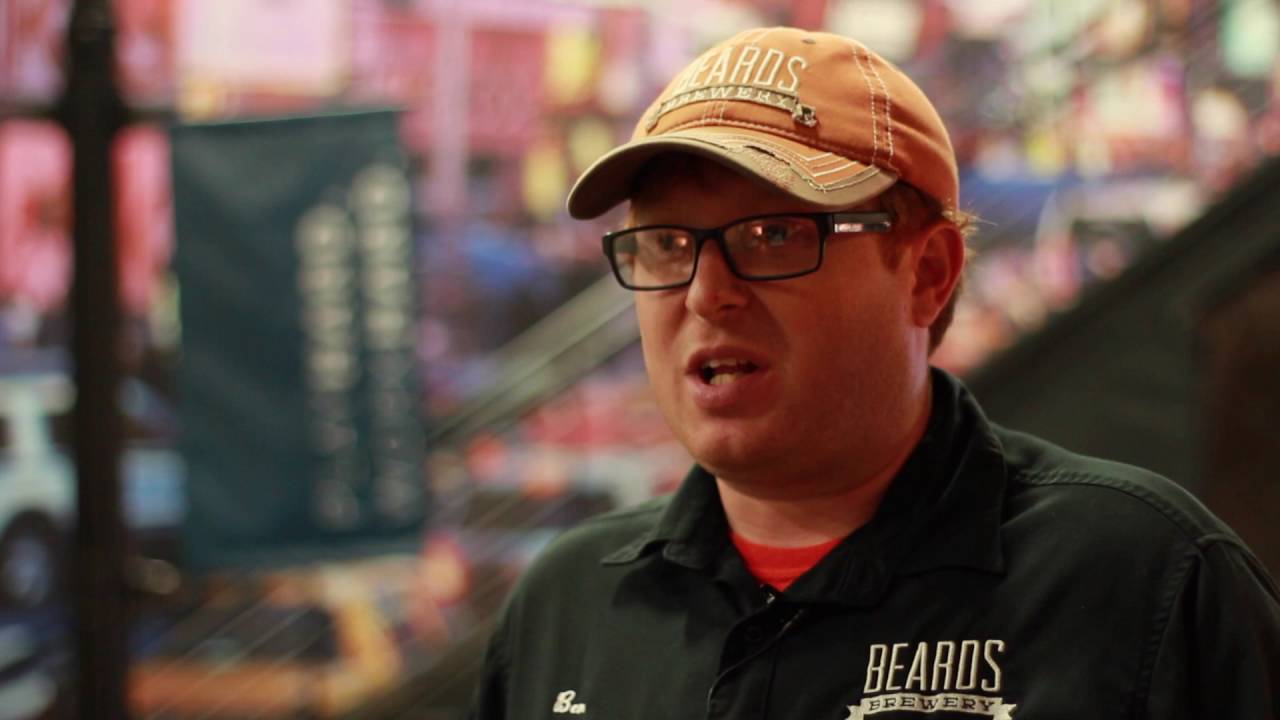 Breweries Review TentCraft 🍺
TentCraft offers the best customer service in the industry, but don't take our word for it! Read our nearly
800 5-star reviews
, many of which rave about our customer service (and our heavy-duty tents, vibrant canopies... you get the idea).
Beer Tent FAQs
What is the production time for a custom beer tent?

Because TentCraft manufactures all of its frames in America (Traverse City, Michigan, to be exact, where there are a number of GREAT breweries, by the way...), we can turn around custom projects pretty quickly. Depending on our current workload, we can typically turn around your project in three to five days.
Do you make customized tablecloths with brewery logos?

We absolutely do! And we recommend you order it with your tent so our team can match things up perfectly. Learn more by heading over to our custom table covers page.
How much do custom brewery tents cost?

The final cost of your tent depends on many different factors, from size, to printed graphics, to accessories, to where we need to ship it to... you get the idea. We like to tell potential customers they should be comfortable investing at least $2,000 with us on a custom solution that will last a really long time.
Do TentCraft tents come with certified wind ratings?

Our heavy-duty pop-up tent, MONARCHTENT, includes a certified wind rating of 35 mph. Our lineup of frame tents is engineered to withstand even more powerful winds when properly ballasted.
---