Custom Tents for Nonprofit Organizations, Clubs, & Foundations
From community engagement to a quick-deploy shelter for volunteers when a rainstorm rolls in, custom-branded pop-up tents are a must-have tool for nonprofit organizations, service clubs, and community foundations. Unfortunately, these vital organizations far too often purchase cheap tents that break too easily, wasting their precious time and money.
TentCraft wants to change that pattern and offer a sustainable solution that lasts a long time, looks professional, and is easy to set up.
Our team of experts has years of experience working with many nonprofit organization leaders who, at first, express concerns about price, but soon realize making an investment in a quality, American-made solution up front actually makes better financial sense — and it's good for the environment.
American-Made, Custom Tents Nonprofits Rely On
All TentCraft products are manufactured in the U.S. As masters of our craft, we're committed to providing nonprofit organizations and education institutions across the country with the strongest, highest-quality pop-up tents and event accessories that don't need to be constantly replaced.
Community Engagement & Education Tents for Nonprofits
Looking to get the word out about a special event? Want to highlight your organization's role in the community at the town's biggest festival? TentCraft has helped a number of nonprofit community organizations be visible across their town with their own custom-branded pop-up tent.
Most organizations opt for a 10x10, but other sizes — and accessories, like flags and signage — can provide additional shelter from the weather and create a larger presence at events that attendees can't miss.
Your nonprofit is only as effective as it can get its message out to the community. Investing in a high-quality, heavy-duty pop-up tent can be a game-changer for your next big event.
Volunteer Support & Shelter
It's not uncommon for nonprofit organizations to trek into rural or underserved areas where there's minimal shelter for volunteers to execute an organization's mission. And when volunteers are out in the heat, cold, wind or rain, you want to — at the very least — provide them with some kind of shelter.
TentCraft has helped many organizations, including land conservancies, invest in custom tents that stand up to the elements and serve as great markers for where volunteers can report to, grab lunch, and receive instructions for the day's activities.
We also recommend investing in custom flags to better help direct volunteers toward your work site.
Custom Flags for Event Wayfinding
When your nonprofit agency hosts a large event, you need a way to keep attendees and volunteers organized. One of the best ways to enhance the logistics of your event is through custom flags that serve as wayfinding signs.
Pictured to the right are a set of custom flags for an event by NORTE, a nonprofit in Traverse City, Michigan, that offers bicycle classes and events for youth of all ages. The organization uses TentCraft flags to organize their events by age group.
Learn more about custom event flags or reach out to a product specialist who can help with your event logistics.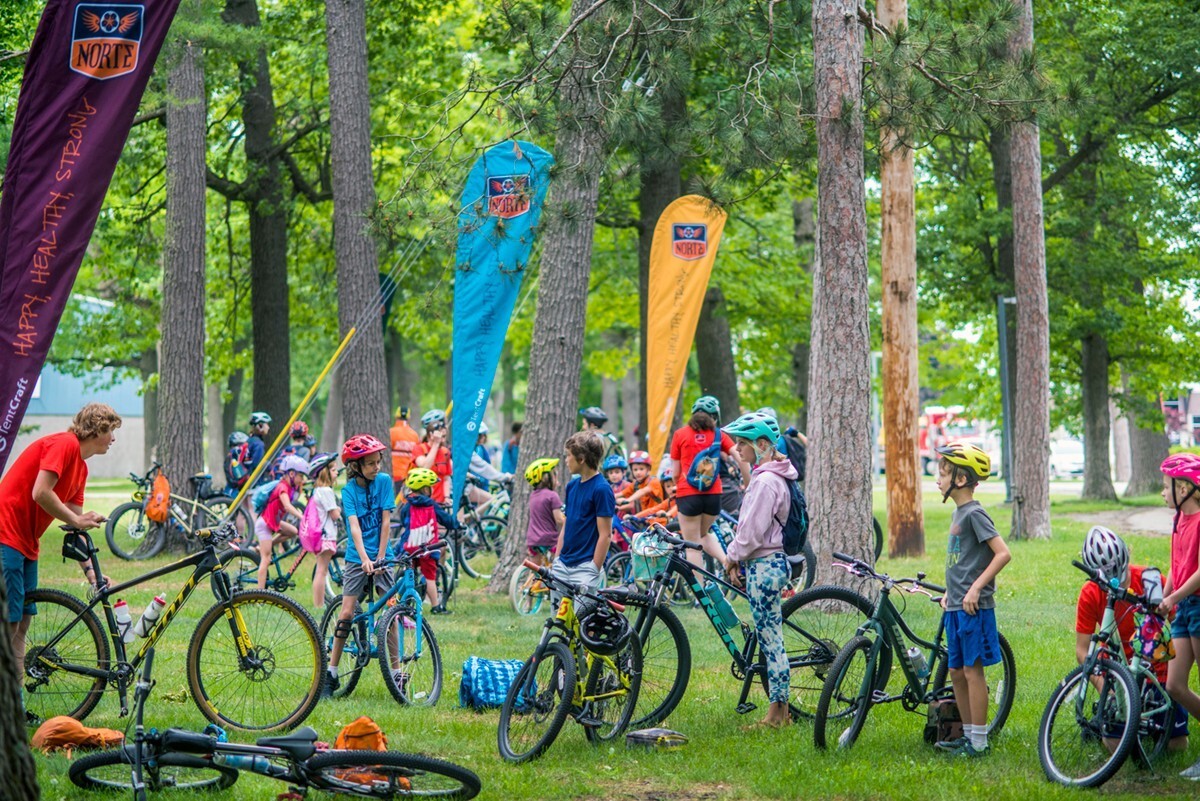 Custom Tents for Donations and Food Giveaways
Many nonprofits rely on donations to execute on their mission. Collecting those donations, though, isn't always that easy.
TentCraft has created custom tents, including drive-thru tents, that work as the perfect solution to collecting drop-off donations for things like clothing, food, and toiletries. Our team of dedicated product specialists can help you come up with a custom setup that works best for your team logistically and financially.
Food giveaways by nonprofit food banks can also drive significant traffic to a pickup site, which can turn into a logistical nightmare. By working with TentCraft, you can come up with a solution that turns your next food giveaway into a huge success.
We offer a unique lineup of drive-thru tents — both quick-deploy and semi-permanent frame tents — that can handle large SUVs and pickup trucks. If you have a unique setup for a major food event and need a custom solution, we employ an industrial design team that can create a solution that fits your vision.
Custom Tent Resources for Nonprofits
TentCraft Reviews
Nonprofit organizations trust TentCraft because of our dedication to building the highest quality custom tents and structures on the market, ensuring their investment lasts a long time. They also love our commitment to offering best-in-class customer service. Read more reviews as you continue your search for custom tents for your organization.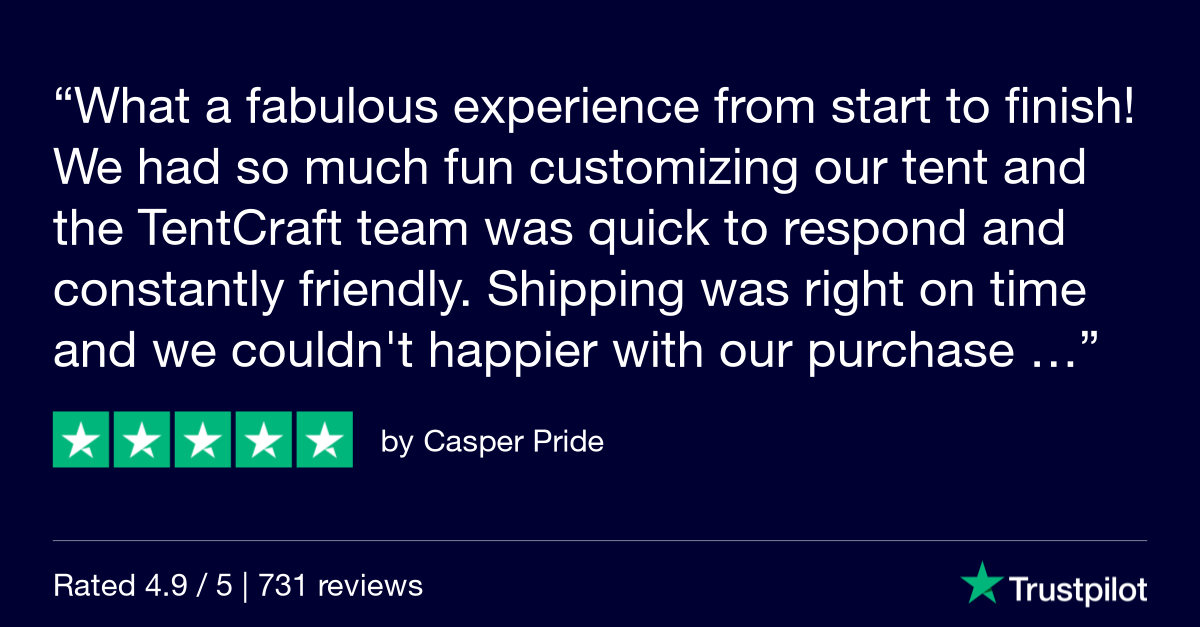 Custom Tents for Nonprofits FAQs
Does TentCraft offer a discount for nonprofit organizations?

TentCraft doesn't have a set-in-stone discount. We recommend discussing your needs and budget with a sales representative, who can help you come up with some options. We understand nonprofit budgets can be tight. But we also understand nonprofits can't afford to continuously purchase cheap products that need to be replaced every couple of years. By investing in quality upfront, you can make your budgets more predictable down the road.
What are TentCraft custom pop-ups tents made of?

TentCraft custom pop-up tents are made with a strong, lightweight aluminum frame. We use 600 denier polyester for our canopies that can be completely customized.
Are your tents wind rated?

TentCraft's heavy-duty pop-up tent, MONARCHTENT, and the company's lineup up of frame tents come with a certified wind rating from an actual engineering firm. For example, here's the wind rating document for our 20'x20' E-Series Event Tent.
What's the turnaround time for a custom tent?

Because TentCraft manufactures all of its custom tent solutions in-house and follows a built-to-order business model, we can typically turn around an order in 3-5 days. Depending on current capacity, we can potentially build and ship your order out even sooner.
---
TentCraft is Here to Help Your Nonprofit Organization
TentCraft is a veteran-owned business based in Traverse City, Michigan. Our team is made up of active community members who understand the importance of community nonprofit organizations. If you have an idea for a custom tent or structure at your organization, send us a note — we can't wait to help!