Custom Trade Show Booths: Where Imagination Meets Exhibition
This trade show season, don't simply build a booth — craft an experience.
As an industry leader and an American manufacturer with an impeccable reputation in event marketing, TentCraft engineers and designs innovative solutions to cater to your unique trade show booth requirements. Our goal is to help you drive leads with a stunning activation.
As the manufacturer, we control quality instead of outsourcing it, and we work extremely quickly. Most custom projects can be turned around in 3-5 days.
TentCraft offers portable pop-up trade show booths, in addition to those grand custom trade show exhibits that fill larger footprints on the trade show floor. No matter the size, we'll make your brand shine on any stage.
Discover why TentCraft is your trusted partner in creating the ultimate trade show experience.
Design Your Trade Show Booth
10x10 Trade Show Booth Ideas
The 10x10 trade show booth is the common size to exhibit your brand, so you want to make sure you stand out from the crowded field of exhibitors.
When most people invest in a 10x10 space, they automatically think of a branded table cover and maybe a retractable banner. We like to think outside the box, though, and focus on innovative solutions that help you stand out.
TentCraft has innovated custom event backdrops, truss structures, custom canopy tents, and more, to help make your trade show activation attract show attendees and drive leads.
Learn about the best options for your 10x10 activation and get inspired to make this year's booth your best yet.
10x10 Trade Show Booths
20x20 Trade Show Booth Ideas
So, you've invested in the larger trade show booth space and are now in need of some inspiration to get your booth design started.
We can help!
When businesses invest in a 20x20 space, they mean business. They want to make a big impact that attracts attendees and converts them into leads. You can't get away with some branded table covers and backdrops — you need a wow factor.
Learn how TentCraft has created a variety of trade show structures using truss, canopy tents, and even custom domes for the 20x20 footprint.
20x20 Trade Show Booths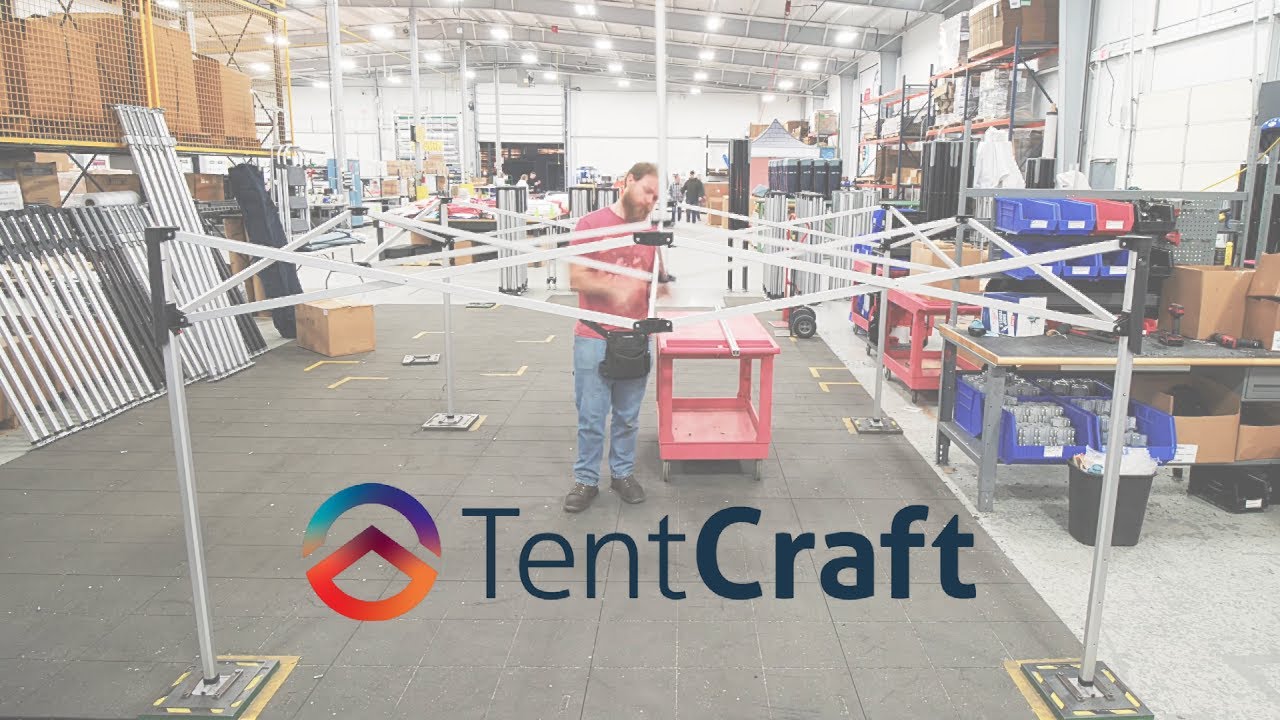 The TentCraft Experience
Investing in a custom trade show booth shouldn't be stressful.
At TentCraft, we take pride in offering an unparalleled trade show booth experience that, we think, sets us apart from the competition.
Every step of the way, you'll have experts guiding you through the process, from design to logistics. And we proudly manufacture all of our products right here in America. This means you can trust in the quality of our workmanship, knowing it meets the highest standards.
Experience the difference of working with actual people — people who care about superior craftsmanship and incredible customer service.
Request a Quote
Frequently Asked Questions
How much does a custom trade show booth cost?

The final cost of a custom trade show booth depends on the overall size an scope of the project. For smaller activations, you should expect to spend at least $3,500; for larger trade show footprints (think 20x20 and beyond), expect to pay at least $7,500.




We understand that budgets are a common problem when shopping for a trade show booth, so the best thing to do is let a sales person know your budget and then see what's capable for your booth.
How quickly can you turn around a custom trade show booth?

TentCraft can turn around most custom trade show booth projects in 3 to 5 days. That timeline depends on our current backlog and the overall size of your project. Because we manufacture our booths in the U.S. and operate off a build-to-order business model, we're built for speed and can turn around most jobs very quickly.
When is it time to purchase a custom trade show booth?

Many trade shows take place indoors (often in Las Vegas!) in the winter and early spring, so the best time to purchase your booth is in the fourth quarter of the previous year. So, if you have a trade show in January or February of 2024, we recommend purchasing your booth at the end of 2023.
How do you design a trade show booth?

TentCraft has an in-house engineering and design team that can assist you in designing your trade show booth. So, whether you have a specific design in mind or need some help, our team is here to execute your project.
Can you ship your displays directly to a hotel or exhibit venue?

Absolutely, we can ship your trade show booth to the most convenient location for you and your business. Make sure to have an address ready to give to your sales or customer service representative.
---
Request Trade Show Booth Pricing