8x8 Canopy Tent Custom for Events & More
Whether you simply want (or need) a smaller footprint, but still need to protect a few people and some merchandise, an 8x8 canopy tent is an excellent option. It's bigger than a 5x5, but more compact than the popular 10x10, offering a great in-the-middle solution.
TentCraft only manufactures custom pop-up 8x8 canopy tents, although you could create an 8x8 structure using our truss solutions.
All TentCraft pop-up canopies can be custom-printed with your company's or organization's branding using dye-sublimation printing technology, which absorbs the ink into the fabric so you don't have to worry about cracking or peeling down the road.
Our 8x8 canopies are also compatible with most of our custom accessories, including back- and side-walls, weighted footplates, and peak flags for even more visibility at events.
If you're interested in pop-up tents, then read on! An 8x8 tent is easy to transport and can be set up in about 5 minutes.
8x8 Pop Up Canopy Tent Models
Most people searching for an 8x8 tent want a pop-up structure that can be quickly deployed at farmers markets, county fairs, or other special events. Additionally, they want something that stands out at events and is versatile and functional enough for their use cases. Here's some basic information on TentCraft's 8x8 pop-ups, followed by our different models of handcrafted pop-up tents:
Cost: Starting at $1,049
Weight: 55-65 lbs
Setup Time: 5 minutes
Wind Ratings: Up to 35mph
What's Included?: Heavy-duty wheeled transport kit + heavy-duty stake kit
Turnaround Time: 3-5 days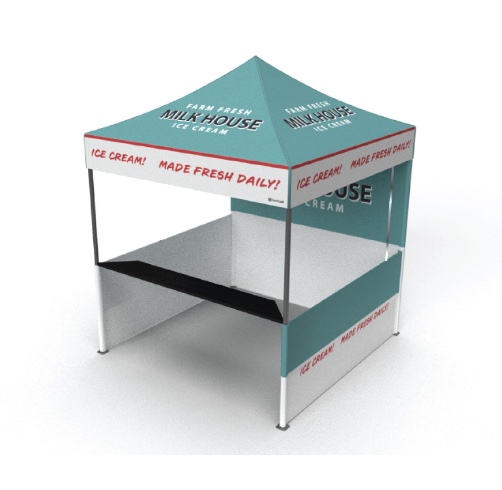 Heavy Duty 8x8 Canopy Tent
Starting at: $2,099
Our heavy-duty pop-up tent — MONARCHTENT — is more than a tent. It's event armor that protects your brand, your people, and your investment.
MONARCHTENT is our strongest pop-up tent, with the 8x8 option weighing about 55 lbs. with the canopy. We put so much confidence in describing this all-aluminum tent frame as the strongest on the market that we back it up with certified wind ratings and a lifetime frame warranty.
MONARCHTENT is made in America — the frame and all, which is a big difference between TentCraft and other professional custom canopy tent companies. While MONARCHTENT offers a handful of unique canopy designs, the 8x8 is restricted to only our standard peak, which just so happens to be the tallest in the industry.
8x8 Flatroof Canopy
Starting at: $1,049
The 8x8 FLATROOF custom canopy is perfect for businesses that occasionally need a setup for indoor events where there may be height restrictions. It's also a great solution for those who simply want to stand out with something other than a traditional peak. The heavy-duty version of this tent allows you to install a branded peak flag for greater visibility.
Medium Duty 8x8 Canopy Tent
Starting at: $1,349
When you need a strong 8x8 canopy, but not the top-shelf solution, our medium-duty 8x8, mightyTENT, is an excellent option. Made with a similar aluminum frame as MONARCHTENT, but completed with engineered plastic connecting joints to lower costs, this American-made pop-up tent still lasts a really long time and looks really good.
The 8x8 mightyTENT is compatible with all TentCraft accessories, including full and half walls, countertops, our handy weighted footplates, and our collection of event flags.
Accessories for Your 8x8 Canopy Tent
Our 8x8 canopy tents are compatible with our line up event accessories
How Many People Can Fit Under an 8x8 Canopy?
You can fit about 10 people under an 8x8 canopy with no furniture or accessories. When using it to sell merchandise for an event, like a farmers market, you can comfortably fit about 4-6 people. When going head to head in a robotics competition you can fit the whole team plus 150 lbs. of beautiful bot.
Create Your 8x8 Custom Canopy Tent Today