MONARCHSTOREFRONT
A Heavy Duty Billboard-Style Pop-Up Tent
---
Our goal with MONARCHSTOREFRONT was to create a unicorn within the pop-up tent industry. The result is an asymmetrical canopy tent that delivers a unique 2-in-1 design with an incredible amount of branding real estate.
Available Sizes: 10x10 • 10x20
MONARCHSTOREFRONT
A Heavy Duty Billboard-Style Pop-Up Tent
---
Our goal with MONARCHSTOREFRONT was to create a unicorn within the pop-up tent industry. The result is an asymmetrical canopy tent that delivers a unique 2-in-1 design with an incredible amount of branding real estate.
Available Sizes: 10x10 • 10x20
American Made 3-5 Day Turnaround
Veteran Owned Custom Printing
Lifetime Warranty
MONARCHSTOREFRONT
You can use either end as the front of the MONARCHSTOREFRONT, offering two extremely unique looks to your pop-up tent inventory for the price of one. If you position the taller canopy face as the front, you get a large billboard to custom print with your branding and artwork. Flip it around and you have an even larger, sloping surface that can be branded.
Like any other pop-up canopy tent, the frame sets up in 60 seconds. Because the MONARCHSTOREFRONT model is built on our heavy-duty MONARCHTENT framework, it's ideal for all types of outdoor event applications. The single slope gives you precise control over where you can direct rain in case of inclement weather. The taller face is also ideal for positioning up against a building or trailer, creating a pop-up storefront awning.
Ready to experience a professional canopy? Request a quote for your custom solution.
What's Included?
Heavy Duty, All-Aluminum Framework
Heavy-Duty Spiral Staking Kit
Precision-Fit All-Weather Canopy
Certified Wind Ratings
All-Weather Transport Bag
Multiple Head Clearance Options
Peak Flag/Peak Banner with Printing
Transport Wheel Kit
Lifetime Frame Warranty & 7 Year Canopy
Jump to a section using the icons below
Who Do We Work With?
From our production facility in Northern Michigan, we manufacture and sell custom tents, pop-up structures and signage to support outdoor events and experiences across North America. About 50% of our business is with experiential marketing agencies and bigger brands; the other half is made up of smaller brands and organizations, like nonprofits, restaurants, breweries, cannabis companies, municipalities, schools and universities, sports teams, healthcare organizations, construction companies, and many other industries.
Is MONARCHSTOREFRONT Right for Me?
We're the first people to say the MONARCHSTOREFRONT isn't for everyone. While everyone wants a professional-grade canopy, not everyone is ready to make this level of investment in their business. MONARCHSTOREFRONT is for people who…
Expect durability that comes with a lifetime frame warranty and 7-year canopy warranty
Needs a uniquely-designed pop-up tent to really stand out at an event.
Run or work for an experiential marketing agency trusted to represent a world-class brand experience.
Want something that's customizable and heavy duty.
Utilize pop-up tents as their main footprint for their business.
Have inexperienced users setting tents up and need something battle-tested.
Works for an organization with a lengthy purchasing process and can't afford to start all over again.
Needs better protection against costly or time-consuming damages.
Are comfortable spending at least $2,599 for a custom-printed, heavy-duty pop-up tent.
Experienced the frustration and regret of having to replace a cheaper solution.
Set up in regions with heavy winds and rain.
Don't have the time or patience to deal with pop-up tents breaking easily.
Set up tents several times a month or year.
Work with a short timeline and need something fast.
Need something that can be tailored to a specific use application, like food service, product display, drive-through, etc.
Needs a non-standard head clearance.
Focuses on a strong ROI when they purchase assets for clients or their own business.
We're the Quality Leader - Not the Price Leader
Instead of continually looking for a cheaper tent that's manufactured by a third-party factory overseas, we choose to build everything in-house. This allows us to push the envelope of durability, ease of use, and longevity for all of our event solutions. We're the quality leader—and we believe that investing in quality is cheaper in the long run. Our customers share this philosophy, especially because many have experienced the frustration and regret of going the cheaper route and wasting both time and money trying to find a replacement.
Pricing
Pricing depends on a number of factors including tent size, accessories, custom printing & more.The average MONARCHSTOREFRONT customer invests more than $3,000 into their professional structure.
You can learn more about TentCraft prices in our comprehensive guide.
Some MONARCHSTOREFRONT configurations, include….
Starting at $5,499
A custom-printed 10x20 MONARCHSTOREFRONT.
---
Starting at $3,499
A custom-printed 10x10 MONARCHSTOREFRONT.
---
MONARCHSTOREFRONT Sizes
MONARCHSTOREFRONT is available in two sizes: 10x10 and 10x20.
All MONARCHTENT models feature an anodized aluminum frame and anodized aluminum connectors for ultimate durability. What started as a heavy-duty 10x10 pop-up tent has grown into a collection of custom canopy designs and sizes, all of which can be tailored to your exact needs.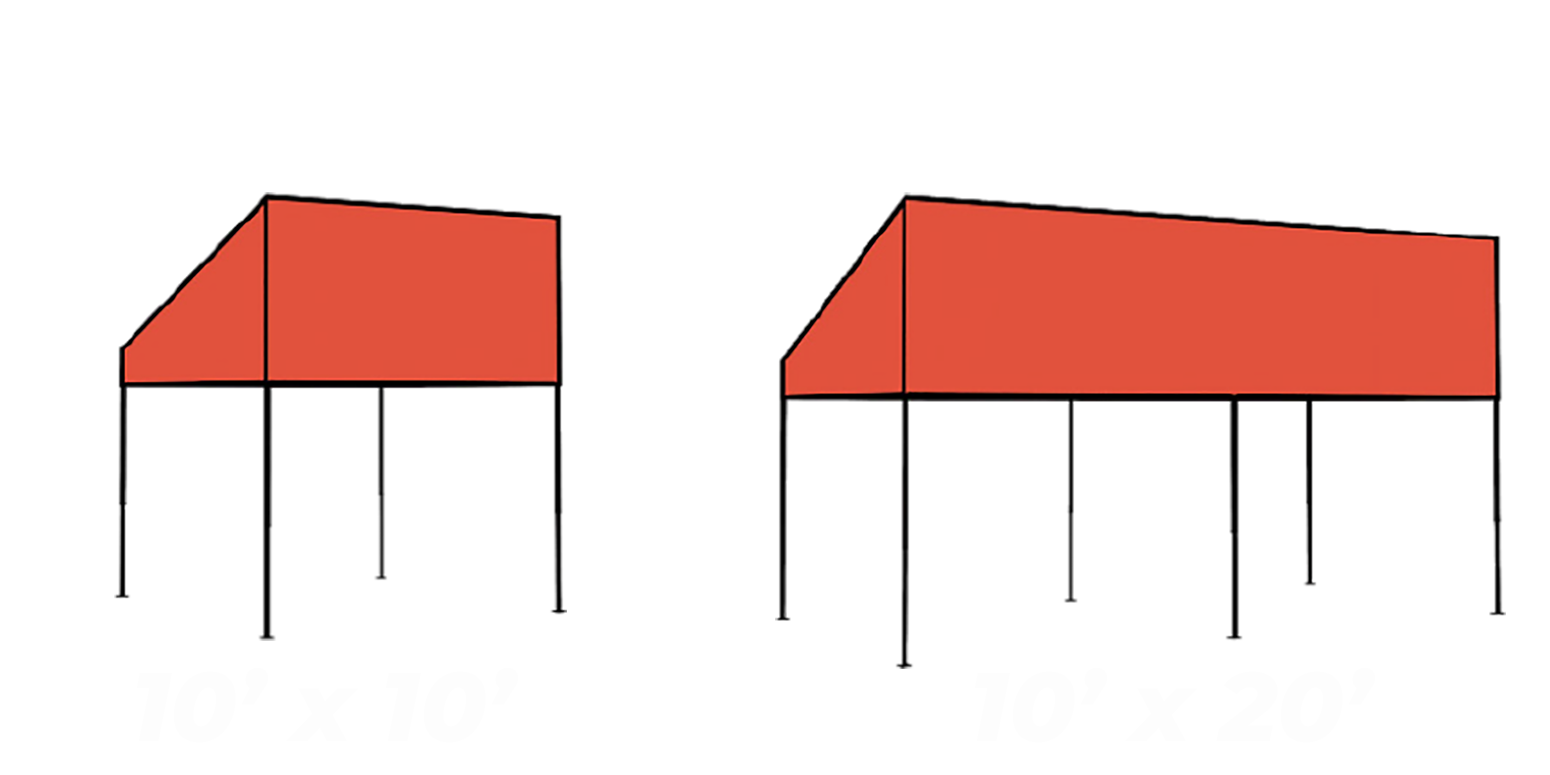 Other Heavy-Duty Canopy Models
At TentCraft, we understand the importance of standing out at an event. That's why in addition to the MONARCHSTOREFRONT, we've also designed and handcrafted a collection of canopy designs. Explore our different styles and find something that fits with your brand.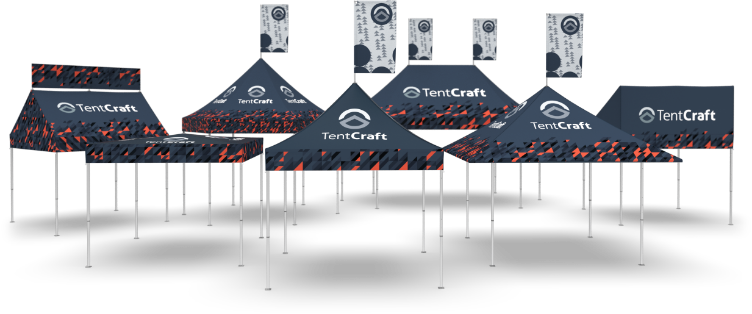 Features & Benefits: What's Included with MONARCHSTOREFRONT
When you invest in MONARCHTENT, you're purchasing an entire system handcrafted with American ingenuity and backed up by a lifetime warranty. We don't just say MONARCHTENT is the toughest pop-up canopy on the market — we prove it with these heavy-duty features:
Heavy-Duty-All-Aluminum Framework
A heavy-duty pop-up tent is a professional, commercial-grade structure manufactured with an all-aluminum frame. Because aluminum is a third of the weight of steel, we can manufacture a nearly-indestructible tent frame with higher-gauge legs that doesn't weigh hundreds of pounds.
The aluminum we fabricate at our production facility in Traverse City, Michigan is anodized — an electrical process that enhances the surface of the metal. As a result, our tent frames will NEVER rust.
In terms of hardness, anodized aluminum is second only to diamonds.
---
2-Way Application
The taller face of the STOREFRONT canopy can be used as the front or the back. Position the taller face flush against a building or use the taller face as your mobile storefront.
---
Precision-Fit, All-Weather Canopy
Any color. Any graphic. TentCraft prints all of its custom tents using dye-sublimation technology, which allows the canopy to absorb the ink and become part of the fabric. As a result, the print cannot be damaged with wear and it won't crack or peel.
---
Transport Kit & Patented Wheel Kit
While aluminum is lighter than steel, our custom pop-up tents are no slouch in the weight department. To make transportation easier to and from events, we include our all-weather transport bag and patented all-terrain wheel kit.
In a matter of seconds, one person can wheel a tent weighing over 100 lbs. to an event location without worrying about the risk of puncture.
---
Custom-Printed Peak Flag/Banner
Standing out at events is important. So, in addition to manufacturing a heavy-duty pop-up tent with the highest peak height in the industry, we take it a step further by including a custom-printed peak flag or banner, depending on the size of your tent.
When installed, the peak flag brings your tent's height to 17'2" — more than 7 feet taller than most pop-up tents in the industry.
The peak flag and peak banner, which is compatible with the entire MONARCHTENT lineup, adds more branding opportunities to your tent and ensures event attendees can always spot your setup.
---
Heavy Duty Spiral Staking Kit
Staking your pop-up tent into the ground is always preferred to take full advantage of maximum wind ratings. To that end, we include a heavy-duty spiral staking kit for quick ballasting.
Learn more about how to anchor your canopy tent and how much weight is needed for a 10x10, our most popular size.
---
Optional: Black Leg
Black frames are a unique option to customize your pop up tent and help your brand stand out. Most companies only offer frames in clear. Because we make our frames in-house, we're able to offer both standard (clear) and black anodized aluminum frames.
---
MONARCHSTOREFRONT Accessories
From custom counters to weighted footplates, heating kits, and more, TentCraft sells a number of high-quality accessories that perfectly complement your custom MONARCHSTOREFRONT pop-up tent.
If you're not sure what type of accessories would make your event setup easier, reach out to our team of tent experts, who are well-versed in all of our bells and whistles!
TentCraft Reviews & Case Studies
Whether you're an agency who needs help with custom experiential fabrication or just need a pop up tent with a logo—the reputation of who you choose to work with is paramount. Do they have experience and examples of projects within your vertical? What about examples of situations where something went wrong? How did they make it right? A big part of any brand's reputation is shaped by customer feedback and reviews. Here's what our customers have to say about their experience working with TentCraft.
Here's How to Get Pricing on Your MONARCHSTOREFRONT
What Made In America Means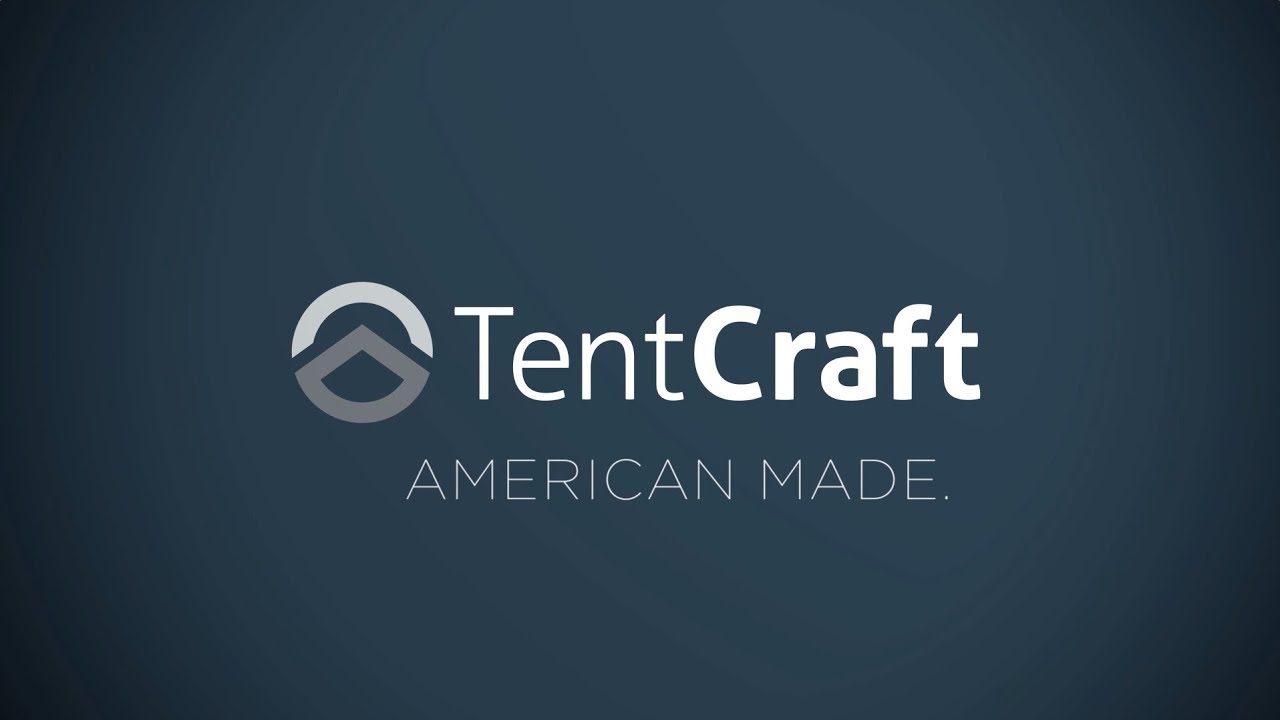 Made In America
Some companies throw around the phrase, "Made in America," pretty loosely in our opinion. Truth be told, more than 95% of the custom tent industry today imports metal frames from overseas and prints the branded canopies in the U.S.
At TentCraft, we choose to control quality, focus on speed, and support American craftsmanship — right here in Northern Michigan. We manufacture all of our aluminum tent frames in house and print the branded canopies in the same facility. All of our custom solutions are setup for a final inspection, then carefully packaged and shipped from our headquarters near Lake Michigan to all corners of the United States.
American made. American sourced. American jobs.
We believe our way is better.
TentCrafters focus on innovation, quality, and customization to better serve our customers. And that results in some obvious and not-so-obvious benefits.
Of course, there's that good feeling you get supporting good old-fashioned American manufacturing. But when you need a custom tent tailored to your brand and event, you want a team of experts on your side who are all under the same roof. From designing your canopy to figuring out a way to create some off-the-wall structure to really stand out at your next event, our knowledgeable team of sales reps, project managers, creative artists, metal fabricators, printing specialists, and sewing savants collaboratively bring your pie-in-the-sky idea to life.
We Make It Here So We Can Make It Better
Better Protection for your team, brand and investment
Better Features & Accessories to simplify events
Better Customization to support unique ideas and help you stand out
Better Turnaround Times to accommodate changes and last minute opportunities
Better Knowledge & Expertise with Engineering, Art, Print, Sewing, & Metal Machining being under one roof
4 Leg Setup
4-Leg MONARCHTENT models all set up similarly but the STOREFRONT has a center pole that must be connected before locking the legs into place. View the step-by-step setup instructions for proper installation.
VIEW PDF
---
6 Leg Setup
6-Leg MONARCHTENT models all set up similarly but the STOREFRONT has a center pole that must be connected before locking the legs into place. View the step-by-step setup instructions for proper installation.
VIEW PDF
---
---
Proper Staking
Learn how to properly anchor your MONARCHSTOREFRONT tent using the included stake kit.
---
Installing Footplates
Our 52-pound footplates are ideal for ballasting our canopy tents when you're unable to use stakes.
LEARN MORE
---
Peak Flag Installation
A peak flag with double-sided printing is not included with our 10x10 and 10x20 MONARCHTENTSTOREFRONT models but can be added on.
VIEW PDF
---
MONARCHSTOREFRONT FAQs
How much does MONARCHSTOREFRONT cost?

MONARCHSTOREFRONT starts at $2,599 and goes up based on size, configuration, and custom printing needs.
How much does MONARCHSTOREFRONT weigh?

A 10x10 MONARCHSTOREFRONT weighs about 83lbs. The weight obviously goes up with the size of your tent. Click here for complete specs.
How many people does it take to set up MONARCHSTOREFRONT?

A 10x10 MONARCHSTOREFRONT can be set up by one person, but it's significantly easier with an extra set of hands. We recommend two people for setup, and as many as four people for a 10x20.
How much wind can MONARCHSTOREFRONT handle?

A 10x10 MONARCHSTOREFRONT is wind rated at 35 mph when properly ballasted. Wind ratings vary based on your tent setup. A 10x10 with three sidewalls, for instance, has a lower wind rating because the walls create more friction against the wind.
What type of UV protection does MONARCHSTOREFRONT offer?

The MONARCHSTOREFRONT canopy is made from a proprietary material called Duranti, which is UV-resistant, blocking 99.95% of UV-A & UV-B Rays. In other words, you're safe from the sun when under the canopy.
How will my MONARCHSTOREFRONT ship?

Every MONARCHSTOREFRONT ships in a heavy-duty bag with an integrated wheel kit for safe and easy transport. Your tent's printed peak flag, stake kit, and instructions are also carefully packed in the box. MONARCHSTOREFRONT typically ships via a ground shipping method, but if you're ordering weighted footplates, it will require a freight delivery due to the weight.
---