20x20 Heavy-Duty, Semi-Permanent Canopy Tents Made in USA
When you need a 20x20, semi-permanent custom structure, trust TentCraft's heavy-duty lineup of frame tents to stand up to tough winds and look REALLY good in the process.
TentCraft manufactures a collection of 20x20 frame tents, in addition to our Future Trac keder frame solution that makes installation significantly easier. You can also invest in a custom truss solution in the 20x20 footprint.
Larger frame tents require multiple people to set up, but the tool-free design of those tents makes installation a breeze. Once installed and properly ballasted, the tents are designed to stay up for weeks or even months at a time.
TentCraft doesn't manufacture a 20x20 pop-up tent. Explore our other sizes if you're looking to purchase a custom pop-up tent.
While you can't purchase a pop-up tent, we do offer a custom 20x20 inflatable tent.
Use this page to learn more about custom structures we manufacture in the 20x20 footprint.
20x20 Frame Tents
Starting at: $4,799
When you need a semi-permanent custom 20x20 tent, TentCraft's lineup of frame tents is a great option.
Our E-Series and X-Series frame tents come with certified wind ratings, and the canopy top is fabricated using a heavy-duty 18oz vinyl with hot-air-welded seams to create a waterproof seal.
The high-pitch canopy can be custom-printed with your organization's branding, and the entire structure can be set up in under 30 minutes thanks to its quick, tool-free setup. We recommend setting up with at least four people.
20x20 Keder Frame Tent
Starting at: $11,999
Designed for an open-air look and engineered to be left up for months at a time, TentCraft's 20x20 keder frame tent — we call it Future Trac — is perfect for major brand activations at large events that last for multiple days. It's also great for restaurants or other businesses that need a protection from the elements, but don't want to build a brick-and-mortar structure.
Our Future Trac solution, when properly ballasted, is rated for high wind tolerance and is extremely safe as a semi-permanent structure.
The keder track makes installing the canopy quite easy. Once placed in the track on both sides of the structure, your install team can simply pull it through, resulting in a taut, water-resistant canopy that looks great — especially when you custom print your business' branding on it.
20x20 Custom Truss Structures
20x20 is the ideal footprint to create a major activation using TentCraft event truss solutions. Whatever you dream up, we can make it a reality.
Many customers use their truss for custom backdrops, event entrances, and trade show displays.
Because truss is such a custom product, prices will vary greatly. Reach out to our team to pinpoint a better starting price for your project.
20x20 Inflatable Event Tents
Starting at: $4,999
TentCraft's versatile GYBE inflatable tent comes in four different sizes, including 20x20.
Customers love inflatable tents because they're lightweight to transport, easy to set up in about 5 minutes, and the modern design really helps them stand out at events. Check out these great inflatable tent examples.
While the overall footprint of the 20x20 is plenty big at 400 square feet, the unique arch design of the tent makes it feel larger than it really is. And because there are no rigid frames, packing up and storing this tent is a breeze.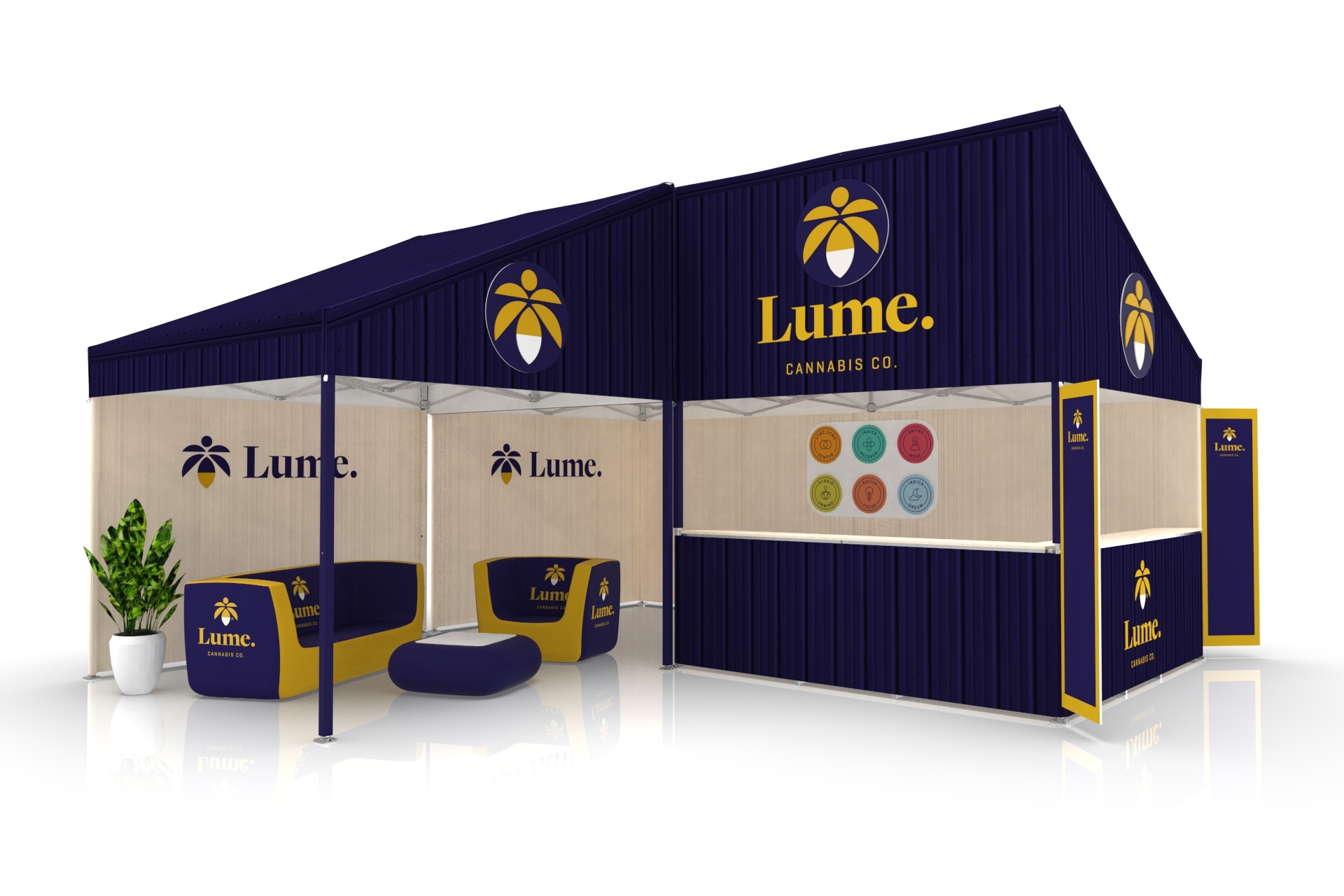 20x20 Trade Show Booth Ideas
If you're investing in the larger 20x20 footprint for your next trade show, you'll want some booth design inspiration. We've compiled some of our favorite 20x20 trade show booths using our collection of American-made event solutions.
How Many People Can Fit Under a 20x20 Canopy?
With 400 square feet of space, more than 50 people can fit under a 20x20 canopy tent with no furniture underneath it. If you add a table and chairs and other furniture, that number drops to about 25 people.
Most 20x20 customers use this tent to highlight vehicles, which take up space, because there's still enough room to handle a steady flow of people coming in and out of the tent.
Adding walls can make the tent's interior feel smaller, so keep that in mind if you plan on having a lot of people under a tent.
Design Your Heavy-Duty Custom 20x20 Canopy