If you're a vendor who sells wares at craft shows, food at farmers markets, doodads at flea markets, or concessions at a county fair, you typically need some kind of canopy tent to protect yourself, your people, and your merchandise.
In addition to that protection, that tent also advertises your brand and helps you stand out at events.
Prepared to be overwhelmed with options, however, when you start your search for a reliable pop up canopy tent. Everything from those cheap tents you find at Walmart to professional solutions, like the ones manufactured by us at TentCraft, will dominate your search results.
As the manufacturer of some of the toughest pop-up tents in the business, we not only have some strong opinions on the mass-produced junk tents that are imported to the big box stores, but we also have a deep knowledge of what makes a tent heavy duty, how you can best customize it, and how much you should expect to spend on your investment.
TentCraft controls quality by manufacturing custom canopy tents as orders roll in. That allows us to place immense focus on the common fail points of tents and ensure your tent lasts a REALLY long time.
That being said, TentCraft isn't for everyone. American craftsmanship comes at a higher price, and it doesn't always fit everyone's budget — especially new vendors who are launching a new business.
That's why we will share some tents from other companies that we believe can also be a reliable option for you.
The 5 Best Canopy Tents for Vendors
We went through some of the top results on Google for "best canopy tents for vendors" and weren't exactly impressed with what we saw. Long story short: Lots of cheap $150 tents (many with flimsy slanted legs!) that we could almost guarantee won't make it through an entire vendor-selling season.
If you're a serious vendor who needs a reliable tent to last for many, many years, you've come to the right place. Many of the brands on this list are also featured on our list of the best custom canopy tent companies.
These are our top choice for professional vendor tents:
TentCraft mightyTENT
Our mightyTENT is an all-aluminum, medium-duty pop-up tent that's made in America. It comes with a 5-year frame warranty and is completely customizable to best fit your company's branding (think custom-printed backwalls, counters, and rigid sign attachments).
Here are the quick specs on it:
Anodized aluminum framework

Thick, cast aluminum footpads

Large EZ-release push buttons

A canopy is made from our proprietary material called Duranti, which is UV-resistant, blocking 99.95% of UV-A & UV-B Rays.

5-year frame warranty and 7-year canopy warranty
We describe mightyTENT as the professional-grade tent you upgrade to once you become sick and tired of replacing cheap tents year after year.
We're able to price it more affordably than our heavy-duty MONARCHTENT (which is our top-of-the-line solution) because it uses less aluminum and contains fewer features and add-ons.
Like our MONARCHTENT, though, we include our proprietary wheel kit and heavy-duty transport bag to make lugging your tent back and forth much easier.
mightyTENT starts at about $1,699, depending on size and printing. If that's too expensive for your budget, there are other options on the market that might be a better fit. Remember, though, that those tents are likely imported from overseas and don't come with the same level of quality as an American-made product.
Mastertent S2
TentCraft actually used to be the Northern American partner for MASTERTENT, so we're familiar with their tent frames. The Series 2 canopy is a reliable all-aluminum frame with some nice features for ease of use.
The tent, which is manufactured in Europe, comes in seven different sizes and features valence tensioning straps for a clean canopy look.
We appreciate the S2's leg-lock system and push-button slides, which makes setup and take-down very easy.
ExtremeCanopy X6
Another capable aluminum frame pop-up tent is the ExtremeCanopy X6, which comes in four sizes and has a head clearance of 6'5".
We found that the hexagonal leg profile isn't as tough as an octagonal profile, but most vendors won't notice a difference.
One thing to look out for is the thin steel footplate. Serious vendors who drag their tents across parking lots may see some significant wear on those footplates after a season or two. (That's part of the reason why TentCraft manufactures its tents with a heavy-duty aluminum-cast footplate.)
All Extreme professional tents come with a 5-year frame warranty and 1-year canopy warranty.
Impact Canopy ML Series
If your budget is extremely tight, we always recommend cutting down on customizations, but we would never recommend stooping to purchase a steel frame canopy tent.
So, for our "cheap tent" recommendation, we suggest this aluminum pop-up from Impact Canopy.
The frame legs measure 1 5/8" thick, which is thinner than the legs found on a professional solution, like mightyTENT. Still, it's a better option than an even thinner steel leg.
The footplate is made of steel, so you can expect that to become beat up quickly — especially if you consistently set up in parking lots.
This frame, which is manufactured overseas in Asia, can be outfitted with one of 11 different color canopies. That stock tent sells for $550 — you can add customization options for an additional cost.
If you need a basic canopy tent and don't care about branding on your tent, this could be a potential purchase for you.
EZ Up Endeavor
If you're even remotely familiar with the pop-up tent business, you've likely heard of the E-Z UP brand. The longtime company is best known for its recreational canopy tents that families use at weekend soccer games and tailgates, but they also sell a lineup of more professional-grade tents that could be useful to vendors.
If you're going the E-Z UP route, we'd recommend the Endeavor. It's an aluminum frame tent that features a canopy with reinforced corners to help it last longer.
A few downsides: The footpad, while made of aluminum, isn't very heavy-duty, and the toggle leg adjusters can be a bit finicky to use. Also, it doesn't include a wheeled bag, which can make transporting a 68 lbs. tent difficult.
Expect to spend about $1,000 on this tent.
Vendor Canopy Tent Buyer's Guide
Use the recommendations above to start your search, but you're definitely going to see some other canopy tents as your search for the perfect solution for your business.
Here are some things to consider when shopping for and comparing different pop-up canopy tents:
What Makes a Good Vendor Canopy Tent?
There are five main elements that can allow a canopy tent to be considered "good."
Material
You need an aluminum frame that's at least 70 lbs. (for a 10x10), and a canopy that's made using 600D polyester. At TentCraft, we use a super-strong proprietary polyester material called Duranti that's UV-resistant and sheds water. This material has been specifically tested for maximum tensile strength. Make sure to stay away from lightweight nylon canopies because they can easily tear.
Customization
Your tent not only needs to protect you — it needs to stand out. If you're a serious vendor, you absolutely need a canopy tent that's 100% customizable. That doesn't just mean full custom printing on the canopy and your choice of sizes, but also an opportunity to choose from different canopy designs.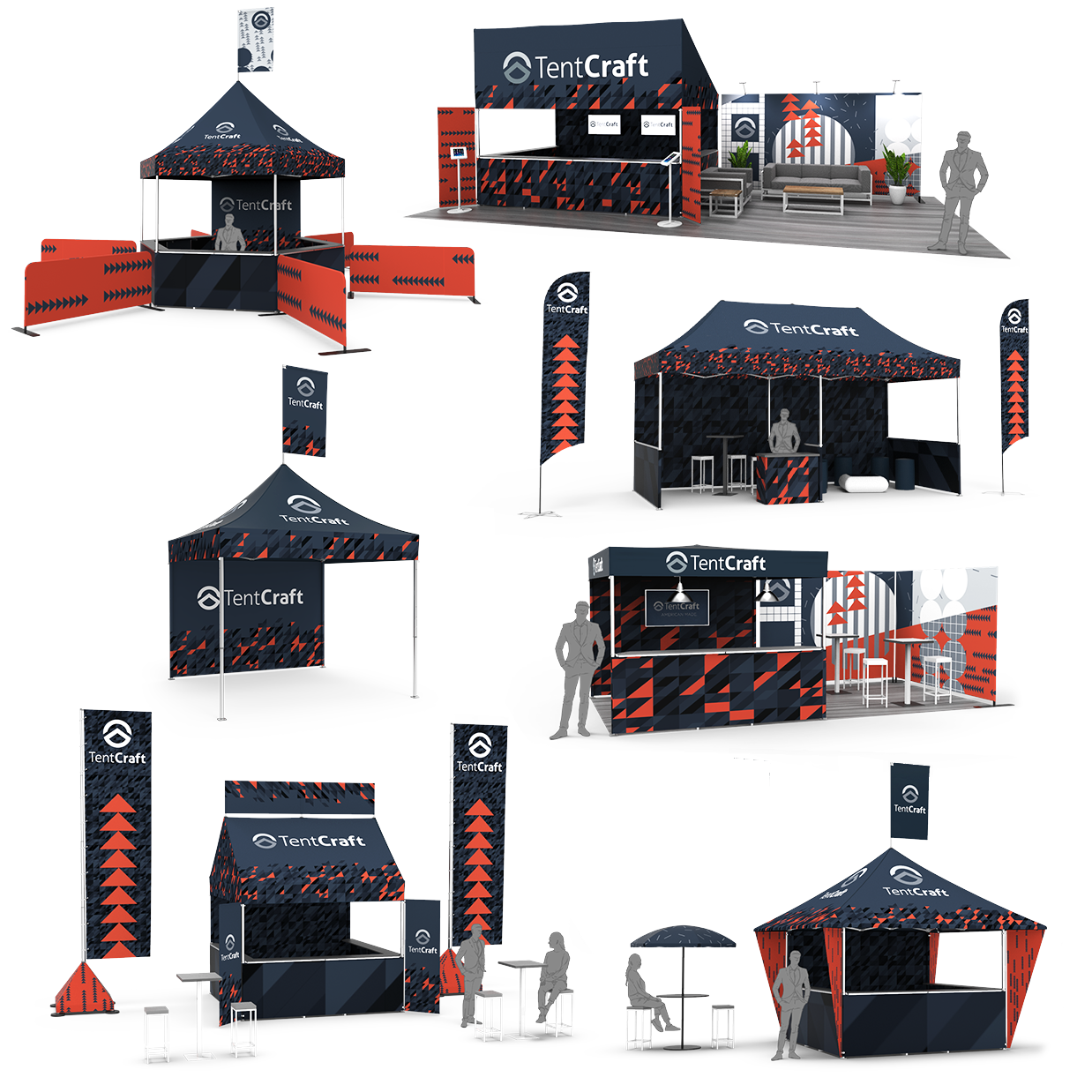 TentCraft's MONARCHTENT lineup features seven different canopy styles, including the standard peak tent. These different styles look not only drastically different than 99% of all pop-up tents you commonly find at events, but also offer additional branding real estate and better use.
Tough on Wind
You want to invest in a pop-up tent that can handle heavy winds. After all, as a vendor, you're constantly setting up outside in unpredictable weather. You need to rest assured your tent can withstand the storm to protect your people, your products, and your brand.
TentCraft is one of the few companies that manufactures its tent frames and certifies them with actual wind ratings by a third-party engineering firm. Other canopy tent companies will tell you their tents can withstand big winds, but they don't have documentation to back up those claims.
Portability
There are two aspects of portability when it comes to pop-up tents: The overall weight of the tent and the ability to move that tent from your car to the event location.
When it comes to the weight of the tent, you want something that's heavy enough to stand up to tough winds. Some tent brands advertise tent frames made up of lightweight magnesium, which means a 10x10 weighs around 30 lbs. That's great for portability but not so good for standing up to wind.
Look for a (10x10) pop-up tent that weighs about 70-80 lbs and includes some kind of wheel kit for easy transportation.
Customer Service & Warranty
Investing in a professional pop-up canopy tent is a big purchase for your vendor business, so you want to make sure you have a team of experts on your side that offer a quality product with a warranty.
Sure, you can go the Amazon route and have a tent delivered in a few days. But what happens when a part is missing or broken? Or when the tent blows off and crashes into a tree? You probably wouldn't know who to call to remedy that situation.
When you work with a professional company, like TentCraft, you have a dedicated sales and customer service representative. And if something were to go wrong with your tent, we offer best-in-class warranties on all of our canopy solutions.
FAQs:
What is the best pop-up canopy for craft shows?
The best type of pop-up canopy tent for craft shows is made with an aluminum frame, polyester canopy, and one that weighs at least 60 to 70 lbs. Additionally, you want something that can customize to match your brand.
Should I buy a slant leg or straight leg canopy?
Buy a straight leg canopy ALWAYS. A slant leg is a terrible structure that can't stand up to big gusts of wind. Learn more about the difference between slant leg and straight leg tents.
How much should I expect to spend on a vendor tent?
You should expect to pay at least $1,000 for a professional vendor tent. You can certainly find cheaper tents for under $500, but those are considered more recreational-grade tents.
How can my vendor tent stand out?
To make your vendor tent stand out, it starts with what's printed on the canopy. A dedicated art team can help you create a truly stunning canopy that fits your brand.
But it doesn't end there. Add-ons, like branded signage, flags, and table covers, complete your vendor setup and almost guarantee you'll look WAY better than the majority of the boring white tents out there.