There are potentially several reasons you're shopping for a new custom pop-up canopy tent for the upcoming farmers market season:
You're tired of replacing cheap tents (think Coleman Instant Canopy, Eurmax Canopy, or anything dubbed "instant shelter") that barely last an entire season.




You want to stand out in a sea of white tents.




You need better protection for yourself, your workers, your products, and your brand.




You want a more professional solution that can withstand tough winds and rain

.
And that's why you've landed here! These are comments we receive daily from small business vendors who rely on their local farmers markets to sell wares and contribute to the fabric of their community.
After getting those comments and concerns out of the way, these small business owners typically have the same question: What's the best canopy tent for a farmers market?
As the only U.S. manufacturer of custom pop up canopy tents - the frame and all - we know a thing or two about what makes a pop up canopy tent durable and how to make it stand out from the competition. And because we control the entire manufacturing operation, we can ship your solution faster than you can say, "Organic veggies for sale."
Of course, not everyone is a good fit for TentCraft - and that's OK! Budgets are real things and if our custom, American-made solutions don't fit into yours, there are other pop up tent models on the market that you can buy. We'll even point you in the direction of a few competitors who might be able to help you.
But first, it's important to explain why investing in a higher-quality pop up canopy tent actually makes better financial sense.
Why Are Quality Commercial Canopy Tents Necessary for Farmers Markets?
Quality canopy tents are necessary for farmers markets because they offer the ultimate level of protection for your business and brand. There's also no guessing with quality. Every time you unpack your canopy tent, it should open with ease and be installed in minutes. And once it's up, you can trust it'll stay up and protect your products.
Cheap tents sourced from overseas come with an attractive price tag, but typically end up in a landfill after a season or two of strong winds and inclement weather. Unfortunately, many small business owners who depend on farmers markets end up purchasing another cheap tent the following year and the process repeats itself.
Also, when you're at a farmers market, you need to focus on engaging with your community in order to sell products. You shouldn't be worrying about your tent blowing away.
What Makes a Good Custom Farmers Market Tent?
A good custom farmers market tent has the following attributes:
An aluminum canopy frame. This is the foundation of a heavy duty tent. (Most cheap tents are made from thin steel.)




Hefty legs. A leg diameter of 2" with a hex or octagonal profile offers better balance and stability.




Professional-grade footpads. A footpad that's at least ¼" thick holds up for a long time, even as you drag your tent across hard surfaces.




High-quality printing. The dye-sublimation method is preferred because the ink is absorbed and actually becomes part of the fabric, preventing any future cracking or peeling.




Ability to add-on. As your business grows, your tent should grow with you. An ability to easily add a sidewall or two, shelves, and other accessories is important. Purchasing from a company that can also print a custom table cover or media walls is also helpful.
A good tent also needs to be easy to transport and set up. Our heavy duty, 10x10 MONARCHTENT, for example, is heavy but includes a wheel kit for easy transportation. It can also be set up by one person in under 5 minutes.
Finally, a good farmers market tent lasts a really long time. We put lifetime warranties on our heavy-duty pop-up frames because we feel they should last that long.
The Best Custom Farmers Market Tents
If you landed on this page from a search engine, there's also a chance you saw some other "best of" articles concerning farmers market tents. We saw them, too, and weren't totally impressed.
Most of the articles recommended recreation-grade tents that you can purchase on Amazon for under $300. Again, for some vendors, that's going to be good enough. But for the serious farmers market vendors who set up their stand multiple times per week, a commercial-grade solution is the best option. These are our picks for the best canopy tent models.
TentCraft mightyTENT
mightyTENT is the perfect medium-duty solution for farmers market vendors who don't need a top-of-the-line solution (like MONARCHTENT) but still demand a professional-grade, American-made pop-up tent.
mightyTENT features an anodized aluminum framework, thick, cast-aluminum footpads, and large EZ-release push buttons, allowing you to set up and disassemble with ease. We back the tent with a 5-year frame warranty and 7-year canopy warranty.
Farmers market vendors like mightyTENT because it's easy to transport and holds up with constant use. When properly ballasted with footplates or the included stake kit, you can trust your tent will hold up in unpredictable weather.
Just as important, mightyTENT can be customized to perfectly represent your brand. From custom-printing the traditional or flatroof-style canopy, to adding walls and counters to your design, this tent can't fit your business' needs - and hold up to the wear and tear that comes with a busy market season. When properly anchored, mightyTENT can handle strong wind and rain.
mightyTENT, which starts at about $1,700, is a custom tent manufactured in the USA - Traverse City, Michigan, to be exact.
If TentCraft isn't a good fit for you due to price, we would recommend pop-up canopies from two of our competitors, which sell pop-up tents manufactured overseas.
MASTERTENT S2
As the former North American partner for MASTERTENT, we know a thing or two about this company's products. The Series 2 canopy uses an all-aluminum frame and octagonal leg profile shape.
The tent uses the same leg-lock system and push-button slides as its heavier-duty S1 model, which makes setup and takedown easy. The bolt-system and plastic glides on the legs and connecting elements reduce friction to create an easy setup.
The S2, which comes in seven different sizes, doesn't include a corner roof tension system, which is helpful in ensuring a taut canopy. It does include valence tensioning straps.
MASTERTENT is based in Italy, but manufactures its products across Europe. It offers a 5-year frame warranty.
ExtremeCanopy X6
The ExtremeCanopy X6 is a "business-grade" pop-up canopy that features an aluminum frame and hexagonal leg profiles. A 10x10 model weighs less than the MASTERTENT and TentCraft models.
The X6 only comes in four size configurations (8x8; 10x10; 10x15; and 10x20). All canopies have a head clearance of 6'5".
The hexagonal leg profile isn't as heavy-duty as an octagonal profile, but should suffice for most farmers market vendors.
Because this isn't Extreme's top-of-the-line canopy, the company uses a thin, zinc-coated steel footplate, which could take a beating depending on how often you need to drag your tent around the market.
The company offers a 5-year frame warranty and 1-year canopy warranty.
Inspiration: Canopy Tent Designs for Farmers Markets
Yes, a 10x10 square canopy is the most typical tent you'll find at a farmers market. But at TentCraft, we're big on standing out in a crowd. That's why we designed and developed a family of MONARCHTENT solutions that go beyond the traditional pop-up tent look and feel.
MONARCHTENT is TentCraft's top-of-the-line pop-up tent model and is trusted by Farmers Market vendors who demand quality.
Backed by a lifetime frame warranty, MONARCHTENT features a 2" octagonal leg profile, thicker, reinforced cast-aluminum footpads, pinch-free corner push buttons, and a spot at the top of its 11"10' peak height for a custom peak flag. That tent peak on the traditional model, by the way, is the tallest in the industry for this type of pop-up tent.
The tent comes with a wind rating of 35mph when properly anchored to the ground, either using stakes or weighted footplates.
On top of its durability, MONARCHTENT is also highly customizable. You can design MONARCHTENT with seven different designs in a number of sizes:
Traditional
For obvious reasons, this is the most popular roof style for pop-up tents we sell. You certainly can't go wrong with a classic. Thanks to our strap and buckle system, your canopy fits tightly without wrinkles for a professional look.
The peak height on a 10x10 tent is 11'4", allowing patrons to easily see your canopy branding across a sea of tents.
Flatroof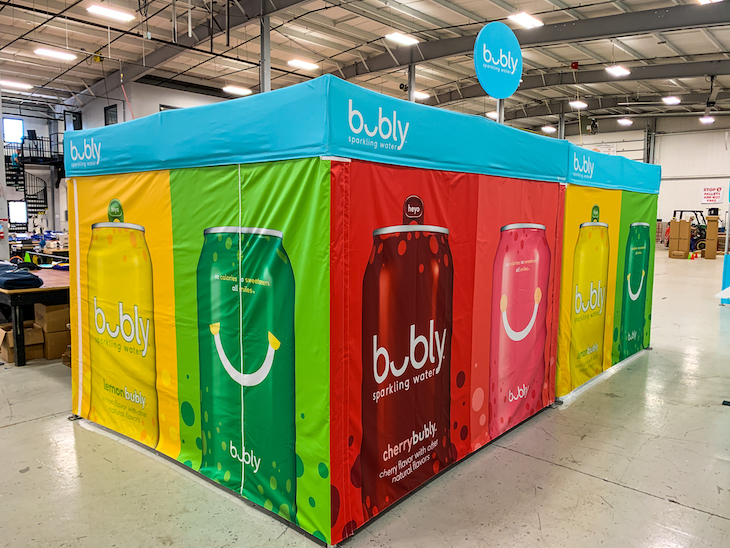 If you're a farmers market vendor who sets up indoors and outdoors, a flatroof roof style is a great option. Vendors opt for a flatroof when they have height restrictions, but the unique design can also stand out, even if you primarily operate outdoors. While branding real estate is limited, many customers opt to add sidewalls and a back wall for additional branding opportunities.
Pagoda-Style
We call this roof style the MONARCHREACH because the canopy stretches past the frame an additional 18" for additional shade underneath the pop up tent. That extra length also gives you more space for branding.
Gable
We always thought our MONARCHGABLE commercial canopy to look like a milk carton. So, if you sell dairy products at your local farmers market, this is a design you should definitely check out.
The frame of this tent expands like a typical pop-up tent, but the canopy setup makes it appear like a more robust frame tent with a gable. We also include attachments for a peak banner, which can be custom-printed with your brand's logo, allowing patrons to spot your tent from far away.
Storefront
The MONARCHSTOREFRONT is a great design for vendors that need to setup against a wall. Even better, It's a 2-in-1 design, meaning you can have big-time real estate for branding on the larger side, and even more space on the other side, which features a sloped roof.
Hexagon-Shaped
The MONARCHHEX is a great design for vendors that constantly deal with long lines. One section of the hexagon-shaped tent can be used to order and pay, and then patrons can move to another section to pick up their order. This commercial canopy sets up like our other pop up canopy tent models, despite its larger footprint.
Market Stall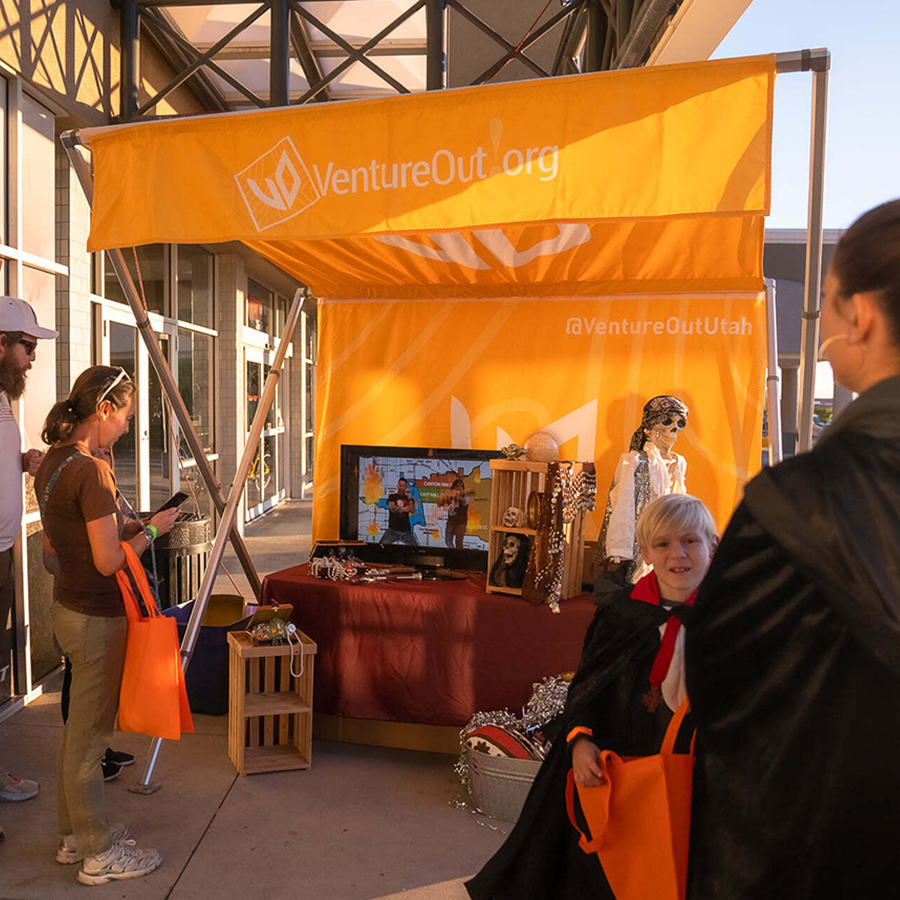 We built the MONARCHSTALL using the same heavy-duty components found in our pop-up tents to create a modern-looking market stall that stands out and is super-easy to transport and set up. This is an especially great setup for vendors who set up at farmers markets to advertise a service they provide, as opposed to a physical product. Their shelter offers some shade and looks professional.
How to choose the best farmers market tent for you?
The best farmers market tent should fit your budget, be easy to transport, and be easy to set up.
Farmers Market Tent Budget
As we've mentioned, the price tags on cheaper tents made overseas can be attractive. And when you open those tents up for the first time, you might be impressed by how they look and feel. But we've seen it time and time again. After a season or two of heavy use, the cheap tents are going to break down.
It makes better financial sense to invest in a commercial-grade pop-up canopy tent that you know is going to last a really long time. This is especially true if you're a diehard farmers market vendor who sets up more than 30 times per year. The constant opening and closing of your tent can wear down cheap components, but commercial-grade parts can handle that constant use.
If you can't afford a more professional canopy this season, then make it a goal to save up money from sales and make the investment the following season. Learn more about TentCraft prices.
Size and Transportation
The most popular size for a farmers market tent is a 10x10 (100 square feet). Some markets, however, can accommodate larger tents. Make sure you don't purchase a tent that's too big and becomes a nuisance at the market because of its size. Most farmers market vendors attend a handful of markets throughout the season; check with the organizer to see if there are strict size requirements for booths.
And remember: the larger the tent, the more difficult it is to transport. Often, vendors are setting up these tents at the crack of dawn, so you need something that's simple to take from your vehicle to the lot where the market is held.
TentCraft recognizes the importance of transporting pop up canopy tents and includes a heavy-duty wheeled bag.
Easy Setup
Finally, you want a tent that's simple to set up - and with only one person. Many vendors are a one-man or one-woman show, so the ease of setup is critically important.
A 10x10 MONARCHTENT or mightyTENT can be set up in about 5 minutes once you get the hang of it.
Little things, like pinch-free buttons, make a big difference in the setup process. Most commercial-grade canopy tents have thought through these paint points to make setup a breeze.
FAQs
Do you really need a tent for the farmers market?
You don't need a tent for an outdoor farmers market, but you will definitely want one. If you're a consistent vendor at a farmers market, there's going to be a day when the weather doesn't cooperate and you and your products get soaked by rain. In addition to the protection from the elements that a tent offers, it's also a great way to market your business and allow patrons to see it from across a parking lot.
Do I need a white tent at a farmers market?
A plain white tent is the most budget-friendly option when shopping for a farmers market tent, but it's certainly not the best way to stand out at a market. Because white tents — also referred to as "stock tents" in the industry — don't require any custom printing, they're the most affordable option. As big fans of custom tents and structures, we always recommend adding personalized branding to your tent in order to best stand out.
What weights should I use for my farmers market custom canopy tent?
The most preferred way to ballast (anchor) your tent is by staking it into the ground. Unfortunately, most farmers markets take place on concrete where that's not possible. We are big advocates of farmers market vendors purchasing our 50-pound footplates, which can add a total of 200lbs to a 10x10 or 10x15 tent, which is enough weight to hold it down and achieve a 35mph wind rating. Weighted footplates are easy to install, but there are plenty of other canopy anchor ideas that get the job done.
Which is better: Straight leg or slant leg canopy?
A straight leg canopy is far superior to a slant leg canopy for farmers markets. All slant-leg canopies are "recreation-grade" canopy tents, meaning they're typically made with thin steel. All professional-grade pop-up tents are straight leg canopy tents because there is WAY more structural integrity. The best tent is a straight-leg canopy.
How can you make your canopy tent stand out at a farmers market?
The easiest way to make your canopy tent stand out at a farmers market is through custom printing. You have total control over what your tent looks like, which is why a majority of TentCraft customers opt to include custom printing. To make the tent pop even more, consider adding custom-printed flags, table covers, and even LED lights.
How much should you spend on a farmers market tent?
What you spend on a farmers market should depend on what your budget allows you to spend. That being said, investing in a high-quality farmers market tent upfront can save you money in the long run. Most cheap tents you find on Amazon and in other big-box stores might last you two or three years in typical conditions. A commercial-grade tent, however, can last you significantly longer, not only saving you money in the long run, but also the headache of reordering a tent. A commercial-grade canopy starts at about $1,700 and goes up in price depending on size and accessories.
Invest in a Quality Farmers Market Tent
Ready to learn more about custom, American-made canopy tents that can shine at your next farmers market? Contact the experts at TentCraft today to start creating a true investment in your business by going with the best tent.