The below factors are often the driving force behind any decision to invest in a heavy duty pop up canopy:
 
• You've had a cheaper pop up tent model fail on you and need to upgrade


• Customization & Accessories


• You can't afford to misrepresent your brand and need professional, lasting quality


• You need a pop up tent that is battle-tested for heavy use


• You need something that can handle heavy winds and rain
You're probably researching and comparing different heavy duty pop up tent manufacturers to find one that best fits your brand and budget. While we're one of those manufacturers of professional-grade pop up tents, we understand that you might still want to consider all of your options. We're often asked "If we don't use TentCraft, who would you recommend?"
Related: How Our Pop-Up Tents Challenge the Windiest Cities in the US
That's why we have compiled a list of the three of the best pop up tent models built for heavy winds and rain. After all, surviving wind and rain is one of the biggest problems with pop-up tents.
What Makes a Pop Up Canopy Heavy Duty?
As one of the only USA-based custom tent manufacturers, we have a strong understanding of not only the marketplace but also the engineering & materials used in pop up tent manufacturing. Therefore, we feel an obligation to help educate every brand and individual on their options. Just because we may not be a good fit doesn't mean we can't recommend another company.

So first things first. You'll see or hear the phrase "strongest pop up canopy tent in the industry"--but without proof or a baseline understanding of what determines overall strength and durability for pop up tents, this is a bit of an empty statement. We can help provide a foundation to heavy duty pop up tent models. So before we dive into our top 3 recommendations, let's take a closer look at what classifies a pop up tent as heavy duty.


The Anatomy of a Heavy Duty Pop Up Tent Model
Material: Anodized Aluminum
The first thing to look for is an aluminum frame. This is a must-have to be classified as a heavy duty. Aluminum pop up tent frames are comprised of anodized aluminum. When aluminum is anodized, the natural oxide layer on the surface is increased, resulting in a new layer that is 100 times as thick and nearly as hard as a diamond. Anodized aluminum is also corrosion resistant, whereas steel frames will chip, crack and rust. The advantage of aluminum is in its strength-to-weight ratio. Since aluminum is approximately ⅓ the weight of steel more of it can be used in the frame design to increase strength and durability.
Aluminum Thickness (Gauge)
Material thickness is also important. Commercial pop up canopy models should have a wall thickness of nearly 2mm (12 gauge aluminum). A pop up tent with a material thickness of 1mm is built more for recreational use (backyard BBQ, beach, camping) and isn't going to deliver the durability or product life that a commercial grade pop up tent does.
Leg Design & Diameter (Gauge)
The total leg diameter is also an important factor. Heavy duty pop up tent models also have a leg diameter of 2" or 50mm. You'll also find that pop up tent models are available in square, hex and octagonal leg profiles. The purpose of a hex or octagonal leg design is that it's not only easier to grip but also adds more surface area to the base of the leg, creating greater balance and stability. Now this is only the case if the diameter of a hexagon or octagonal leg is larger than the square leg.
Connecting Joints
The majority of pop up tents use either plastic or aluminum joints--and just like the joints on your body, these areas bear a lot of weight and friction. Heavy duty models use anodized aluminum joints. In other words, heavy duty models have all aluminum frames.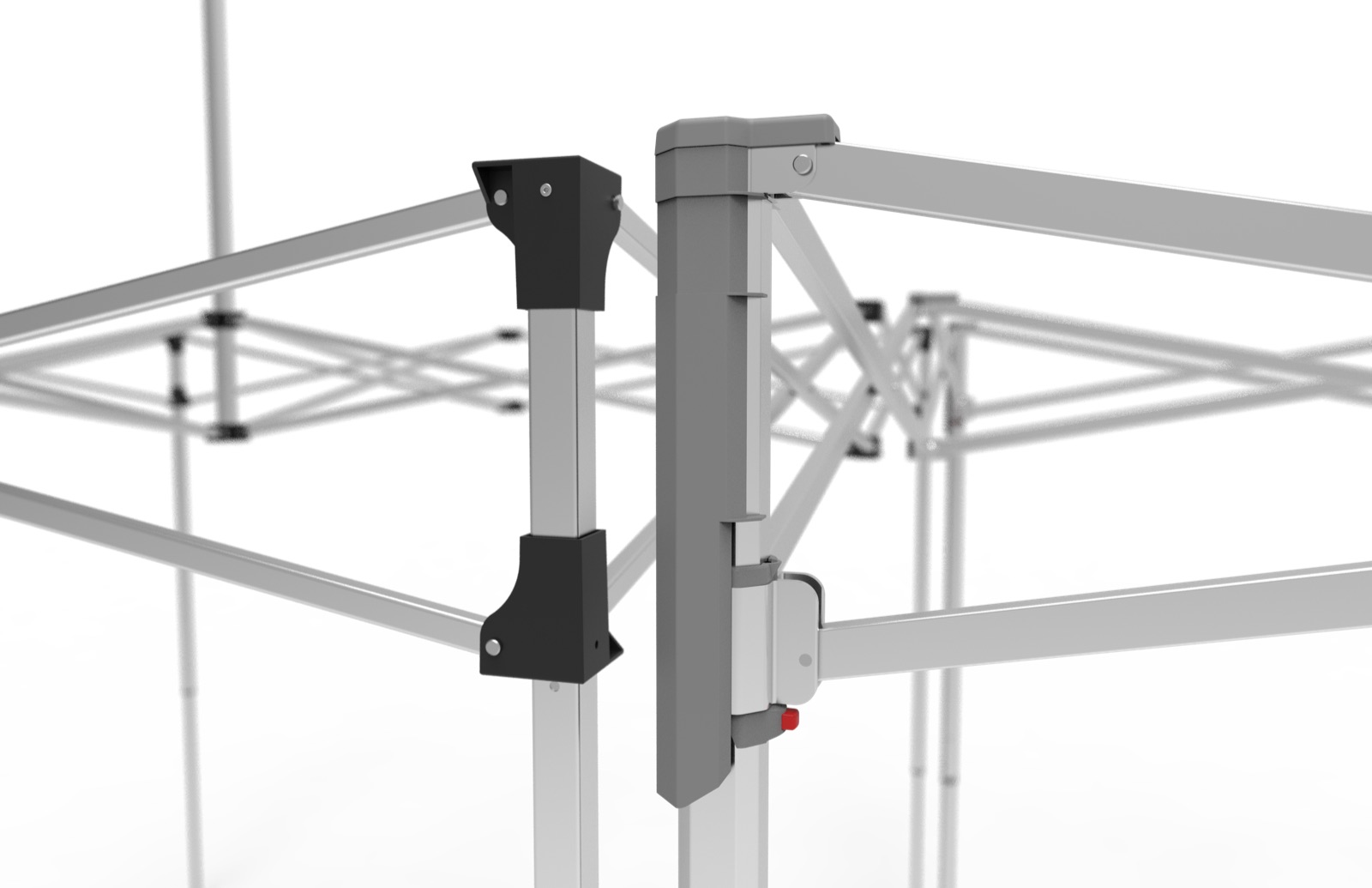 Footpad Design
The footpad (or pop up tent feet) is an often overlooked feature of pop up tent design. They carry the weight of the frame, get dragged across hard surfaces and are the first part to make contact with the ground when unloaded--or even dropped off the bed of a truck. The unexpected happens. Damage to just one foot can render your entire tent useless. Cheaper pop up tent models will use a steel or aluminum plate that is closer to ⅛" thick, while a commercial-grade pop up canopy will have a thicker footpad--closer to ¼"--that is usually made from cast aluminum.
Frame Weight
Since heavy duty aluminum pop up canopy frames use more material, it should be no surprise that they weigh more--therefore, the overall frame weight is a good indicator of whether or not a tent is heavy duty. A 10x10 model will typically fall around the 60-70 pound range.
Outside of TentCraft, What Other Heavy Duty Vendor Tents Would You Recommend?
If you read the previous section, you should have a stronger understanding of the details that make a pop up tent heavy duty. So let's get back to the original topic of this article--to provide 3 of the best pop up tent models that are built to withstand heavy winds and rain.
1. MASTERTENT S1
Visit Website
We're in a unique position when it comes to recommending MASTERTENT. Before we started designing and manufacturing our pop up tent frames in-house, we were the North America partner to MASTERTENT--so we know their frames extremely well. Their manufacturing is based out of Italy and they have a U.S. office based out of North Carolina.

Why the S1
Because we previously sold MASTERTENT frames, we can attest to the quality & durability. MASTERTENT offers three models--the S1, S2 and S3. We're focusing on the S1 model. The S1 model checks all of the heavy duty boxes--full aluminum frame and joints, 2" leg diameter with 2.5mm aluminum walls and thicker, stainless steel footpads. The corner button releases are also blessing for anyone who has pinched their finger in a pop up tent button. The bolt-system and plastic glides on the legs and connecting elements to help reduce friction to create an easier setup. 60 lb base weights can also be added to each leg to further reinforce against heavy winds or replace traditional staking if you're setting up on cement or pavement.
Frame Warranty: 5 years
• Anodized Aluminum Frame & Joints


• 2" Leg Diameter with Octagonal Profile


• 2.5 mm aluminum wall thickness


• Frame Weight - 70 lbs (10x10 model)


• Stainless Steel Footpads
2. ins'TENT V3
Visit Website
Ins'Tent is the US-based arm of Vitabri and is located in Hunting Beach, CA. Vitabri is based in France and has been manufacturing pop up canopies for 20+ years.

Why the V3
The V3 checks most of the heavy duty boxes. While the frame is made of 12 gauge (2mm thick) anodized aluminum, the connection joints do use fiberglass (still stronger than plastic). The hexagon leg profile has a 2" diameter and the thicker footpads are designed to take a beating. They also carry a 30 lb rubber base plate accessories that secure overtop each tent leg.
Frame Warranty: 5 years
• Anodized Aluminum Frame


• Fiberglass Connection Joints


• 2" Leg Diameter with Hexagonal Profile


• 2 mm aluminum wall thickness


• Frame Weight - 50 lbs (10x10 model)


• Thicker, Oversized Footpad
3. Gorilla Max
Visit Website
Promotional Design Group is best known for their custom printed inflatables. Make sure to check out their gallery for some really incredible custom inflatable props and structures. They also offer pop up tents, with 4 frame options. Their heavy duty model is called the Gorilla Max.

Why the Gorilla Max
Although the Gorilla Max frame uses a thinner aluminum profile and smaller footpads, the frame warranty is double what Ins'Tent and MASTERTENT offer. PDG does not appear to carry base weights for the Gorilla Max canopy.
Frame Warranty: 10 years
• Anodized Aluminum Frame


• Aluminum Connection Joints


• 2" Leg Diameter with Hexagonal Profile


• 1.6 mm aluminum wall thickness (14 gauge)


• Frame Weight - 65 lbs (10x10 model)


• Thinner Aluminum Footpad
Summary
Our goal is to make it easier for you to identify and compare heavy duty canopy models--but just like price shouldn't be your primary decision criteria, pop up tent specs alone shouldn't be your sole decision criteria. Turnaround time, customization, customer experience and education are probably among the many boxes you'll be checking while searching for the perfect custom pop-up tent. We manufacture heavy duty tents, but we get that we aren't always the right fit, so we're still on your team and happy to help you find the tent of your dreams.