When the time comes to invest in larger trade show space, the 20x20 footprint is the standard size for those types of custom exhibitions. And because you have more room to work with, you also have more options to make your activation stand out on the show floor.
Related: 10x10 Trade Show Booth Ideas
At TentCraft, we love the challenge of creating custom event activations to fit those larger spaces, and we've have come up with some unique setups that stand out and help you attract more attendees to your booth.
Use the following examples to inspire your next 20x20 custom trade show booth.
The Double Storefront Lounge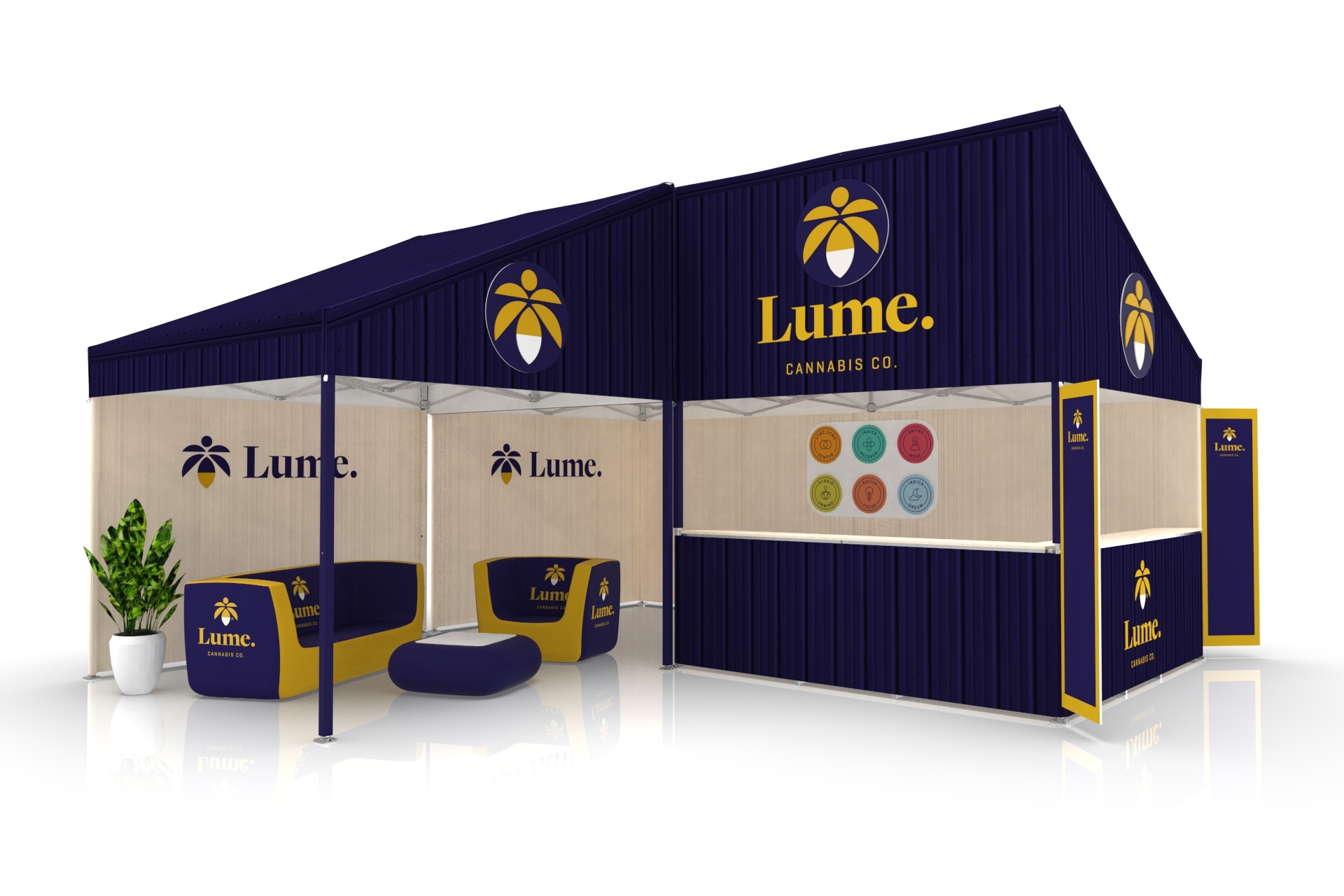 When you combine two MONARCHSTOREFRONT canopy tents, you get — what we are calling — the Double Storefront Lounge. We mocked up this rendering for Lume Cannabis Co., and have since created it for other brands.
The MONARCHSTOREFRONT comes in 10x10 and 10x20 sizes, so it can fit your 20x20 footprint. It's important, however, to make sure you have no height limits at your trade show. The MONARCHSTOREFRONT has a unique 2-1 design that gives it an awesome billboard-style appearance, but that height might be too much for some trade shows.
To complete the "lounge" appearance, you'll also need back walls, leg wraps, counters and half-walls, and some custom-printed inflatable furniture with your branding.
20x20 Wrapped Truss Structure
We're big fans of using truss structures to create engaging activations. We mocked up this activation for our friends at GoPro to introduce a new camera.
This setup is relatively easy: We wrapped the entire frame in black, installed a custom-printed event backdrop, and completed it with a branded mightyTABLE and custom-printed inflatable furniture.
Canopy Tent + Event Backdrop + Flags
Full disclosure, the photo above for Hayes includes a 13x22 MONARCHHEX, which is an awesome trade show tent because it doubles as a private meeting space if needed. It is, however, 22 feet wide. So, if you like this setup, make sure to double-check with your trade show organizer and see if they can give you a little leeway with your footprint.
This trade show setup is a perfect example of what you can create when combining TentCraft solutions into one cohesive activation. Many people may dismiss the use of canopy tents with their trade show activation, but it works really well with this setup — especially with the LED light kit that is attached to the scissor elements of the tent.
Add in the shark fin flags, custom media wall, and the branded table cover and event counter, (and a snowmobile, of course!), and you have a bonafide 20x20 trade show setup.
Arched Media Wall for 20x20 Booth
We helped the Hydro Repair Specialists at a recent trade show using our collection of event backdrops (also known as media walls). Specifically, we incorporated an arched media wall to give more depth (and branding) into their setup.
The business also invested in branded mightyTABLEs to complete their activation.
Truss and Arched Media Walls
We rendered an indoor lounge for T-Mobile using truss that's wrapped in custom-printed knit, and then connected four arched media walls to the top of the structure.
The result was a chic design with plenty of T-Mobile branding, and plenty of room under the structure for customer sign-ups and distributing information.
Truss Locker Room for Soccer.com
Soccer.com trusted TentCraft to create a custom truss structure that mimics a locker room for the United Soccer Coaches convention.
It's the perfect example of how a basic truss footprint can be transformed into any type of environment with the right design behind it. Soccer.com went with a locker room, but other brands could create anything from a doctor's office to a boutique retail shop.
Design Your 20x20 Custom Trade Show Booth
Ready to make a big impact at your next trade show exhibit?
Design your 20x20 custom trade show booth today and unlock endless possibilities for success. With customizable booth layouts and a stunning custom display, your exhibit can stand out from the crowd and attract many attendees.
Have an idea you want to bring to life, but aren't sure where to start? Contact TentCraft, and let's get busy.