Who goes to the largest gathering of cycling and outdoor enthusiasts in North America for the tents?
It's us. We do!
So, while athletes from around the world were taking part in bike racing events, we were scoping out tensile strengths, tent legs, and ballasting.
And of course, connecting with our customers!
They all reported that COVID cycling supply chain issues had been thoroughly resolved so they were well stocked and ready to welcome the record-setting Sea Otter crowds.
More than 20 of our customers were exhibiting at the 2023 Sea Otter Classic — one of the most popular cycling trade shows in the U.S. — and the sizes and styles of the tents that they used varied widely. Despite their disparate designs, there were a few common themes:
1. The tents had to stand out. With over 600 vendors to compete with, every element of each booth had to be unique and on brand.
2. They also had to be durable. Sea Otter is a notoriously windy event and the Monterey, California skies have claimed many low-quality and poorly ballasted tents as their victims.

Creating a host of stunning tents for our customers also meant we needed to bring our A-game for our personal booth design if we wanted to show people something new.
With a 10x20 space to work with, we chose to feature our MONARCHTENT with a rigid peak lollipop sign and attach an L-shaped truss. We outfitted the MONARCHTENT with a massive shark-fin flag and additional rigid signage. Covering the MONARCHTENT walls with custom edge-to-edge graphics was a given, but we also brought along a mightyTABLE and our new freestanding flag, which made its debut at this year's Sea Otter Classic. We didn't want to hide our snap together truss so we opted for an inset graphic and attached custom rigid signage. BEHOLD our 10x20 booth design:
The Tents of Sea Otter 2023
Were you playing TentCraft bingo at the Sea Otter Classic? If so, you likely had a winning card. Clients used almost every tent style we offer. Here's how we helped our clients stand out in a sea of more than 600 vendors:
Cedaero
What do you create for a company that calls itself "The Most Fun Bikepacking Company in the Galaxy"? This tent.
Cedaero used a heavy-duty 10x10 MONARCHTENT to create a tent that is almost as colorful as they are, then they filled it with Minnesota's finest bikepacking gear and waited for the sales to start rolling in.
Quad Lock
It was double the MONARCHTENT, double the fun for Australian company Quad Lock. They were making their Sea Otter Classic debut in style with two 10x20 MONARCHTENTS with black legs, double-sided full walls, two medium teardrop flags, a mightyTABLE, and A-frame sign.
Dometic
Dometic manufactures compact products for outdoor and recreational use. To create their display we paired two 10x10 inflatable GYBE tents with walls, plus a large flag and stretch table cover. The resulting display let Dometic show off their products while showcasing their brand.
Yamaha Bicycles
Yamaha Bicycles updated their 20x20 E-Series frame tents with a fresh new look for the 2023 Sea Otter Classic. They used the double sided walls to display their power assist bicycle message and took their brand sky high with six rectangle flags.
Waterloo Sparkling Water
Waterloo knew that Sea Otter attendees would love their sparking water if they could get it in their hands (mouths?). To create a welcoming pit stop for sun-soaked riders they paired two GYBE tents, with double-sided walls, and a fusion panel.
GoPro
GoPro is a staple for outdoor adventurers and their high-quality products almost sell themselves if you can see them that is. They used a black 10x20 custom printed truss with TV mounts to create the shade guests needed to view their displays but kept the sides open to catch the California breeze.

We Are One
Canadian bike makers We Are One Composite kept the design of their double 10x20 MONARCHTENTS clean and sharp. Their setup included double-sided full walls and peak banner that let their products do the talking.
USA Cycling
USA Cycling is on the Search For Speed. This talent ID program is designed to introduce track cycling to a wider audience and their tent is popping up at all sorts of cycling events including Sea Otter. They are luring cyclists in with a 10x10 GYBE tent with zip on visor, double sided walls, medium feather flag, pull up banner, and fitted table cover.
Pinarello Bicycles
Pinarello makes bikes that last so they needed a tent that would last too. No stranger to the winds of Sea Otter, they used a 10x20 X-series frame tent and single-sided full walls to secure their space.
HydraPak & Polar Bottle
HydraPak & Polar Bottle kept things cool in side-by-side 10x10 mightyTENTs and used medium feather flags and a fitted table cover to complete their look.
Peak Design
Peak Design had the guts of their display at the ready but they needed a tent that would reflect their product from a distance. We created a custom printed 10x20 MONARCHTENT with an on brand map design to showcase the most common use for their bike mounts.
Schwalbe Tires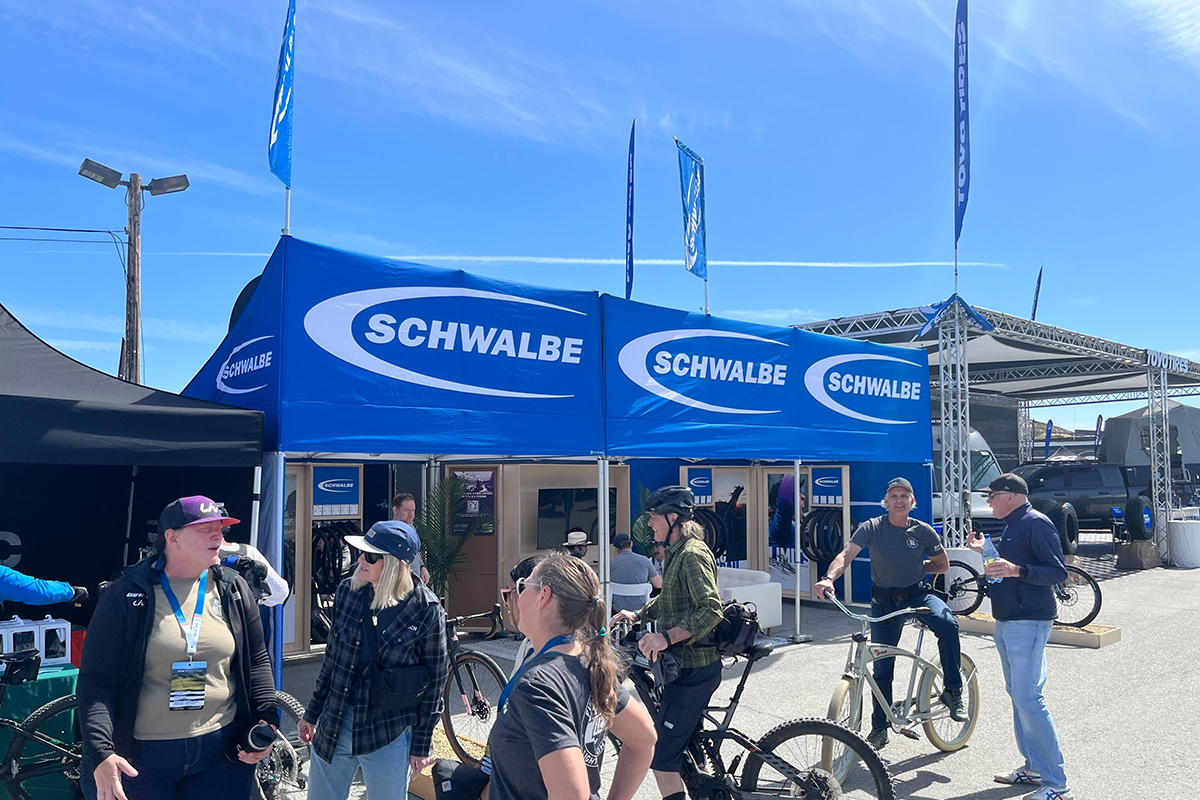 Schwalbe Tires maximized the size of their branding real estate with two MONARCHSTOREFRONTS. They placed a 10x10 and 10x20 side by side and really stood out in a crowded field of vendors.
WAHOO Fitness
At Sea Otter staple, WAHOO Fitness rocked a 20x20 black E-Series frame tent with on tent shark-fin flags, and expanded their messaging with 3x7 media walls placed outside of the tent.
SKRATCH Labs
In a sea of black tents, one company said, scratch that, and chose bright citrus colors and coordinated table covers for their 10x10 mightyTENTs. The "secret drink mix" strikes again.
Hayes Performance Systems
The Hayes Performance System Team showcased the power of sky-scraping shark-fin flags in their setup. Two side by side 10x20 MONARCHTENTs and a mightyTABLE welcomed riders to this well branded footprint.
Bike Flights
Bike Flights made their Sea Otter debut in 2022, this year they expanded their footprint to a 10x20 MONARCHTENT with full back wall, half walls, table covers, and peak flags.
Muc-Off
Muc-Off brought their bold black and pink design to Sea Otter with a 20x30 X-series frame tent, feather flags, and full back walls.
Custom Media Walls For ENVE Composites
Every Sea Otter vendor wants to get customers up close and personal with their products. So we created custom media walls for ENVE that allow riders to walk right up to the display, easily touch and handle the products, and when they set them down, the display looks just as good as it did before. Plus they have the added advantage of not requiring additional packaging that would detract from their core products.
This custom project used magnetic mounts hidden inside 3x7 media walls that ENVE could pair with magnetic mounts, designed specifically for their products.
Take a walk through the ENVE Composite display at the 2023 Sea Otter Classic.
Wilde Protein Chips
Wilde Protein Chips was a sampling hot spot in side by side MONARCHGABLES with two printed full walls, peak banners, and custom table covers. The GABLE is the perfect tent for their location, the front gable offers clear branding for riders walking directly at the tent and the wide peak banner is visible to people approaching laterally. All around great branding for an all-around great chip.
MAXXIS International
MAXXIS did double duty at Sea Otter, featuring both a 20x20 E-Series frame tent and a 10x20 MONARCHTENT. Flags and pull-up banners festooned their frame tent while colorful printed walls wrapped the MAXXIS Factory Racing MONARCHTENT, protecting their team from the California sun.
What A Ride!


See you next year Sea Otter! We can't wait to see what you have in store for 2024.
Planning your next event or just sad that you missed a chance to hang with our team at Sea Otter? We are here to help. Call 1-800-950-4553 or request a quote.