With a 20-plus-year-old steel frame tent literally on its last leg, Frankenmuth High School Cross Country Coach Mike Snyder and his wife Lori Snyder knew they needed a new team tent that not only protected their boys and girls teams, but also something that made a statement at the big meets. The Eagles, after all, have been near the top of the state rankings in cross country and track and field over the past decade, winning a number of team and individual state titles.
The husband-and-wife from Frankenmuth, Michigan, (Lori is affectionately known as the "Team Mom") started their search in October 2020 and stumbled upon TentCraft. Lori was immediately drawn to the fact that TentCraft manufactured all of its products at its production facility in Traverse City, Michigan.
"I absolutely loved that the company is in Michigan," she said. "Honestly, I stopped looking anywhere else after I learned that."
That's not to say the purchase was an easy sell, though. Like many high school track and cross country coaches who reach out to TentCraft, the Snyders were surprised by the cost of an American-made, professional custom pop-up tent. They needed a 10x20 pop-up tent with sidewalls to comfortably fit their boys and girls teams.
"Honestly, we were a little scared by the price," Lori said. "We are always looking for a bargain, and this took me a little outside my comfort zone."
As they learned more about TentCraft's operation, though, their mindset shifted from, "We can't afford this," to "We need to fundraise for this."
Their TentCraft experience started with a phone call with a knowledgeable product specialist who walked them through their options to get the most bang for their buck. "I was really impressed with the communication and the speed."
They then saw photos of the production facility that put actual people behind the phrase "made in America," which was key in pitching this investment to parents and athletes as they prepared to fundraise for the tent.
"The quality was there," Lori said. "And the fact that it was being made in Michigan — that was such a huge selling point for us."
While the team was ready to fundraise for their tent, that message of investing in a quality, made-in-Michigan solution resonated in particular with one parent who stepped forward and offered to pay for the entire tent. The Snyders couldn't emphasize enough how fortunate they were to receive the tent as a gift — especially during this past 2021 season where Michigan's unpredictable weather made downtime before and after races cold and uncomfortable.
"It didn't really matter how crazy the weather got, we always felt protected," Mike Snyder said.
The protection from their heavy-duty MONARCHTENT — TentCraft's highest trim of pop-up tents — was put to the test at a national qualifying meet in mid-November for the top senior runners in the state. Low temperatures and steady wind brought a chill across the course. The athletes, with help from parents, erected the tent and installed its sidewalls to cut the wind. A table was then setup with coffee for parents and a small space heater made the interior feel quite comfortable.
The team opted to go with sidewalls that include windows, making it easy to see outside while staying warm in the tent. If a coach is looking for a particular athlete, it's also much easier to look inside the tent from the outside.
"Other teams that are on the fence about going with TentCraft need to see this as a true investment," Lori said. "It's worth fundraising for because once you have it — as long as you take good care of it — it's going to last a really long time."
Frankenmuth Eagles Cross Country Team Tent
Tent: Heavy-Duty MONARCHTENT

Size:. 10'x20'

Print: Team name on valence; Eagles logo on the front panel.

Accessories: 3 half-clear vinyl full walls; 2 full walls; 1 roll-up door (all in a stock red color).
It takes about four people — but is faster with more — to setup a 10x20 MONARCHTENT, according to the Frankenmuth High School Cross Country Coaches.
The water-resistant Duranti canopy material helps keep athletes dry on a rainy day.
A 10x20 MONARCHTENT is big enough for more than 25 athletes, even when they're sitting in lawn chairs.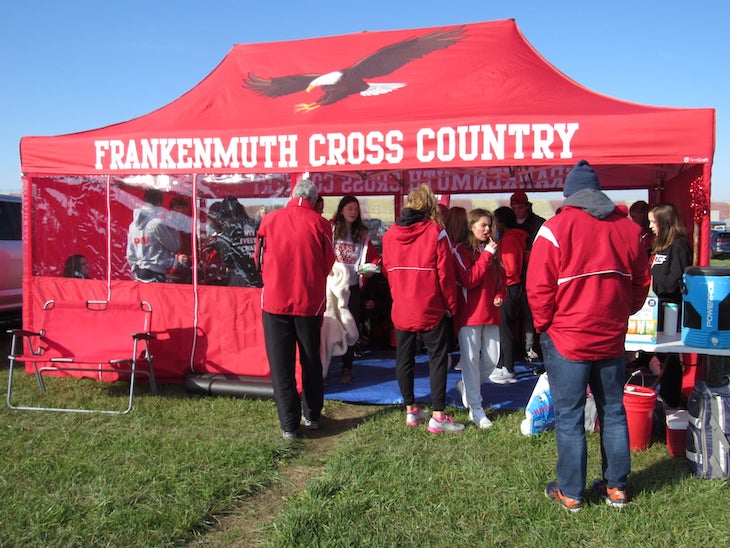 Clear walls allow athletes to see when races are about to start and makes it easier for coaches to find an athlete inside the tent.
Interested in a new team tent for your cross country or track team? Contact our team of experts to start your TentCraft journey!