Custom Track & Field and Cross Country Pop-Up Tents
Made in America
Lifetime Warranty
Built for Speed: 3-Day Turnaround
Heavy-Duty Track Team Tents to Protect Athletes From Inclement Weather
Cross country and track and field athletes know all too well about competing in rain, strong wind, and snow. It's uncomfortable, it's cold, and it impacts their ability to perform at a top-level. Even when the weather is beautiful, the sun's rays drain energy from your athletes — especially on those extra-hot days. An escape from the bad weather and that much-needed shade is critical for top-tier track teams.
That's why countless high school and college track and field and cross country coaches have trusted TentCraft to manufacture heavy-duty, custom track and field canopy tents that stand out at the state finals and protect athletes from the conditions before and after the competition.
TentCraft manufactures all of its custom pop-up tents at its production facility in Traverse City, Michigan. The American craftsmanship is obvious from the moment you see and feel your tent. Unlike our competitors who import their frames from overseas, we control the quality of your tent from the beginning and back it up with a lifetime warranty. Our heavy-duty frames are designed for frequent use and can handle the wear and tear of many track and cross country seasons.
Ready to work with TentCraft? On your mark, get set… BANG!
Why Schools Work With TentCraft
Track teams love speed and TentCraft has plenty of it. Coaches, parents, and school leaders trust TentCraft for their custom tents and structures for several reasons.
Speed. Our made-in-America, build-to-order business model allows us to ship out custom jobs in three to five days.
Flexibility. Paying with a credit card? No problem. School purchase order? We can handle it. Shot put your questions our way!
Customization. We can match your tent's color exactly to your school's colors — and make it look WAY better than the competition.
Quality. Schools are tired of replacing cheap tents year after year. An investment into TentCraft gives them a custom tent that lasts a really long time.
Sizes
Your first decision when purchasing a track and cross country tent is the size. The size of the tent frame is dependent on your average team size. Most teams find a 10x20 canopy is the perfect size for their tent, especially for cross country, where teams tend to have smaller participation.
While a 10x20 may not be able to comfortably hold 60 track athletes at once, not all athletes need to be in the tent at once. Track meets are on a rolling schedule, meaning athletes are warming up, competing, then cooling down — all at different times throughout the meet.
If your track team is consistently made up of 80 to 100+ athletes, consider a larger sized canopy tent, like a 13x26.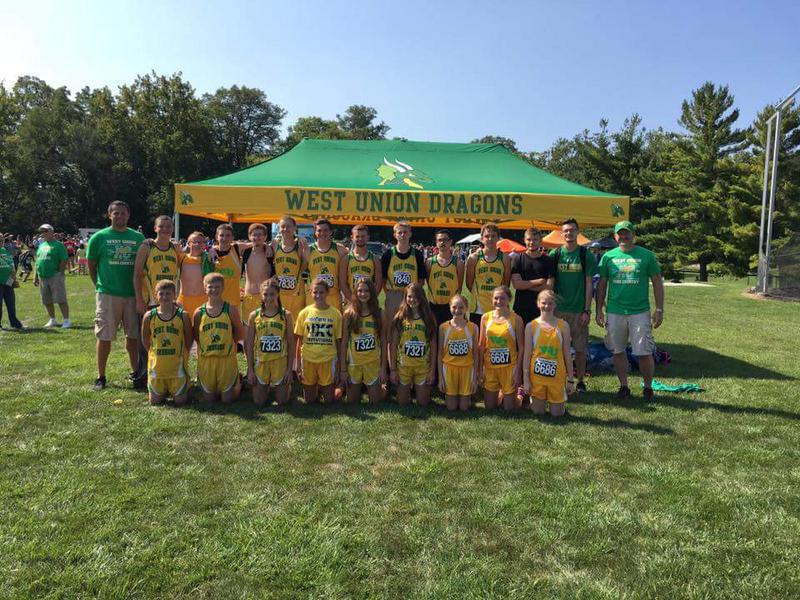 How Big of a Tent Do I Need for my Track & Field Team?
Use this chart as a starting point to determine how large of a canopy tent you need for your track and cross country teams.
Size
Square Footage
Standing/Sitting (no chairs)
10x10
100
15-20
10x15
150
30-50
10x20
200
40-60
13x13
169
40-55
15x15
225
50-70
13x26
338
85-105
13x20
260
70-90
10x30
300
75-95
Stand Out from the Competition
Your track and cross country team tent is more than just for physical protection. It's also an opportunity to let the competition know the Eagles are in town… or the Cavaliers, Titans, Tigers — you get the idea.
Every TentCraft canopy tent can be custom-printed with your school's name, mascot image, logos — if you can dream it, we can print it.
Many teams who work with TentCraft opt to include a custom-printed peak flag or banner that attaches to the top of their tent, giving their school's name even more exposure. Peak flags and banners also make it easier for cross country athletes to find their school's tent at larger meets where dozens of schools are competing.
Why Should I Customize my Track and Field Tent?
Customizing your team's tent with school colors and a mascot logo is a great way to stand out at big meets. More importantly, though, it builds team spirit and pride amongst your athletes.
Custom Tent Walls
Custom tent walls better protect your athletes — especially on windy and rainy days.
Configure your tent with two to four walls. If you opt to create a fully-enclosed tent, our meticulous team of sewers can create zippered doors so athletes can easily enter and exit the tent.
Tent walls are also an easy way of adding more branded real estate to your tent. If you're open to investing in a new wall each year, here are some ideas you could print on tent walls:
Track and Field Records. Display your school's top performers and give athletes a goal to look at each meet. You could also print the top 10 cross country times.
Schedule. Highlight each meet your team competes in for the year.
Team slogan. Does your team come up with a slogan or motto each season? A tent wall is the perfect place to print that slogan.
Roster. Include your athletes' names and events or specialties, i.e., sprints and jumps.
Accolades. Are you the defending state champion? Let your competition know by highlighting your top finishes from the most important meets.
It's easy to work with TentCraft to update your tent walls each year.
Weight, Transport & Setup
There are two main concerns track and cross country coaches share about pop up tents: How heavy are they? And can my athletes set it up easily? These are valid concerns. As a coach, you're busy strategizing for the day's meet and making sure the team is checked in — you don't have time to also transport and setup your tent.
How Much Does a Heavy Duty Pop Up Tent Weigh?
A 10x10 heavy-duty pop up tent from TentCraft (MONARCHTENT) weighs 72 lbs. That weight goes up with the size of the frame.
Size
Weight
Packed Dimensions
10x10
72 lbs.
15"x18"x64.5"
10x15
96 lbs.
15"x30"x65"
10x20
128 lbs.
15"x30"x65"
13x13
96 lbs.
16"x18"x84"
15x15
116 lbs.
20"x20"x94"
13x26
166 lbs.
19"x22"x84"
13x20
126 lbs.
19"x22"x84"
While we recommend putting your shot putters in charge of transporting the tent from the bus to your site, we do include a heavy-duty roller bag to protect your investment and make transportation much easier.
How Easy Is It To Setup Custom Athletic Tents?
A top reason track and cross country coaches love TentCraft is our attention to detail and an obsessive commitment to quality. After all, when you put high schoolers in charge of setting up a tent, you can probably assume they're not going to treat it as… carefully? as the person who's writing the check for the investment.
TentCraft's handcrafted, all-aluminum frames are built for constant use and can handle the abuse of several track and cross country seasons.
It typically takes a couple of athletes only a few minutes to set up a pop-up tent — even the larger sizes. Adding walls requires a few more minutes to install, but by the second or third meet of the season, your team of athletes should have it down.
We recommend always ballasting your tent for the safety of your team and other people near your tent. Our tents include an anchoring kit with stakes. Our weighted footplates are easy to install on top of our tent's patented foot pads for 200 lbs of protection that stops wind in its tracks. Weighted footplates are especially effective for anchoring your tent on a concrete parking lot when staking is not an option.
TentCraft Reviews from Track Coaches
TentCraft strives to offer the highest-quality, American-made solutions — and best-in-class customer service.
But don't take our word for it! Read our nearly 900 5-star reviews, many of which rave about our customer service.
Run To The Finish Line: Request a Quote
FAQ
How much do custom track and field team tents cost?

A custom-printed, heavy-duty 10x10 track and field tent costs about $2,500. The final cost depends on the size of the tent, printing, accessories, and shipping preferences. To determine a final cost, race on over to our "request a quote" page and strike a conversation with one of our knowledgeable sales reps. We also sell a medium-duty tent that isn't the top-of-the-line solution, but does come at a lower price point.
What is the turnaround time for a custom track and field tent?

The speed of our operation would impress Usain Bolt. Speed is our bread and butter and, in most cases, we can build, print, and ship a custom tent in three to five days. That's the advantage of working with an American manufacturer, as opposed to a supplier of tents that imports frames from overseas.
What is the lifespan of a team tent?

It's difficult to put an exact lifespan on our tents, but you can easily expect years and years of use. We manufacture our tents with an all-aluminum framework, which is significantly more durable than the cheap steel-frame tents you can purchase from big box stores. Our heavy-duty tents come with a lifetime manufacturer's warranty.
Does TentCraft accept purchase orders?

Yes, we accept purchase orders and can quickly approve the documents needed to make your experience as seamless as possible.
---