As a business owner, you're always on the lookout for new ways to showcase your brand and attract customers — and trade shows provide an excellent opportunity to do just that.
Of course, a big part of attending trade shows is investing in a booth activation — be it something simple, like a branded table cover and custom sign, or something more elaborate like a custom tent or truss structure.
You want your trade show booth to be functional but also have it stand out and bring prospective customers your way. That's where we come in.
At TentCraft, we help businesses every day come up with really cool trade show displays using heavy-duty tents and structures that are easy to transport and set up, stand up to inclement weather, and last a REALLY long time.
Not all tents are created equally, though. In fact, shopping for the perfect trade show tent is no easy task and can quickly become overwhelming.
Use this article to determine the best type of canopy tent for your next trade show.
Different Types of Trade Show Tents
Not all businesses need a massive truss structure when a pair of media backdrops get the job done. Sometimes, a 10x10 pop-up canopy with unique custom-printed artwork is the ideal setup for an outdoor show, but not necessarily for an indoor show.
In other words, you have a lot of options:
Custom Pop-Up Canopy Tent
Pop-up canopy tents are excellent trade show options for several reasons:
Easy to Set Up. Pop-up canopy tents are designed to be quick and easy to set up. This is particularly important for trade shows, where exhibitors often have limited time to set up their displays. With a pop-up canopy tent, you can have your booth up and ready in just a few minutes.




Portable. Most pop-up canopy tents are easy to transport. At TentCraft, we make things easier thanks to our proprietary wheel kit that makes moving a 75-pound 10x10 canopy tent really easy. We also include a heavy-duty transport bag so your tent won't get beat up as it hits the road.




Customizable: This is where TentCraft shines: Pop-up canopy tents are highly customizable. We can create a booth that reflects your brand and message perfectly. In addition to custom printing, we have created several unique canopy designs that stand out from a traditional peaked pop up tent.




Versatile: We recommend pop-up tents for trade shows because you can use them indoors and outdoors. You can also use them as a blackout tent for specific use-cases that require blocking out all light.




Protection: If you're at an outdoor event, pop-up canopy tents protect from the elements, such as sun, rain, and wind. This is important if you're exhibiting at an outdoor trade show or event, as it can help keep your booth and products safe and dry.
Inflatable Tents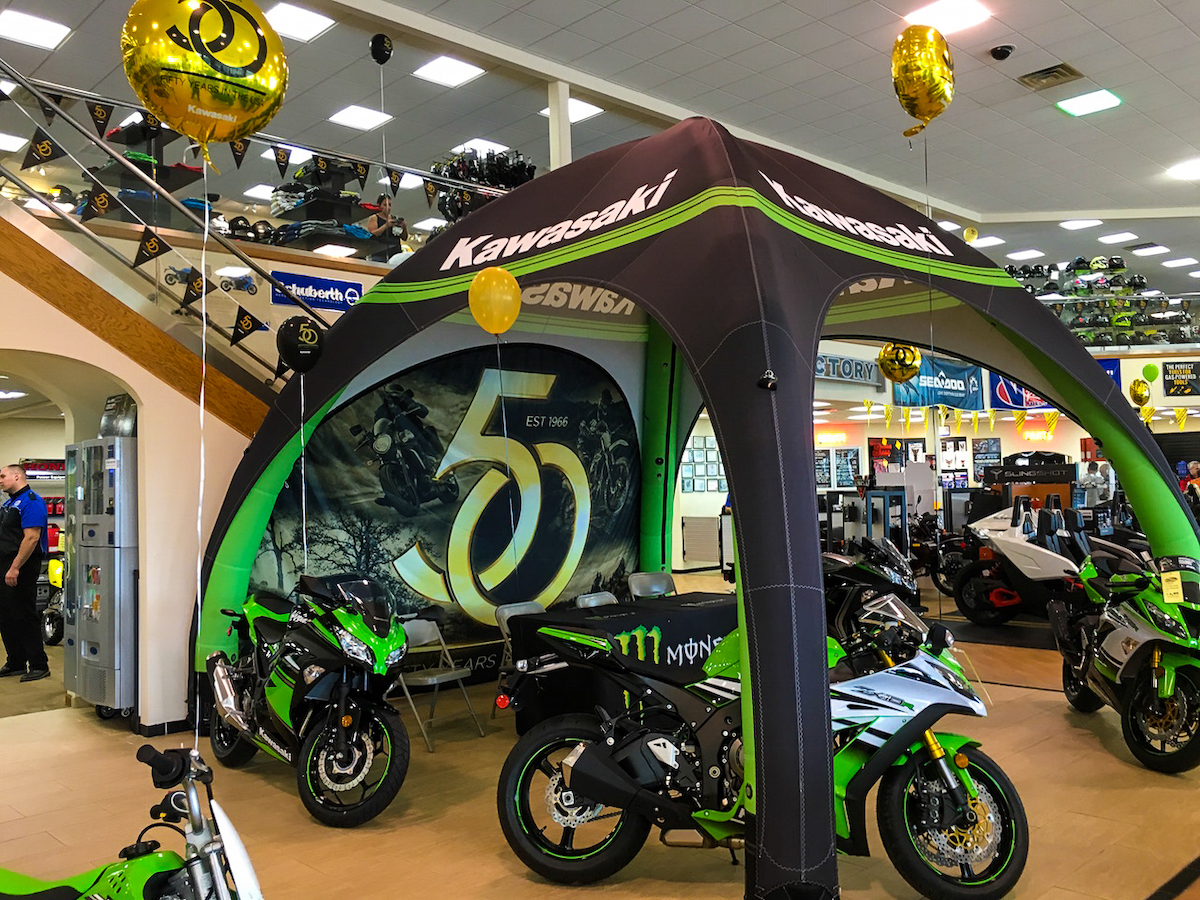 If you're a one-man (or one-woman!) show and are responsible for the setup and tear-down of your trade show booth, we're big advocates of inflatable tents.
We custom-print GYBE inflatable tents with your branding. Available in four sizes, the GYBE inflatable custom tent easily sets up in 5 minutes and doesn't require continuous air.
Our largest size — a 20x20 — weighs about 50 lbs and the smaller 10x10 is about 30 lbs, making transport super easy.
Truss Structures
A truss structure is often used for trade shows due to its versatility and ease of assembly. Truss structures are made up of interconnected, snap-together beams that create a strong and stable framework that can support a wide variety of lighting and displays.
Trade shows typically require structures that can be quickly assembled and disassembled, and truss structures are designed with this in mind. They are modular and can be easily transported to the show location, where they can be quickly assembled and disassembled.
Truss structures have a sleek and modern look that can be customized to match the branding and style of your company exhibiting at the trade show
The structure can also be easily adapted to fit a wide range of booth sizes and configurations, making it a versatile and cost-effective solution for trade show exhibitors.
Event Dome
If you need a structure that's eye-catching and versatile — and something that offers a ton of branding opportunities, event domes are the perfect trade show solution.
Before you get too excited, know that you need to have a healthy amount of space for a large event dome. TentCraft's custom dome is 20-feet in diameter, so you'll want a footprint that's larger than 20x20 to accommodate it.
In terms of versatility, you can use the dome for product displays, meeting rooms, lounges, or even a stage for presentations or performances.
Event domes can create a unique user experience for attendees, which can help build buzz and increase engagement. The dome shape and immersive atmosphere can make attendees feel like they are stepping into a different world, which can be a memorable and enjoyable experience.
Learn more about event dome prices.
Market Stall
Best for small spaces, a market stall is the perfect trade show structure for a team of two people who purchased a 10x10 booth or even slightly smaller.
These are also packed with branding opportunities, because you can add more custom-printed logos and backdrops to the back of the stall.
Media Backdrop Activations
Did you know you can combine multiple custom-printed backdrops to create a more immersive trade show activation?
At TentCraft, we've created 3D backdrops that connect to each other, to give a beautifully layered effect.
Combine with a custom table top display, table cover and event flags to draw additional attention, and you can create a super-cool trade show setup.
Outdoor Frame Tents
If you're exhibiting at an outdoor trade show and need to be set up for several days at a time, we recommend going with a custom canopy frame tent that can serve as a semi-permanent structure.
When properly anchored to the ground, you can expect your event tent to handle winds north of 60 mph.
8 Things to Keep In Mind When Shopping for a Trade Show Tent
Size: Trade show tents come in a range of sizes, so it's important to choose a size that fits your exhibit space while also providing enough room for your display and any equipment you plan to bring.




Portability: Consider how easy the tent is to transport and set up. Lightweight materials and easy-to-use components can make a big difference when it comes to portability. Remember, trade show exhibit halls are HUGE.




Durability: Look for a tent made from high-quality materials that can withstand outdoor elements, such as wind, rain, and sun exposure. A sturdy frame and sturdy fabric will ensure that your tent can withstand repeated use. TentCraft backs up its heavy duty tent frames with lifetime warranties.




Customization: Consider whether you want to customize your tent with branding, logos, or other messaging. Some trade show tents allow for full customization, while others have limited options for customization.




Cost: Finally, consider your budget and how much you are willing to spend on a trade show tent. While a high-quality tent can be a worthwhile investment, you should also make sure that you are getting good value for your money. Learn more about TentCraft prices.




Customer Service. You don't want to make this type of investment blindly. Having a helpful customer service representative to walk you through your entire project — from concept to delivery — is critical.




Product Expertise. You need to work with a company that knows trade shows in and out. At TentCraft, our team of tent experts can help find and create custom solutions that are tailored to your brand and the specific trade show you're attending. That includes recommending and providing tent accessories, like a custom table throw, banner stand, feather flags, and other related products.




Speed. Sometimes, you need to turn around a project quickly and make sure it arrives on time. At TentCraft, we can turnaround most jobs in 3-5 business days.'
Step Up Your Trade Show Game
Choosing the right custom trade show tent can make all the difference when it comes to creating a captivating and successful exhibit.
By considering factors such as size, portability, durability, customization, functionality, and cost, you can find custom trade show displays that meet your needs and helps you stand out from the competition.
If you need further help, contact our team of experts here at TentCraft. We're ready to help you create a trade show booth that's functional and memorable.