Welcome to our roundup of TentCraft's top custom canopy tent projects of 2022!
We are excited to share some of the more unique and innovative custom canopy projects we have created for our clients in the past year.
our team of 85 people at TentCraft helped clients dream up solutions that protect not only their people but also their brand.
Each project presented its own set of challenges and opportunities, and we are proud of the creativity and craftsmanship that went into each one.
Now, let's jump into our favorite projects of the year. Each of these projects solved a unique problem — which is something our team loves to do! We think the results look pretty spectacular.
REI
Recreational Equipment Inc. (REI) needed tent kits for store grand opening events across the country.
While TentCraft could have sold individual tent kits for each store, we knew that didn't fit the mission of REI, which is a leader in sustainable business practices.
So, we created a new logistics program for the outdoor retailer that used less product, created less waste, and took the worry off REI's plate of storing event assets.
Learn more about the REI program.
Here are photos from a new store opening in Glenwood Springs, Colorado:
Gibson Guitars
TentCraft prides itself on manufacturing custom, super-durable tents, and structures right here in the U.S. of A. That's why we were so excited about this activation for Gibson Guitars.
Like TentCraft, Gibson also believes in the value of American craftsmanship — and has been building and handcrafting some of the best guitars in the world at their Nashville headquarters and production facility in Montana.
This event activation was for the Gibson Garage — a part-museum-part guitar shop where Gibson enthusiasts can take in the beauty of the brand's American-made guitars.
Char-Broil + Oklahoma Joes
Pop-up canopy tents are great for protecting people from the elements, but sometimes you don't want EVERYTHING under the tent.
That was the case for Char-Broil and Oklahoma Joe's. The grilling brands went on a summer tour to Lowes stores across the country, showing off their latest grills and smokers. Their challenge to TentCraft was to make the grills feel like they were part of the activation, but not be set up directly under the tent.
Our team of engineers and designers came up with the "BBQ Bump" — a branded bump out that attaches to the legs of our MONARCHREACH tent. It offered additional branding and looked pretty… well, delicious!
We can create the bump out with nearly any size, including 8x8 and 15x15.
2Chainz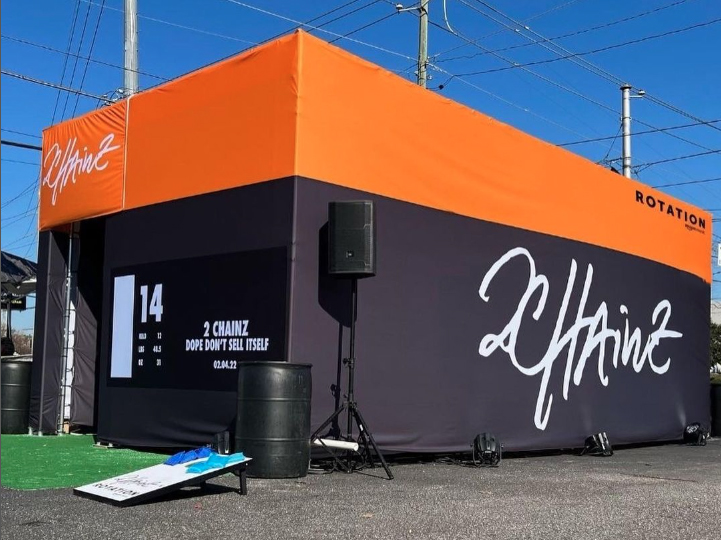 Rap superstar 2Chainz needed a merchandise booth that just didn't stand out. It needed to mimic the shoebox on his 2022 album "Dope Don't Sell Itself."
With experience manufacturing shoebox tents, we created a custom truss structure with separate large pieces of display knit (and 18-ounce vinyl for the roof) that looked like the original Nike shoebox 2Chainz used as his first "bank account."
Learn more about the 2Chainz project.
U.S. Drone Soccer
This year, TentCraft was named the official arena provider of U.S. Drone Soccer — a growing e-sport being used as a STEM curriculum in schools across the country.
​​Drone Soccer is played with flying quadcopter drones in protective cages that are designed for collisions. Five-player teams pilot the drones inside a netted arena manufactured by TentCraft, where they work to block the opposing team from scoring a goal. Matches are played in the best of three sets.
Drone soccer arenas use an extended-height version of our mightyFLATROOF (medium-duty) or MONARCHFLATROOF (heavy-duty) canopy tents.
Amazon Fresh
Amazon needed a unique look as it set up public activations to promote its online and physical grocery stores.
Our team created a rendering for the e-commerce giant to work from that ultimately became the custom 10x20 MONARCHSTOREFRONT with counters and half-walls for the activation. It didn't end with the tent, though. TentCraft also recommended building out two custom-printed Flagstand XL to anchor the tent — making it easy for the public to see the setup from a distance.
This is a great example of how TentCraft's in-house art and industrial design team can create a realistic rendering to give our clients a solid idea of what their tent is going to look like in the wild.
Comcast Xfinity
Comcast Xfinity needed to overcome a big problem for its regional hubs scattered across the country: Each hub was ordering different event assets with inconsistent branding.
To ensure each hub was ordering brand-approved assets, TentCraft created an online portal that those hubs could easily order from and have shipped to their office. This initiative makes it easier for regional leaders who may need new event assets — and gives leaders at headquarters the peace of mind that their brand is being appropriately represented to the public.
Lexus 'Discomfort Zone'
Luxury auto brand Lexus was a sponsor for the Spartan Race — an extreme racing event that takes place in multiple cities across the country.
The automaker had two challenges: It needed a blacked-out canopy tent that was true to its sleek branding, and something big enough to accommodate multiple ice baths for athletes looking to recover after the grueling race.
TentCraft outfitted the brand with a 13x30 MONARCHHEX, which offered more than enough space for athletes to engage with the brand — and take a painfully delicious ice bath!
The 13x30 activation was completed with custom-printed back walls and freestanding media walls showing off crisp images of a Lexus SUV and of competing Spartan Race athletes.
Want to Have a Top Tent of 2023?
Whether you're in the market for your first tent, want to make a much-needed upgrade, or you're representing a brand at an upcoming event that you can't afford to get wrong — we're here to make the process fun and easy. Send our team a note, and let's get started on your custom tent today.