EMS is back, baby! That's the message we heard from the team that attended the 2023 Experiential Marketing Summit.
Hosted by Event Marketer, the conference bills itself as the "event industry's mega-show for b-to-b and b-to-c brand-side marketers, executives from leading event agencies, meeting planners, trade show organizers, event strategists, experience designers, event technology gurus and more."
It's all that and more. We started attending in 2007 and we haven't missed one yet. After a pause in 2020 and 2021 and EMS 2022 felt like it was regaining its feet, but this year's event felt like a true return to the attendance and energy of pre-covid EMS.
And we certainly did our part to bring the energy, embracing this year's 1980's theme with our trade show tent design and rad ensembles.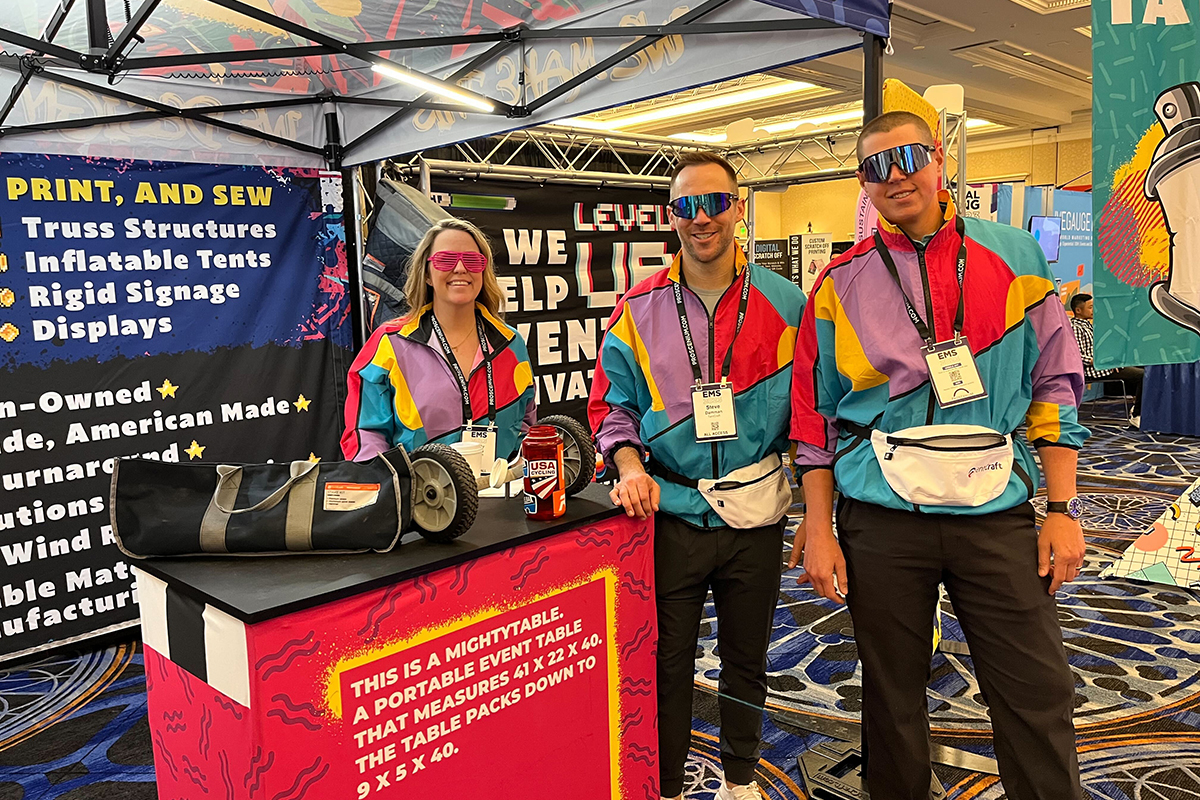 (looking good, feeling good)
Our goal at EMS is simple: we want to connect with our clients and show the most knowledgable people in the business something they have never seen before.
It had to be even better than showing off our tent hang, our favorite demonstration of tent strength.
It's pretty fantastic, so we needed to bring something new. Or three something news.
1. We unveiled the MONARCHFLAG. The marketing team had a whole description whipped up but the art team may have said it best in their design. It's a Big A$$ Flag. Equipped with a telescopic leg function that extends the entire flag to over 16 feet tall. The MONARCHFLAG outshines other large free standing flags with design improvements like sew in webbing loops, a zipper and snap base cover, and flag counterweight. When properly ballasted with one TentCraft footplate, these custom flags can withstand winds up to 35 mph. A custom printed base cover hides the ballasting and is included with every MONARCHFLAG.
2. We debuted our wall tensioning bar, a custom creation designed to create the most taught fabric walls possible. This might not sound like the sexiest thing on the list but trust us, it's very cool. We use Keder track on our half wall bar to ensure a perfect fit that's easy to install.
3. Rigid signage for days. If you can attach rigid signage to it, we did. A custom peak topper on our tent, custom rigid attached to the half wall bar, custom rigid on the tent leg, and custom rigid attached to the truss structure. Yeah, at this point we were just showing off.
One of our rigid leg signs included a QR code that directed conference attendees to our sustainability page. And it's a good thing too. Sustainability was one of the pervasive themes of this year's event, coming up in multiple sessions. Learn more about our sustainability efforts here.
Our pervasive theme? "Make It Better".
We bring our zeal for one-upping ourselves to every project we create and with our custom printing capabilities and flexible product line, the skies the limit.
We Want To Build Something Cool With You
Looking for something as rad as our setup? Let's work together to create something outstanding for your brand! Request a quote to get the process started — we can't wait to meet you!