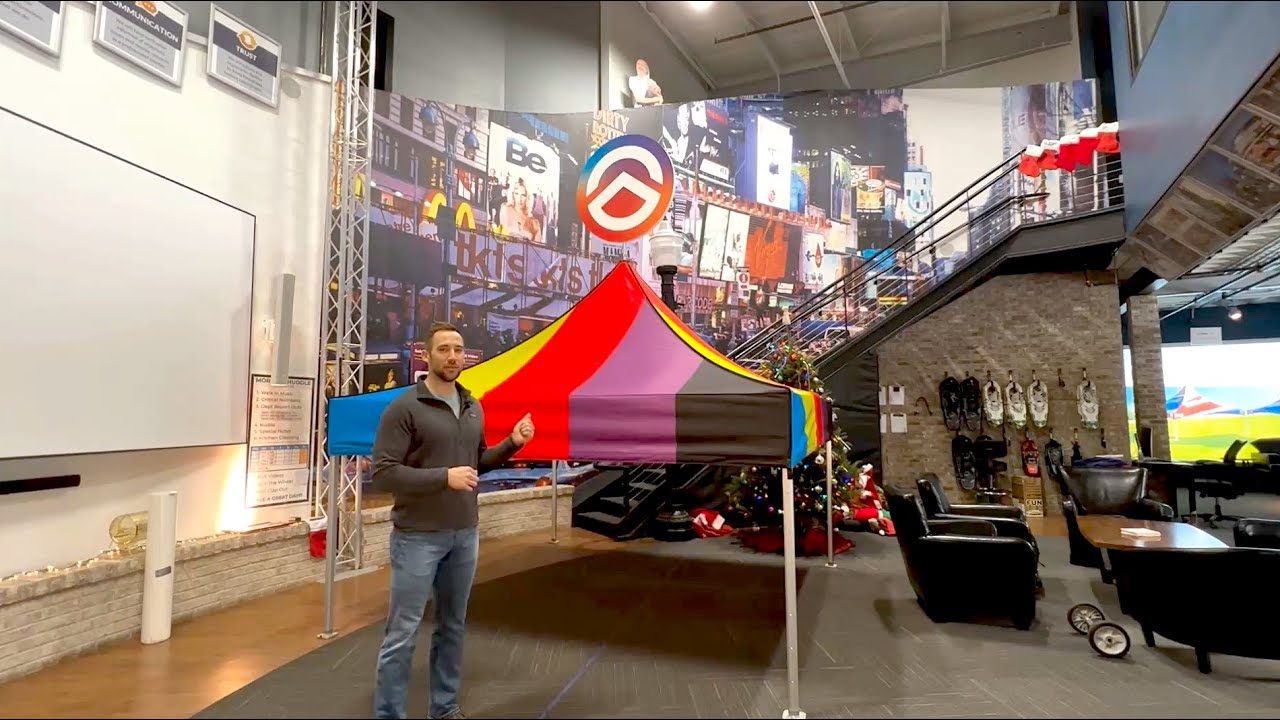 Custom Lollipop Signs for Pop-Up Canopy Tents
Starting at: $499
At TentCraft, we don't think your company's logo and branding should only live on the canopy of your heavy-duty pop-up tent. We like to take things above and beyond.
That's why our team of innovative engineers and designers came up with a custom-printed lollipop sign — a round foam core sign with a 3-foot diameter printed on both sides that attaches to the peak of your MONARCHTENT. Once installed, your custom canopy tent, which already boasts the tallest peak height in the industry, instantly becomes taller, more colorful, and WAY more fun.
Designed for indoor or outdoor use, a custom lollipop is more than just signage — it's an extension of your tent that you didn't know you needed.
As a bonus, our standard round sign can be upgraded into precision-router-cut custom shapes that best fit your brand.
Note: Our custom lollipop sign tent toppers are only compatible with our heavy-duty MONARCHTENT collection.
Request a Quote
Lollipop Sign Designs
Our lollipop signs are made using Sintra, a high-quality material that's rigid and durable enough to give our customers the confidence to display it in inclement weather.
Round
Our standard round shape feature a 36" diameter and is printed on both sides. Our art team can help place your logo inside this shape.
---
Custom Shape
If your company's logo is a unique shape, our team can precisely cut a lollipop sign to match it perfectly.
---
Lollipop Custom Sign Specs
Our fleet of tech-savvy, large-format printers makes your graphics pop with accurate color.
The following specs are for a standard round lollipop sign with custom graphics:
Size: 36" diameter

Substrate: Sintra Board

Printing: Double-sided

Hardware: MONARCHTENT sign pole and holder

Variations: Round (circle) or custom shape
How to Install Lollipop Sign
Install your lollipop sign while your MONARCHTENT is collapsed.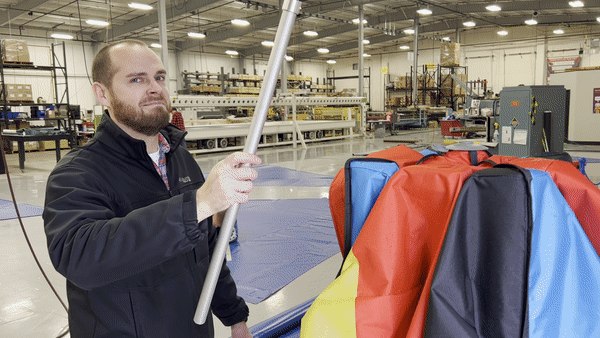 Step 1
Start by taking the long pole that's part of the sign stand and inserting it into the MONARCHTENT cap. Make sure the tapered end is at the top.
---
Step 2
Take the shorter pole and insert it into the lollipop sign.
---
Step 3
Connect the lollipop sign to the tapered pole on your tent, You may need to twist it into place until it feels secure.
---
Here's How To Get Pricing On Your Lollipop Sign
FAQs
What is the size of the lollipop without the stick?

A standard round lollipop is 36" in diameter. Custom-shaped lollipop signs are no bigger than 36" wide or tall.
Do you manufacture a lollipop neon sign or with a light?

No. Currently, we only offer custom-printed signs.
How much does a lollipop sign weigh?

A lollipop sign weighs less than 10 lbs without the attachment hardware.
Can I install your lollipop sign on my existing pop-up tent?

Our lollipop sign system is only compatible with our heavy-duty MONARCHTENT pop-up tent. It will not work properly with other pop-up tent models.
How do these tent lollipop signs handle in wind and rain?

We've tested our signs in heavy winds and rain, and they remained intact. Like any outdoor event structure or signage, when winds become too extreme (think anything north of 35 mph), it's always the safer option to take down your activation.
Do these lollipops taste as good as they look?

They do look delicious, but we don't recommend eating these lollipops!
---