Unless your organization is based out of Antarctica or the Moon, COVID-19 is likely making you invest in new solutions so that your goods & services can still be offered, & in a way that's safe & compliant with public health policies.
One of the hardest aspects of this entire situation is that no one has a clue how long it will last. Weeks?... Months?...Even years? It'd sure be nice if the investments you're making today to deal with COVID-19 aren't completely useless in a few weeks or months.
We're having conversations with people all across the country & it's a consistent question:
So what do I do with my tent after COVID-19? Will it be worth the investment?
This article will show you why your TentCraft tent isn't just a temporary stopgap during COVID-19 - it's a valuable asset you'll use in a wide range of applications for years to come.
First Thing: Your Tent's Built for the Long Haul
The first thing you need to know is our tents are built to last. We've engineered longevity & durability into heavy-duty custom pop-up tents precisely because we want you to get maximum value out of it. That's also why we put a lifetime warranty on our workhorse model - the MONARCHTENT. The point is, you can expect your tent to outlast the COVID-19 need, & it might also outlast the apocalypse (possibly an exaggeration). But look:
Try that with any other pop-up tent & you might have some all new workers comp claims on your hands!
Easily Get It To Where It Needs to Go
The built in dolly transportation system will give you easy mobility. Hard & soft roller bags are also available to keep your entire setup safe on the road. Our pop-up tents can be set up in minutes by almost anyone. Wherever you decide to go, getting your tent there & set up won't be a problem you have to worry about.
Second Thing: Opportunities Abound!!
Nomatter what industry you're in, you're going to continue to get value year after year from your custom tent. Whole new worlds of opportunity await you & your trusted tent. In fact, we got so excited for you we made a list of different ways you can use it after COVID. Check it out:
Restaurants & Food Service Businesses
Businesses in the service industry are investing in custom food tent to offer improved curbside pickup capabilities, additional outdoor seating, walkup service, & drive-thru, in addition to enhanced safety measures like screening & contactless customer service.
Many of these applications will stay popular even after the pandemic subsides, but here are some others that can open up cool new opportunities:
Events & Tastings - You can use your tent to expand your reach & find new customers by participating in events & tastings.
Mobile Dining - Your tent can help you capitalize on mobile dining trends that have become popular in recent years. A walkup concession tent can serve the same function as a food truck - or, your tent could provide a space for seating or a place to locate condiments & utensils. Either way, it will greatly improve your ability to serve customers beyond the walls of your permanent location, & with a built in dolly & transport bag, it's easy to get your tent to where it's going next.
Catering - Whether you offer catering or would like to make it available in the future, your tent would be a valuable addition to any catering operation.
Rentals - if you don't have anything else going on, make a few bucks by renting it out. There are always people that need tents for various reasons, & because of its sturdy build, you can be confident your tent will come back in one piece.
Tailgating - when football season picks up again, host a tailgating party!
Hospitals & Medical Facilities
COVID-19 medical tents for screening & treatment have been popping up all over the country & will remain an essential part of the healthcare system for the foreseeable future. But will these tents be needed after coronavirus gets under control? You betcha. Here are some ideas to consider:
Future Disaster Preparedness - COVID caught us off-guard a bit. Being fully prepared for the next time should be a top priority.
Mobile Clinics - Your COVID-19 medical tents can be used to set up mobile clinics at sporting events, public gatherings or anywhere else.
Recruiting & Events - Use your tent to recruit talent at job fairs, networking events, & conferences. You can easily swap out COVID walls & signage with updated branded displays (learn more in the section below)
Blood Drives - Use your tent to host community blood drives. If you're a vampire or are friends with any, also blood drives.
Vaccinations - If you offer flu shots or other vaccinations you can use your tent to promote & provide these services to the public.
Municipalities, Universities, & K-12 Schools
Local governments & school systems have taken on a broad set of responsibilities during the coronavirus pandemic. We've seen schools & other public venues turned into mobile field hospitals. Public health departments have been spearheading efforts to screen patients & perform antibody testing to millions of people. The COVID-19 medical tents used for these purposes can also be used to bolster other important efforts once this need subsides:
Summer School - Some school systems are considering temporary outdoor classrooms to use during the summer months. The Increased airflow decreases transmission potential, & having additional space makes social distancing students easier.
Election Polls & Voter Registration Drives - The tents you're using for COVID-19 will come in handy during elections whether or not there's still a threat & can support efforts like voter registration drives at public events.
Public Rentals - Allow local businesses & organizations the ability to rent out tents for outdoor events, fundraisers & festivals. You could do this at low or no cost as a public service.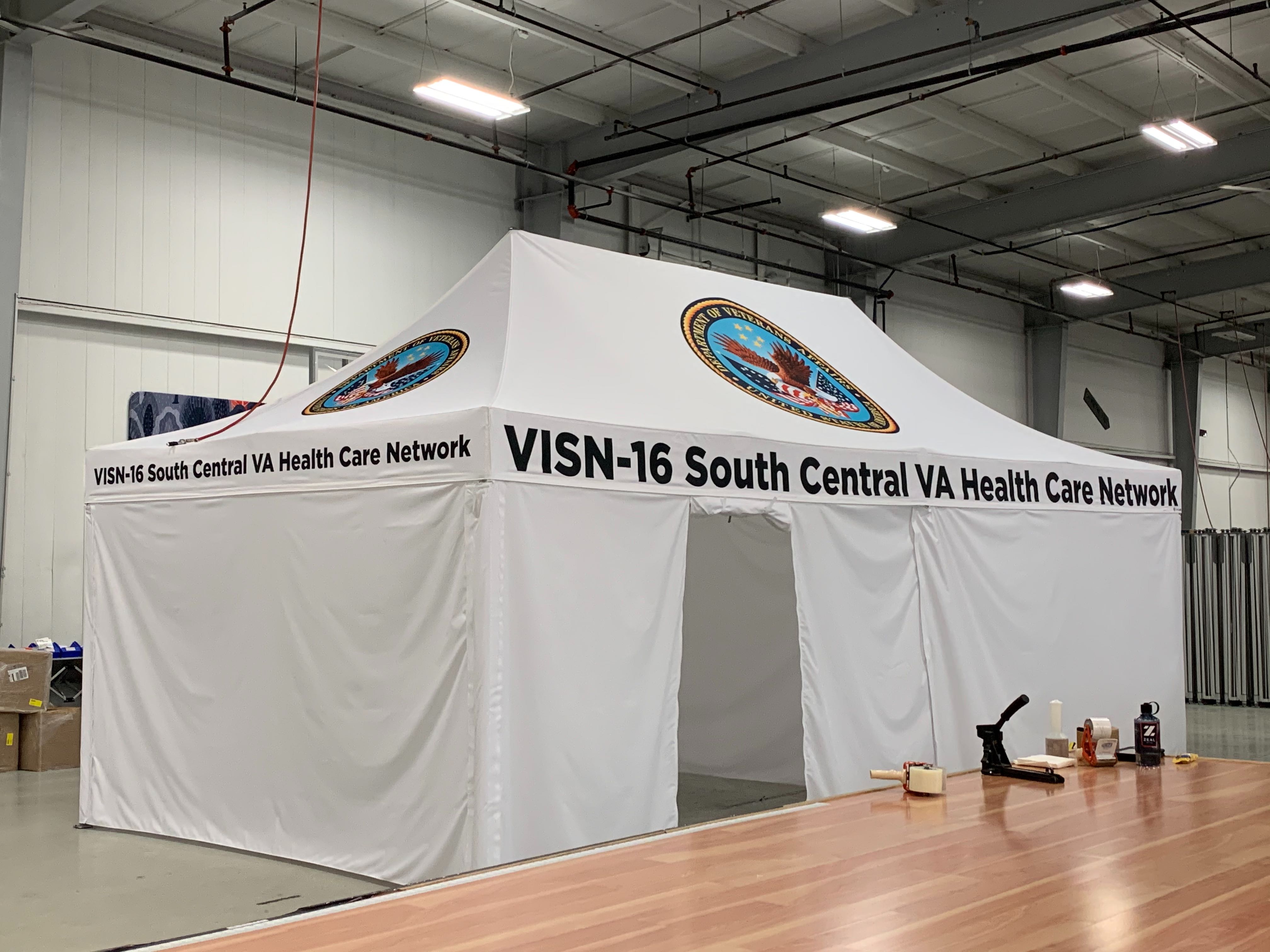 Retail Businesses
Retail stores big & small are needing to be especially creative with their coronavirus response. Shelter-in-place orders have relegated shoppers to the internet, & it's uncertain how customers will respond once restrictions are lifted. Will they shop like they used to or will foot traffic remain low for the foreseeable future? It's hard to say, but there will almost certainly be an adjustment period. Here are a couple ways you can drive more business with your tent:
Events & Festivals - Become more involved in events & festivals to expand customer reach & make additional sales.
Permanent Curbside Pickup - A lot of customers are enjoying the ability to check out online & pickup curbside. This adds another dimension to your business & will help boost sales long term. Might as well stay on the leading edge of this trend & satisfy consumer demands!
Outdoor Markets - Shoppers may prefer outdoor markets to in-store shopping post-COVID-19. Roll your tent on over & open up for business!
General Business Uses - Offices, Manufacturers, etc.
Businesses that work out of office buildings, manufacturing facilities, or any place with an in-person workforce, can get long term benefits from their COVID-19 medical tent investments. Modifications are available to adapt to different uses, but there's no shortage of ways to make your tent work for you going forward.
Company Picnics & Team Outings - It doesn't take too much imagination to see how tents can be repurposed for group outings. If you have a medium or large tent, you can use it as a communal space for eating or socializing.
Conferences & Professional Events - You can also use it at conferences, job fairs & other professional events to showcase your brand & find new customers.
Sponsorships - Consider sponsoring local public events or even youth sports leagues. Your tent will ensure your brand is seen while providing room to hand out information or for people to just park in the shade & relax.
Sanitation Stations - Sanitation stations are a good idea regardless of COVID-19. If it works for your organization, keep it going!
Third Thing: Post-COVID Design Makeovers
A lot of people don't know that you can easily swap out your COVID-19 themed exterior with great new custom canopy & wall designs. If you change your logo or want to highlight a specific theme or product, we can definitely help you do that.
One Frame, Endless Theme Potential
You don't need a whole new tent if you want to use it for other things in the future - just re-skin or modify with some new features. We can print on mesh walls, clear vinyl walls, sidewalls with windows, walls with doors, and walls with zippers. Tent wall options are endless. One of our specialists can help you explore options & settle on what's best for you.
Stunning Edge-to-Edge Printing
A world-class tent deserves world-class graphics. We have a fleet of digital printers to handle numerous substrates and print methods. We can do single or double sided, plus UV printing for maximum print life. Whatever direction you want to go with your tent, it's going to look unbelievable.
Awesome Upgrades & Add-Ons
Modifying your tent with a new peak flag or banner can easily freshen things up, but there are tons of other add-ons available, too. Most will likely work with your existing frame or can be added separately. One of our specialists can outline the full suite of possibilities here & make recommendations, but here are some common custom tent modifications:
Peak Flags
Peak Banners
Custom Printed Carpet
Counters
Inflatable Leg Wraps
Curtains & Dividers
Scalloped Valances
Tent with Benefits: Ongoing Support, Pandemic or Not
As soon as you buy your TentCraft tent, we're in it to win it with you, & that means partnering to support your efforts no matter what you decide to do next. Especially with all of the challenges around COVID-19, we want to support you more than ever as you meet the changing needs of today, & again as you transition to new objectives ahead.
Talk to one of our specialists about modifying your tent for use after COVID-19 or refreshing your existing unit before events are back in full swing, & we'll make sure you're taken care of 100%.
We're here to help with
COVID-19
response.
Call (800) 950-4553
Or click below to contact us online.
LET'S TALK