MONARCHTENT: Pop-Up Canopy Features
We know we talk a pretty big game about our heavy-duty aluminum pop up canopy, the MONARCHTENT, but – Scout's honor – it's because it really does rock. By design, this frame is meant to be the strongest, commercial grade canopy tent on the market and we've prioritized durability and lasting quality over everything else. And we're not all talk, we've got facts. So here we go, a quick look at the key features of the MONARCHTENT.
Top-to-Bottom Aluminum Frame
Every size of our MONARCHTENT is built entirely from anodized aluminum. And if details are your thing, we use 12-gauge aluminum, sourced in the USA. Here's where it gets extra cool: every connecting element on this frame is aluminum, too. Coupled with heavy-duty octagonal legs, this frame turns into the kind of bulletproof that allows 10 fully-grown dudes to hang from it without any injuries to the frame (or the guys).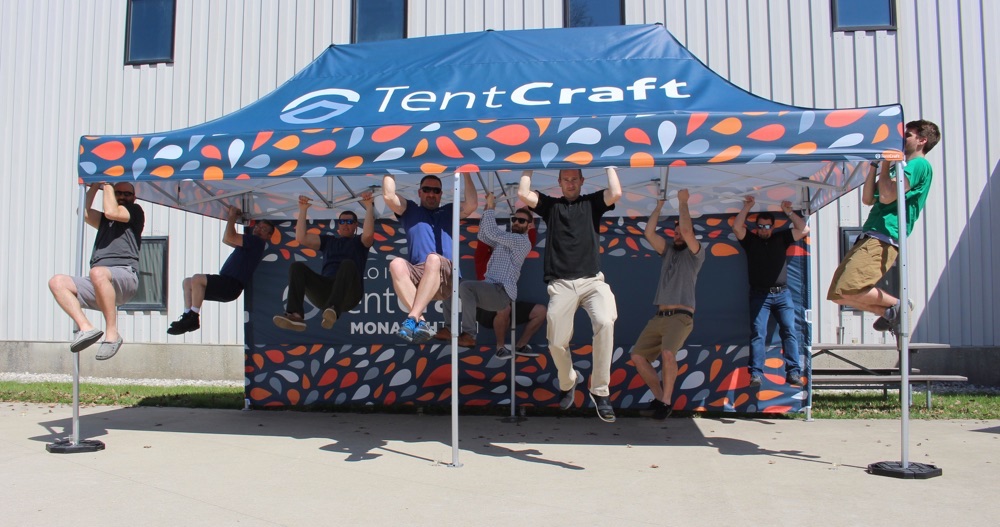 Thicker, Reinforced Footpad
The size and design of the pop-up tent footpad matters. Not only do the feet carry the weight of the frame, they also get dragged across various surfaces and they're often the first part of the frame to make contact with the ground if dropped or slammed during transport. The MONARCHTENT footpad is made from cast aluminum and is nearly 3/8" thick—it's designed to take a beating.
Built-in Transit System
It's a heavy-duty frame, so it's going to come with a little more heft than your average pop up. Don't despair though, because we thought about that. One of the most unique features of the MONARCHTENT is the patented dolly system that is fully integrated with the frame. Lock the wheel kit in the feet of your frame and that's it – you're moving.
Lifetime Warranty
We stand behind our workmanship for life. If you have any craftsmanship defects between now and forever, we'll make it right.
Made in the USA
This isn't some hazy gimmick that basically just means some of the pop-up canopy tent is made in the USA. We mean all of it, top-to-bottom is engineered, built, designed, printed, sewn, and fabricated right here, by us, in Traverse City, Michigan.
Included Peak Flag or Peak Banner
If you want to stand head and shoulders above your competition, that's something we support. All MONARCHTENT frames are engineered with peak hardware that accommodates a printed peak flag or peak banner, helping your brand stand taller than any other canopy tent on the market. All MONARCHTENT purchases include a peak flag or peak banner (rectangular dimensions).
Specially Designed Footplates
The #1 threat to any instant pop-up canopy is heavy winds. And we have numerous customers deploying canopy tents in some of the windiest states like Hawaii, Alaska, Illinois and Kansas. While stake kits are the most common way to ballast a canopy tent, they can't be used on pavement or concrete. That's where our footplates are a great solution when unable to use tent stakes. At nearly 60 lbs, the footplates are certified to protect your tent against wind-speeds up to 35 mph. Each footplate breaks down into two pieces and include a handle for easy transport.
Feedback and Reviews from Our Customers
In the words of Reading Rainbow, you don't have to take our word for it. You can check out every single good and bad review we've ever gotten here, but we think these comments about the MONARCHTENT will be pretty helpful if you're still wondering about the durability.