When Florida A&M University inked a deal with Lebron James and Nike earlier this year to become the only historically black college and university athletic program to be outfitted in the NBA superstar's gear, Michael Johnson, associate athletic director for the school, wanted to make a big splash about the milestone sponsorship.
A deal with Lebron, he said, better supports the university's student-athletes and can offer them more opportunities career-wise once their playing days are over.
With that in mind, the Rattlers unveiled a new installment at Bragg Memorial Stadium on Saturday, Sept. 11: A VIP game-watching experience inside a custom, bright-orange Nike shoebox with the shoe company and King James' logos artistically printed on the front entrance. The TentCraft-manufactured shoebox tent was sandwiched between two Florida A&M-branded frame tents for additional seating and marketing opportunities.
The experience is a perfect example of how TentCraft can tailor any event — from an NCAA Div. I football game to a 10x10 stand at a farmers market — thanks to its in-house manufacturing, expert team of engineers and designers, and years of experience in creating and innovating custom tents and structures.
Inspiration for Shoebox Tent Design
Johnson was already looking for a more permanent tent structure at the football stadium after spending thousands of dollars renting temporary solutions for past gamedays.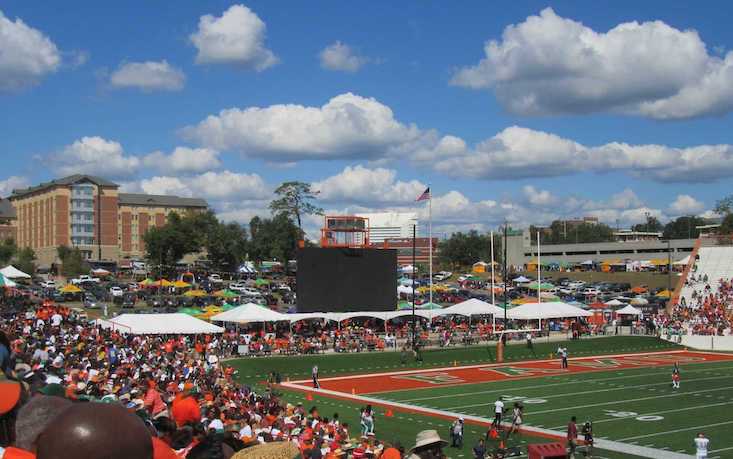 It was when he saw photos of an installation for a Soccer.com pop-up imitating a black Nike shoebox on TentCraft's website that he knew exactly what he wanted.
TentCraft strives to continually make its products better and immediately had some enhancements it could implement to make the design and setup of the truss structure more efficient. The biggest difference was in the design of the "top of the box."
Instead of installing the walls and then a separate piece of printed polyester material around the top of the truss to mimic the top of a shoebox, TentCraft's art team designed the shoebox with a single piece of display knit material, making the fabrication and setup considerably easier. A well-designed shadow effect gives the illusion of separate pieces of material that divide the bottom of the shoebox from its top.
TentCraft Products Bring Shoebox Experience to Life
While FAMU's installation is entirely custom, the structures are made from products TentCraft commonly manufactures and sells.
The Shoebox
The shoebox is made from a 20x40 truss structure manufactured with lightweight aluminum frames and a snap-together design.
Additional Tents
The two 20x20 FAMU-branded frame tents installed on both sides of the shoebox are from TentCraft's new E-Series Line. TentCraft designed the E-Series specifically for custom events where the structure needs to be in place for days or weeks at a time. The heavy-duty vinyl cover is hot-air welded for a waterproof seal.
Installation
FAMU took advantage of TentCraft's installation service, which included sending a production manager down to Tallahassee to assist with the setup. After some training, the staff at FAMU can now easily dismantle and re-assemble the structure in the years to come.
Shoebox Tent Questions
Is the roof of the shoebox tent waterproof?
It can certainly handle a little bit of weather, but it's not a waterproof roof. It's designed more as a sunshade. If inclement weather is in the forecast, you can easily remove the roof, though, by undoing the bungee cords that hold it together.
How easy is the installation?
The team at TentCraft likes to describe truss structures as Legos for adults. It's a little time-consuming, but it's certainly not rocket science. After going through one install, you should be able to assemble it with ease.
What are my ballasting options for a shoebox tent?
You have several options, but one of the best options is using multiple 75-gallon water barrels. When filled, each barrel weighs 850lbs, which is plenty of weight for this type of semi-permanent structure.
Custom Event Tent is a Total Touchdown
The shoebox tent was a major success in its first game. Fans who enjoyed a VIP experience inside the structure comfortably watched their Rattlers turn a slow start into a convincing 34-7 win over Fort Valley State University.
If you're looking for a similar experience — and victory! — at your university, contact TentCraft to see how our made-to-order tents and structures can elevate your next event.