You've made the right choice to purchase a straight leg canopy after learning it's far superior in strength and durability compared to slant leg canopies.
But now you need to decide which straight leg pop up tent is best for you.
If you're looking for an instant shelter to bring to your kid's weekend soccer game or a lightweight canopy to install at the beach, there are plenty of options that cost under $200 from companies like EZ-Up and Coleman.
But if you need a custom, heavy-duty pop-up tent for events — a professional solution that handles strong winds and lasts a long time — your options become more limited and more expensive.
TentCraft's lineup of American-made, custom tents falls into that latter category. We manufacture our tent frames and custom print our canopies at our production facility in Traverse City, Michigan, and have mastered how to build a heavy-duty pop-up tent that works every time and lasts a really long time.
To create a list of the best straight leg canopies (we focused on 10x10), we examined the following criteria:
Durability


Ease of use


Customization


Weight


Price


Our customers have worked with us because we build one of the toughest, most durable pop up tents on the market — the MONARCHTENT. At about 70-pounds, this all-aluminum frame tent is heavy but includes a wheel kit for easy transportation.
It's also extremely customizable, with six different canopy styles and countless configurations with walls, half-walls, counters, flags, and other add-ons.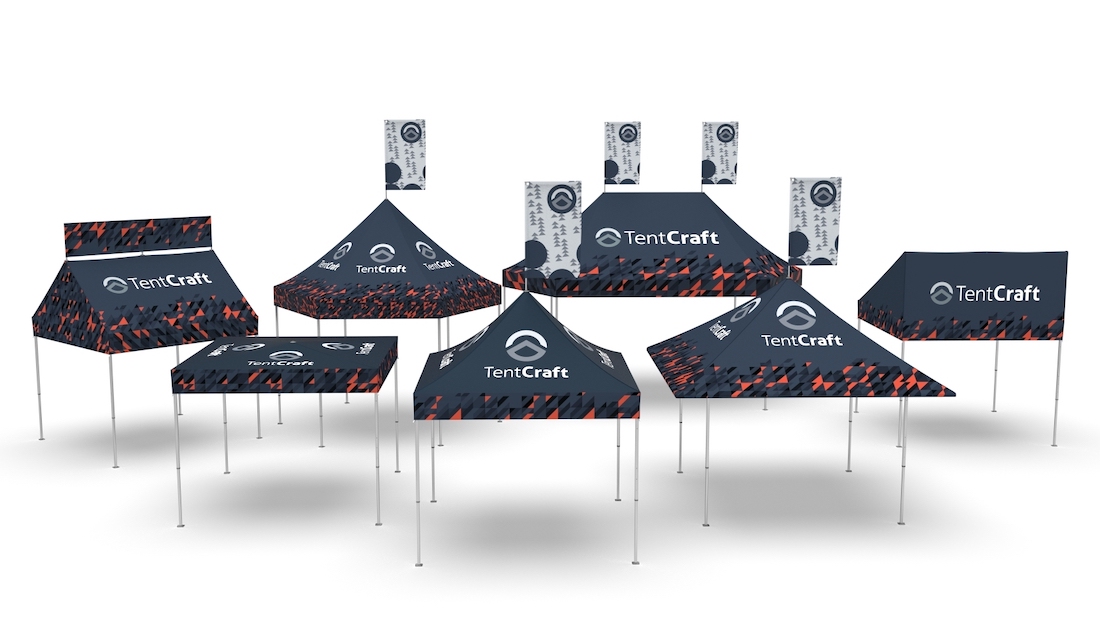 MONARCHTENT starts at about $2,500 and goes up based on size, printing, and add-ons like walls. Learn more about the cost of TentCraft structures.
We've written extensively on what makes a pop-up tent heavy-duty, in case you're interested in learning more about things like, why we include a hefty footpad on all of our tent legs.
pop-up tent wind ratings, here.
Mastertent S1
TentCraft actually used to be the North America partner to Mastertent, so we know their frames really well.
The company's S1 model is manufactured in Europe with a full aluminum frame and joints, 2" leg diameter, and stainless steel footpads. The aluminum legs feature 2.5mm walls, which is thick enough to be considered heavy-duty.
Mastertent tents, which come in about a dozen different sizes and various canopy designs, have a nice corner button that prevents any fingers from being pinched in the setup or takedown of a pop-up tent.
Tent pricing isn't readily available on Mastertent's website.
Ins'TENT V3
Ins'TENT's most durable pop-up — the V3 — is manufactured in China and comes with a lifetime warranty.
Like the other two tents above, the V3 utilizes an all-aluminum frame and a 2-inch leg diameter. The company opted for a hexagonal leg shape, which they say helps with overall stability.
Instead of square footpads, the company went with a triangle design. And instead of aluminum connecting joints, the company uses fiberglass fittings.
The V3 only comes in three sizes — 10x10, 10x15, and 10x20. It can be customized with walls, half walls, and even an awning.
Pricing isn't readily available on Ins'TENT's website.
TentCraft is Made in America
We hope you now have a better idea about the top straight leg canopies on the market.
If you're interested in learning more about TentCraft and what American-made quality looks and feels like on a heavy-duty pop-up tent, send a note to our team and we'll get back to you quickly.