When you hear "pop-up tent," what comes to mind?
If you're new to TentCraft, you're probably envisioning a simple 10x10 pop-up tent with custom-printed branding on the canopy. And that's not a bad answer! We've been manufacturing some of the toughest, heavy-duty 10x10 pop-up tents on the market for years — right here in Northern Michigan.
But when we hear "pop-up tent," our creative brains go outside the box a bit. Not everything has to be a simple 10x10 square pop-up tent.
Don't get us wrong! A custom-printed 10x10 tent certainly helps you stand out at events. But many of our agency clients who represent some of the world's most recognizable brands have figured out that going with custom alternatives to the traditional pop-up tent is a great way to not only stand out, but also create a memorable experience for attendees.
That's a big reason why we manufacture everything in-house and hire a team of engineers who constantly come up with the next unique tent design.
Over the past year or so, our team has been fortunate enough to bring some incredible experiential marketing activations to life. From a magical activation promoting Disney+ to a charming setup for Bush's Beans at the World Championship Chili Cook-Off, here are 13 of the most awesome custom canopy tent designs TentCraft has created in the past year:
Farm Rich Snacks Football Tailgate Experience
Products used: 10x10 MONARCHTENT; Full back wall printed on both sides; half walls printed on both sides; fitted table cover; MONARCH Peak Flag; custom-printed medium feather flags.
Project description: Farm Rich Snacks made our 10x10 MONARCHTENT extra special by adding a back wall and two sidewalls with printing on all sides. The snack brand setup outside Ben Hill Griffin Stadium at the Florida and Alabama SEC football game in October 2021. Do you know who really liked this setup? None other than University of Florida legend himself, Tim Tebow!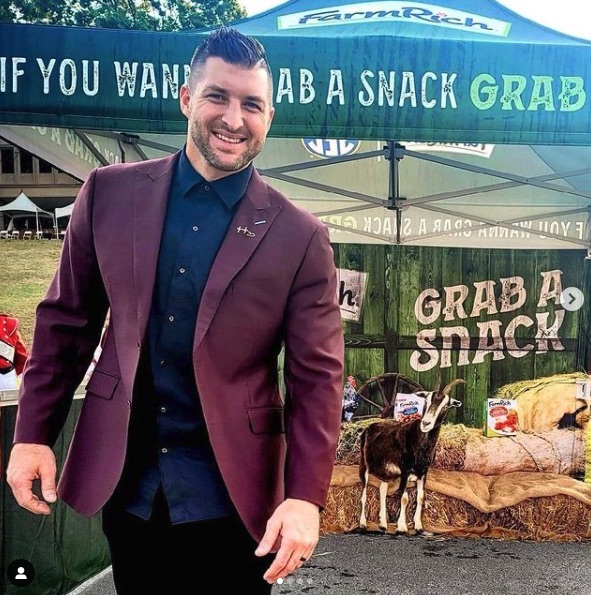 Bush's Beans at the World Championship Chili Cook-Off
Products used: Three MONARCHTENTs: two 10'x10' and one 10'x20' plus branded peak flags. The front 10'x10' included counters from TentCraft.
Project description: As one of the most popular baked bean companies in the world, Bush's Beans wanted to make a splash at the World Championship Chili Cookoff. Even more important, Bush's hosted The Office's Brian Baumgartner, whose character, Kevin Malone, is known for his world-famous chili.
The brand's marketing agency worked closely with us to come up with the perfect solution. We presented a handful of different options before landing on this colorful setup.
The counters on the front 10'x10' MONARCHTENT allowed the Bush's crew to serve chili samples and converse with event patrons.
Bike Show Activation for Alert 5 Velo
Products used: MONARCHSTALL
Project Description: As a startup, Alert 5 Velo wanted to debut its lineup of aviation-inspired cycling gear with a classy setup. Our MONARCHSTALL was the perfect option for the business: It's easy to transport and set up — plus there's plenty of real estate for branding, which the brand took advantage of.
Magical Activation for Disney+ Promo Event
Products used: Multiple 10x10 MONARCHTENTs and custom shade umbrellas.
Project description: Disney+ traveled to four major cities this past summer for its "The Stories Continue" tour, creating magical pop-up events in Chicago, New York, San Francisco, and Los Angeles. The branded pop-up tents made for the perfect backdrop to the countless selfies that were snapped.
Florida A&M University Nike Shoebox VIP Activation
Products used: 20'x40' truss structure; two 20'x20 branded frame tents. FAMU also took advantage of TentCraft's installation service.
Project description: Florida A&M University had been renting tents for their VIPs on game days over the past several years before they decided it was a better investment to own a tent. Instead of going with a plain white frame tent, though, the university wanted something that stood out. They decided on a custom truss structure that mimics a Nike shoebox. The shoebox was sandwiched between two branded frame tents for additional shade near the endzone.
Jagermeister Market Stall
Products used: MONARCHSTALL
Project description: Jagermeister needed a structure that not only stood out, but also something that could easily be transported and set up indoors and outdoors. The MONARCHSTALL — our version of a market stall — is great for face-to-face interactions and can be set up in about five minutes.
Milwaukee Tools' Multi-Tent Setup
Products used: 10'x20' MONARCHTENT
Product description: At a recent trade show, Milwaukee Tools used a 10'x20' MONARCHTENT with full-sized and tab walls to create a private room for doing business or storing products.
Safelite Autoglass Field Goal Activation
Products used: Truss tent. and Custom-printed walls.
Product description: Safelite used TentCraft Truss to create a field goal activation at an Ohio State Football Tailgate. We used "quick clips" on the hardware, so the entire setup was done without any tools. Safelite is the first field goal sponsor for the Buckeyes.
Soccer.com Event Dome at Premiere Fan Fest
Products used: Event Dome and 8x8 mightyTENT
Project description: The folks at Soccer.com created a splashy entrance at the L.A. Memorial Coliseum for a Premier League Fan Fest event. Mike Thomas, of Sports Promotions Group, said the TentCraft Event Dome attracted enough people to be able to sell out of promotional soccer balls. "It definitely exceeded our expectations," he said.
U.S. Air Force Recruitment Activation
Products used: Event Dome; and MONARCHTENT
Project description: The U.S. Air Force relied on TentCraft's Event Dome and a 10'x20' MONARCHTENT to create a pretty spectacular looking event to promote its newest recruitment initiative — E.C.H.O., which stands for Enhanced Cognitive Human Ops.
CLEAR Security Checks at Sports Games
Products used: 5'x5' Gazebo and Media Wall
Project Description: CLEAR uses TentCraft's custom-printed Gazebo and media wall to help people speed through security lines at major sporting events.
Vermeer Truss Project
Products used: Truss tent and custom-printed walls.
Project description: Vermeer used TentCraft Truss to create a unique entrance to the ICUEE show in Louisville, Kentucky.
Florida Poly Career Services Recruitment Tent
Products used: MONARCHHEX and custom-printed back walls.
Florida Polytechnic University wanted to go big for its career services tent and ended up going with a 13'x22' MONARCHHEX with back walls. This allows for more branding real estate and room underneath the structure. The peak banner also makes it very easy to find the careers services tent.
What Can TentCraft Make for You?
Feel inspired yet? Don't limit yourself to something simple. Challenge your team to push the envelope for your next event. Reach out to our team today and let's start working on your next big idea.