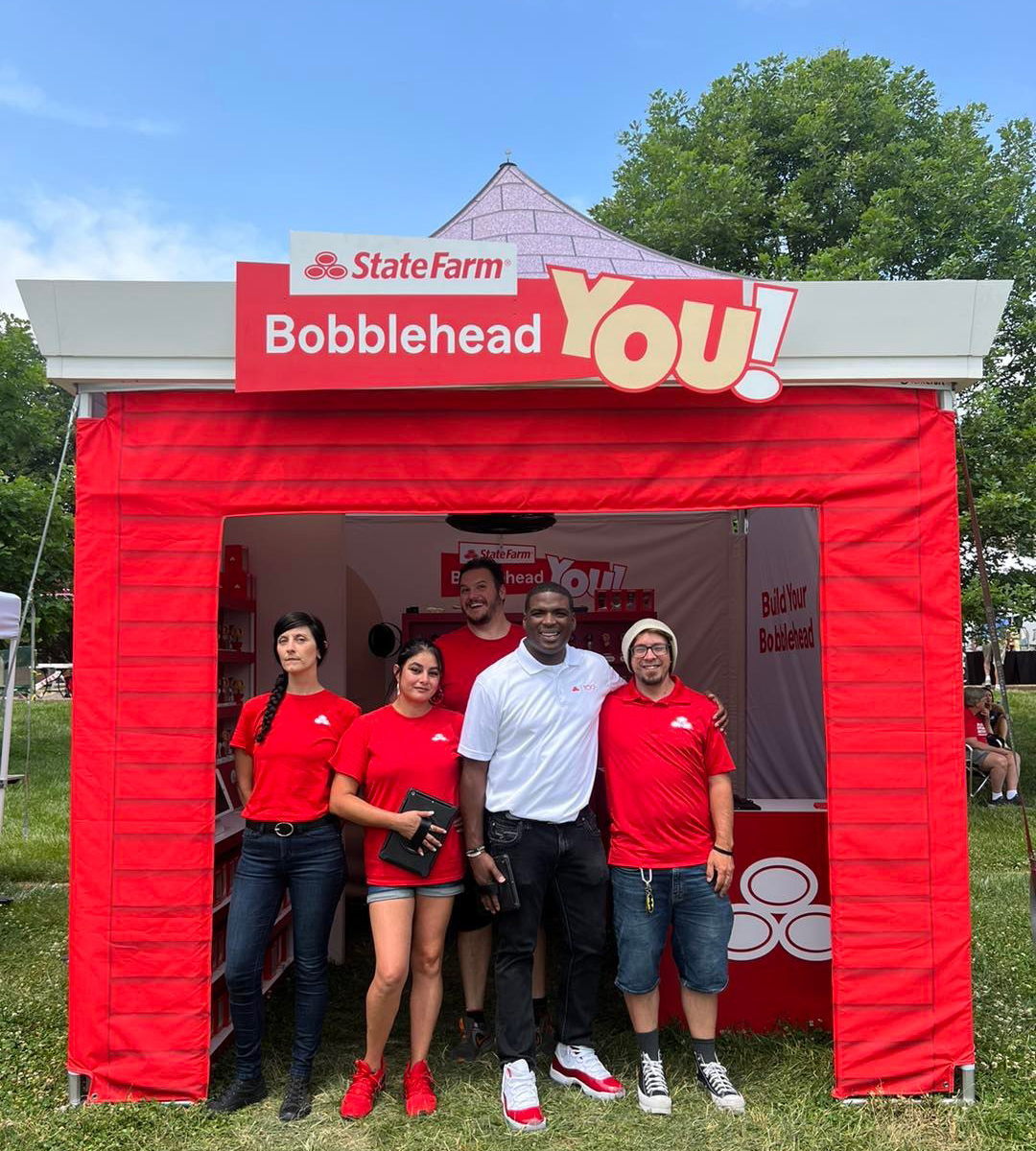 State Farm Insurance "Bobblehead You" Event Activation
It started with a simple idea: Create an experience where event attendees could create a custom bobblehead of themselves.
State Farm Insurance planned an event-packed summer for its agents across 19 markets, inviting clients and prospects for meet-and-greets — and to create custom bobbleheads featuring photos of themselves.
The Request
Working with Infinity Marketing Team, State Farm reached out to TentCraft to build the custom experience. They wanted a pop-up structure to house the custom bobblehead creation experience. It needed to reflect their brand, set up easily, survive the rigors of travel, and, of course, include their famous spokesperson, Jake from State Farm.
Specifically, they wanted the structures to look like houses. We love a good custom project, so our engineering and design teams got work!
We had a hunch that a member of the MONARCHTENT family was going to be ideal for this job so we started our process by sending them a stock white MONARCHTENT to give them a first-hand feel for our made-in-USA quality.
The Plan
State Farm decided to go with our standard peak style MONARCHTENT, and sent two structures to every field team. Teams used one tent for bobblehead creation and photos, and the second tent for storing additional bobbleheads.
To create the look of a real house, we ditched the peak flag we include with every MONARCHTENT and focused on print and fabrication customizations that would complete the look.
Each tent needed custom printing inside and out, including shingles on the roof and red exterior siding, while the printed interior walls featured Jake from State Farm and directed users through the steps of the custom bobblehead creation process.
A key element to making the heavy-duty MONARCHTENT was extending the leg height to make the house physically taller. A standard MONARCHTENT features a head clearance height of 6 ft. 8 inches. The one we custom-designed for State Farm extended that head clearance to 8 ft. 2 inches.
For fully enclosed tents our entryways are typically a zipper or rollup door built into the tent wall.
But this project required something more polished. We created a one-of-a-kind custom door frame entrance that integrates with a printed fabric wall and packs up quickly for easy transportation. We took it a step further by adding a printed door frame insert that allowed State Farm Team members to easily close the door as needed.
The final step was to deliver 19 sets of MONARCHTENTS to California where the finishing touch of rigid crown molding was added before the tents were shipped out into the field.
The Results
The Bobblehead YOU! houses debuted at the State Farm Founders Day event and went on to wow attendees at summer events across the country including the Oregon Air Show, Columbus Arts Festival, Michigan Tough Mudder, Indy Mini Marathon, Matthew's Beachfest, Wings Over Wayne, and many more!
In total "The State Farm Good Neighbor Crews brought their immersive Bobblehead YOU! houses to over 400 market stops...giving guests their own personal, one-of-a-kind bobblehead souvenirs."
"Building a project like this for so long and finally getting to see the smiles on people's faces as they make their bobbleheads is such a cool feeling." - @kylegolemankg
What did guests have to say about their bobbleheads?
"You know you've made it in running when you get your face on a bobblehead 😂😆🤣 Many thanks to #jakefromstatefarm 🫶🏽"- @laurlita_runner
The Steps
Creating a customized personal bobblehead is a multi-step process. The perfect tent design would expedite the flow of guests as they moved from station to station, ending in happy customers enjoying their unique bobblehead.
Like What You See? Request a Quote.
Bobblehead YOU! Photo Gallery