Custom Tents & Structures for Colleges & Universities
From student groups drumming up interest for their club to a fraternity or sorority looking to stand out amongst other Greek organizations on campus, TentCraft manufactures custom tents and structures that not only stand out but also last a REALLY long time. Because we choose to manufacture the entire tent in America, we control the quality and can turn around your custom project quickly.
Colleges and universities have trusted TentCraft to produce everything from way-finding tents for student housing organizations to COVID testing tents during the height of the pandemic. Our team is filled with experts — engineers, metal fabricators, creative artists, and more — who can solve your toughest challenges.
Based in Michigan, TentCraft certainly has employees with allegiances to specific college football teams, but we're here to help all universities — no matter your mascot! Well, with the exception of that school down south… (just kidding.)
Quote Request
American-Made, Custom Solutions Colleges & Universities Can Rely On
All TentCraft products are manufactured in the U.S. As masters of our craft, we're committed to providing colleges and universities across the country with the highest-quality pop-up tents and accessories to ensure a safe and fun learning experience.
Shoebox Tent for VIPs at Games
Make your VIPs stand out in style with a shoebox tent made using our truss structure and custom Powerstretch material. A handful of colleges, including Florida A&M University, have ditched their tent rentals for a structure they can set up semi-permanently throughout a football season that VIP attendees can use during a game.
A shoebox tent is large — typically 20'x40' — giving you plenty of real estate for branding and sponsorships, and, of course, plenty of space for people to gather underneath.
If you're looking for that type of experience, reach out to the TentCraft team and let's unbox your project today!
Fraternity & Sorority Tents
Fraternities and sororities want to stand out at tailgates, social events, and during recruitment — and they want a custom tent that will last a long time and hold up in unpredictable weather. TentCraft has manufactured a number of custom projects for Greek organizations across the country who were simply tired of replacing cheap tents year and year.
Remember, your tent is going to be set up and taken down by new people each year and, presumedly, people who have never set up a heavy-duty tent before. By going with TentCraft, you're investing in a high-quality product that stands up to the wear and tear of college life.
Custom Tents for College Recruitment & Student Groups
When taking your university on the road to college fairs, it's always a good idea to stand out with a custom, heavy-duty tent that advertises your school.
TentCraft solutions have been used by schools for recruitment, but also by student groups looking to stand out during a sign-up session for extra-curricular activities. Ultimate frisbee club? Count us in!
Custom Tents 101: Learn the Basics
Reviews: TentCraft Made the Dean's List
Custom Tents for Colleges FAQs
What is the best solution for a semi-permanent tent?

The best semi-permanent tent checks three boxes: It's heavy-duty and durable enough to handle harsh weather; it's easy to install; and it can accommodate a number of accessories, like side walls and window walls to ensure nothing blows in during instruction time. E-Series and X-Series frame tents from TentCraft are excellent choices that meet these criteria.
What are TentCraft custom pop-ups tents made of?

TentCraft custom pop-up tents are made with a strong, lightweight aluminum frame. We use 600 denier polyester for our canopies that can be completely customized.
Are your tents wind rated?

All TentCraft tents come with a certified wind rating from an actual engineering firm. Don't believe us? Here's the wind rating document for our 20'x20' E-Series Event Tent.
---
Photo Gallery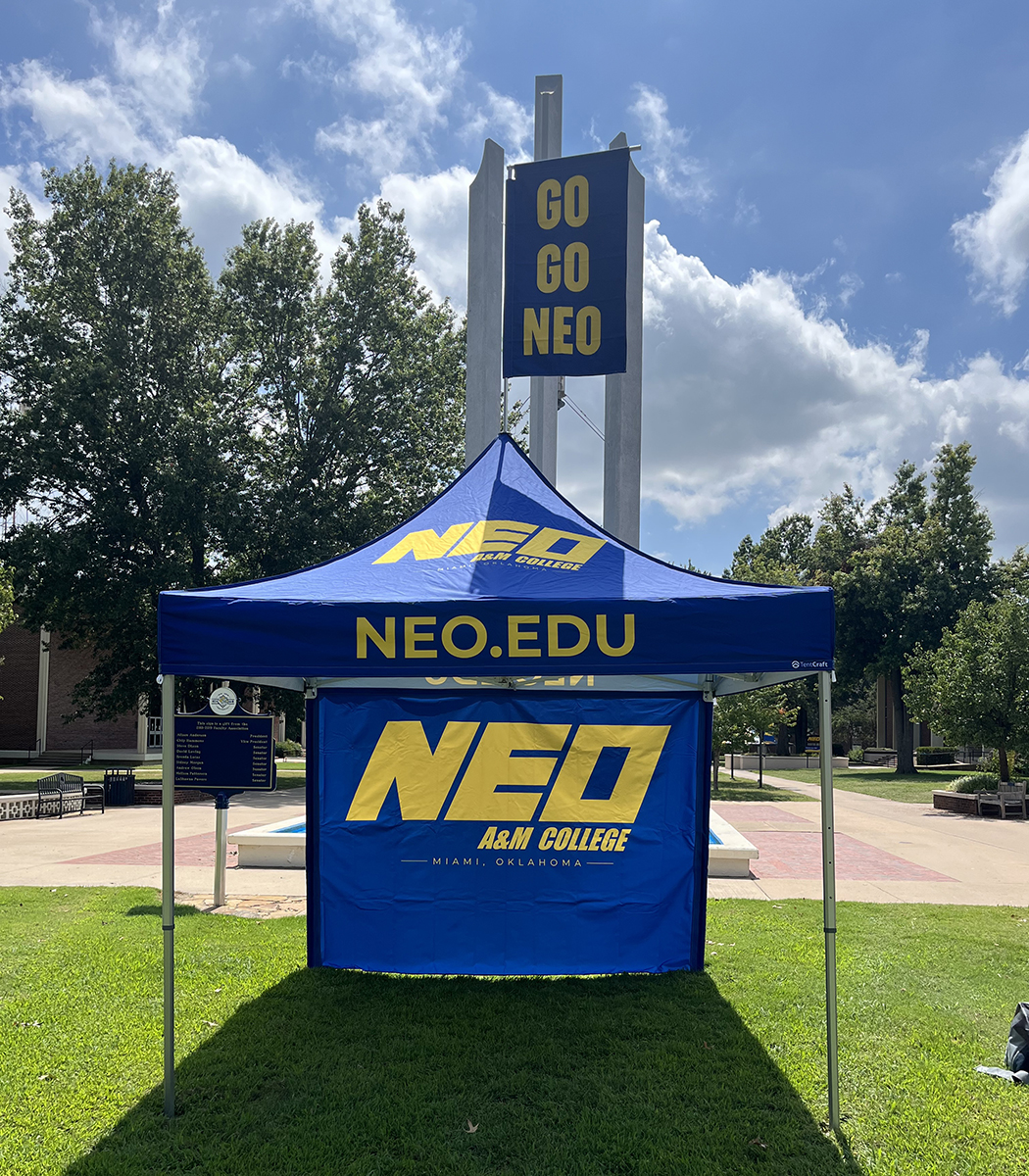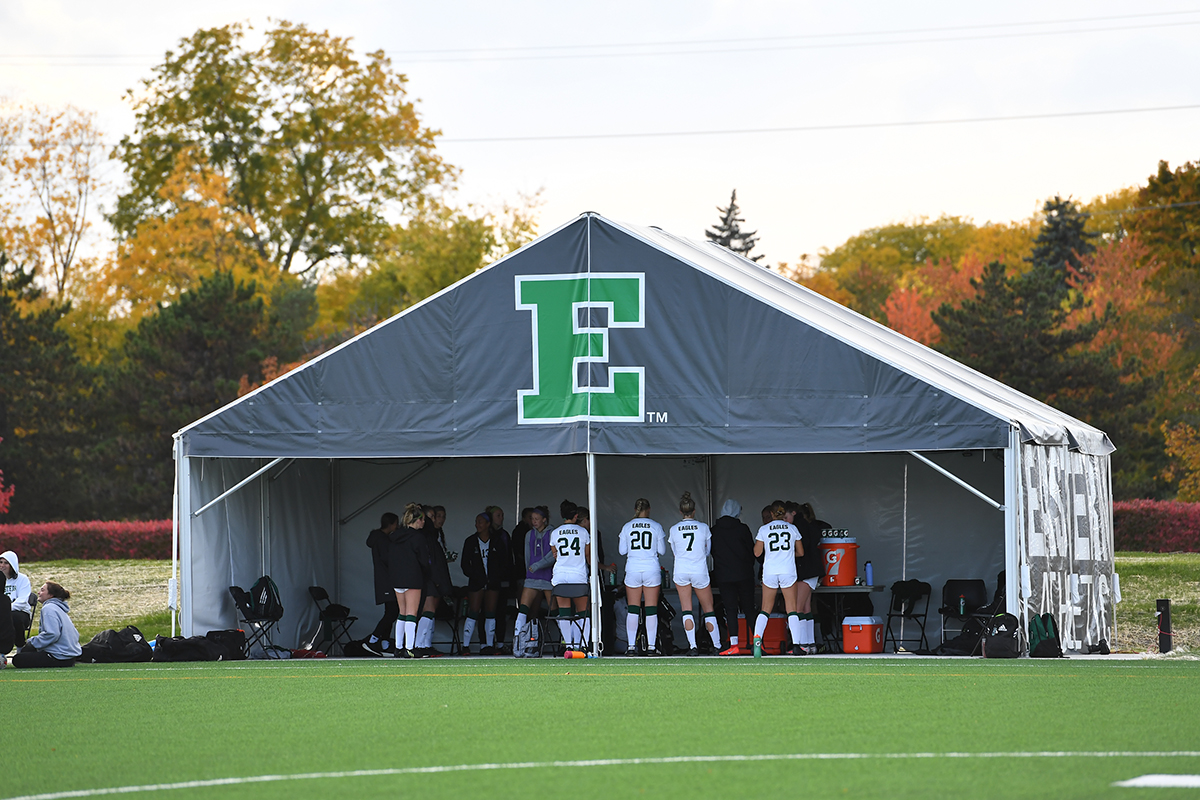 TentCraft has Your University Covered
TentCraft is a veteran-owned business based in Traverse City, Michigan, that has extensive experience working with colleges and universities across the country. If you have an idea for a custom tent or structure for your school, send us a note — we can't wait to help!