Alternatives to the Traditional Pop-Up Tent
Update: 13 Pop-Up Canopy Tent Designs That Are Super Creative
Built out on the base of the heavy-duty MONARCHTENT infrastructure, take your custom pop-up tent to the next level with a canopy tent style that fits your brand's unique aesthetic. One of the most common requests that we get is from folks who are looking for an event tent that has all the convenience of a pop-up tent, but doesn't look like, you know, a pop-up tent. We know that sounds sort of funny, but it's a pretty common conversation and with good reason. Brands don't make an impact by fitting in -- it's all about standing out.

As a manufacturer, we have the enhanced capability of getting a little crafty with our design. We're a big team of creatives, engineers, designers, and fabricators that are itching to design and build the next big thing. And with several custom one-offs under our belt (like this giant Quaker Oats sampling tent and a Nike shoebox), we were ready to change the stereotype of what a pop-up tent is and what it is supposed to look like.

Building off from the heavy-duty MONARCHTENT platform, we've brought six new roof styles to the market. Each model still features the classic quick to set-up pop-up style frame, but with a variety of roof shapes to choose from.


MONARCHCUBE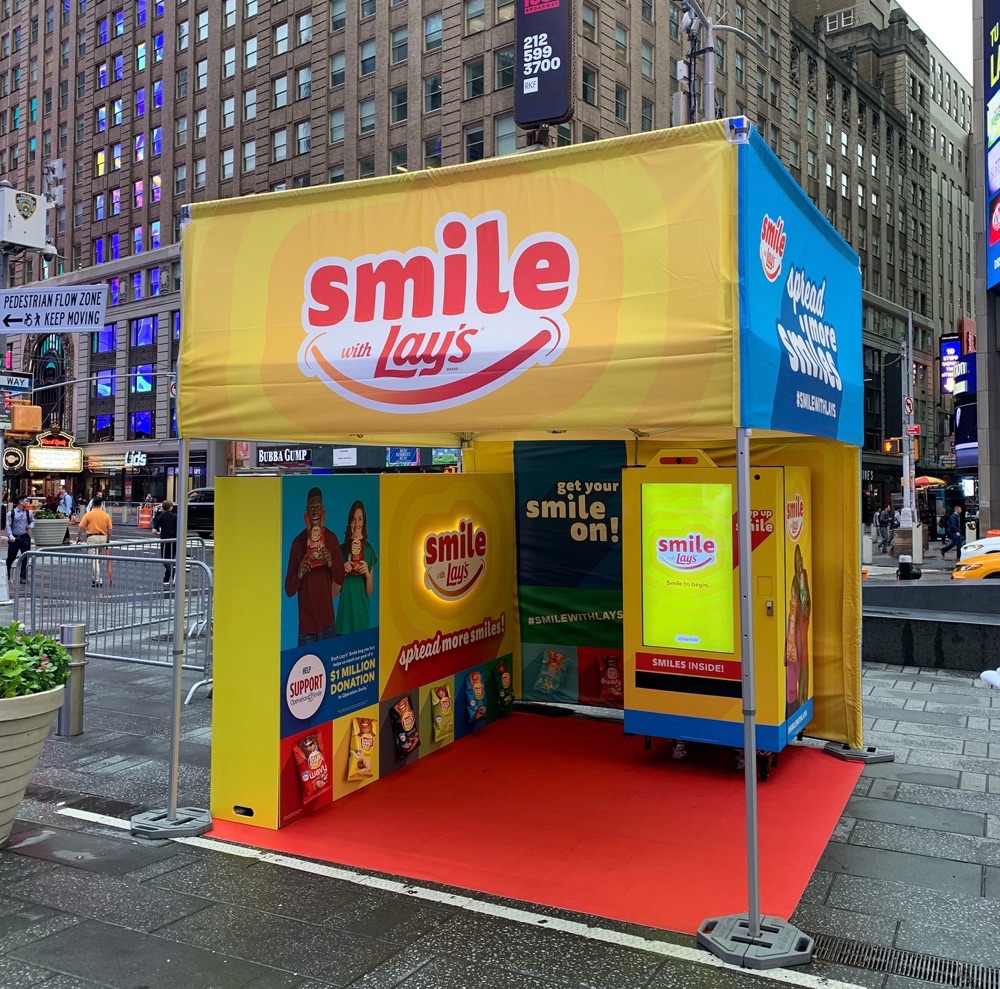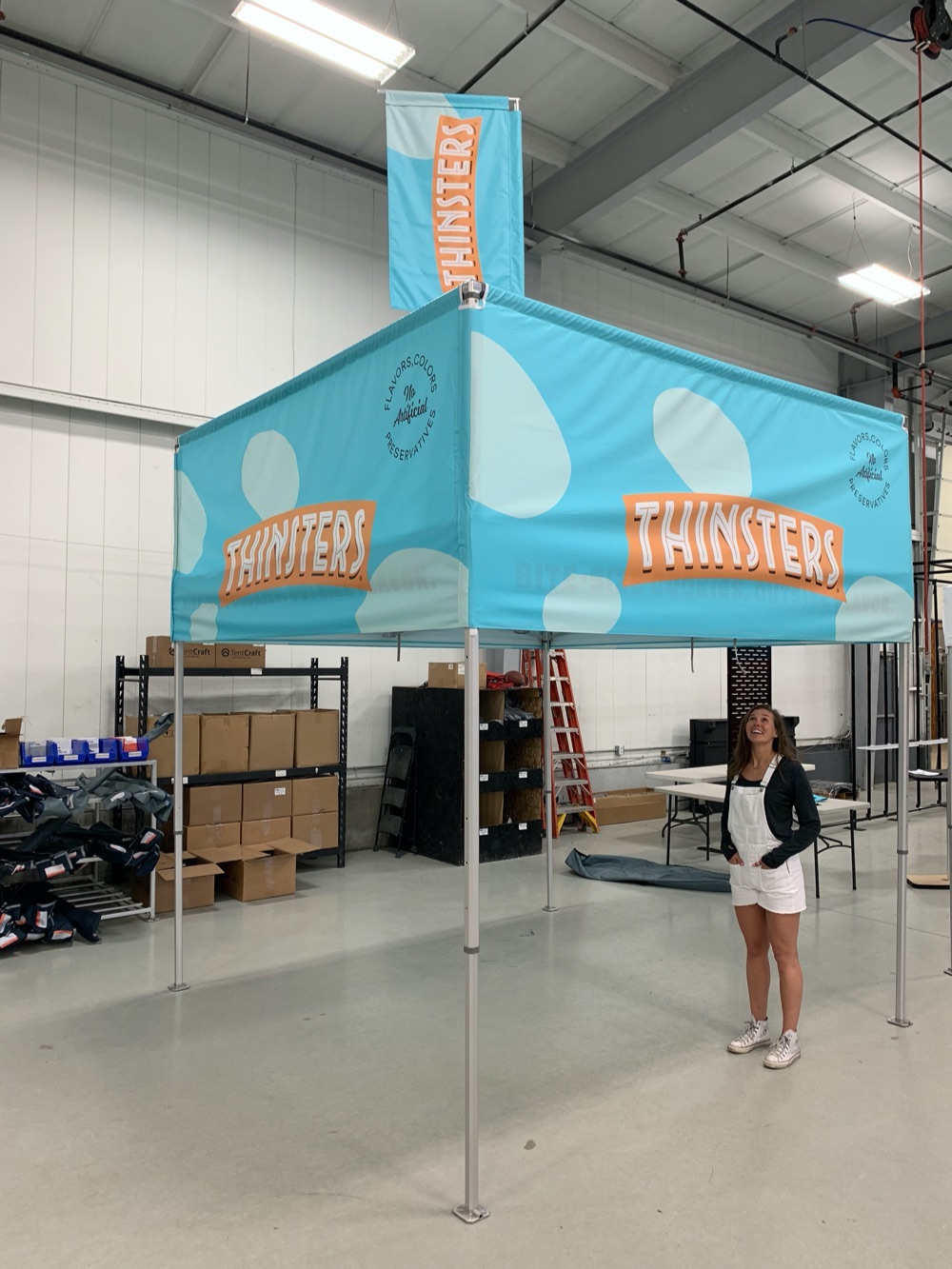 Available Sizes:
10x10
How it's different: With four giant vertical billboards flanking each side of the tent, you've just gained significant branding real estate at an angle that is easy to see up close as well as at a distance.

Who it's a good fit for: Indoor vendors, in spaces where you're expecting customers to be standing a few feet away from your tent are exactly who we had in mind. If you imagine standing right at the entrance of a pop-up tent, the pitched angles can be tough to see at such close proximity. The billboards on the MONARCHCUBE eliminate that problem and bring your brand into a vertical space that is practically unmissable.

The details: If you're already thinking about next year, interchangeable soft goods that are easy to swap in and out are a huge perk. You can easily give your event tent a makeover or brand it for multiple uses by investing in just a few spare soft goods.
MONARCHHEX
Available Sizes:
13x15
13X11
13X22
13X30
How it's different: This is the only commercial grade hexagon shaped tent in the industry right now. With a uniquely unsaturated market, this is the easiest way to stand out in a crowd.

Who it's a good fit for: This is ideal for anyone focusing on providing 360-degree service with lots of space. In conjunction with removable counters and half wall panels, this custom pop-up tent becomes a pavilion, perfect for registration booths, food service, and anyone who likes customers coming from all sides.

The details: Featuring six sides of fully printable branding real estate, there's plenty of room for logos, contact information, social media, and anything else you can think of.
MONARCHSTOREFRONT
Available Sizes:
10x15
How it's different: Basically we're looking at a true unicorn in the pop-up tent industry. With an asymmetrical design, the MONARCHSTOREFRONT is essentially two designs in one. On one end is the large vertical flat edge acting as a billboard, and on the flip side is the sloped pitch with huge printable space. You can use either end as the front, effectively adding two extremely unique looks to your pop-up tent inventory for the price of one.

Who it's a good fit for: Perfect for outdoor use, particularly in regards to the single slope that gives you precise control over where to direct precipitation in case of a drizzle. Also a great fit for placement against a building or trailer, to create a mobile awning.

The details: Minor assembly is needed for this kit. The pop-up frame includes two additional poles to achieve peak height, but to keep the folded dimensions reasonable, they are removable.
Have Questions or Interested in Pricing?
You can also call us at 1-800-950-4553 or skip the form and start a live chat by clicking the icon in the lower right.
MONARCHREACH
Available Sizes:
10x10
10x15
10x20
How it's different: Based on standard pop-up tent frame sizes, the MONARCHREACH features awnings that extend the reach of the canopy roughly 18" on each side. Consider it a gift to your customers; a little haven to protect them from the sun or rain while they're doing business with you.

Who it's a good fit for: Perfect for outdoor vendors, the MONARCHREACH offers 360-degree shade and weather protection for customers at point of service. In conjunction with half wall panels and counters, customers can feel like they're comfortably encompassed within the vendor area, while creating clear boundaries that protect business space.

The details: Leg-to-leg dimensions come in standard sizes, so for instance, a classic 10x10 is going to have a distance between each leg of 10', but the extended awnings will increase the overall footprint.
MONARCHGABLE
Available Sizes:
10x10
13x13
10x15
10x20
13x26
How it's different: Features an increase of roughly 20% more printable space overall compared to typical single peaked canopies, as well as more than double the vertical printing areas for maximum visibility. Gable-style pop up canopy tents also offer a more spacious feel on the interior.

Who it's a good fit for: Anyone who is looking for a unique look, with the quick-to-setup convenience of a pop-up tent. The time investment is the same as a typical pop-up tent, but with a shape that easily stands apart.

The details: Lots of feedback fueled the fire to make this design a reality. A handful of years ago, Wheat Thins asked us to custom build a tent that looked like a bag of chips. We make tents, so we thought no biggie, made a really cool tent and went on with our lives. Then we got a zillion requests and we knew there were a lot of people interested in something similar. We heard you, folks and now the MONARCHGABLE is here to stay.


MONARCHFLATROOF
Available Sizes:
5x5
5x10
8x8
10x10
13x13
15x15
10x15
10x20
10x30
13x20
13x26
How it's different: The MONARCHFLATROOF takes the peak out of the equation, featuring a unique flat top that stands out from the typical tent crowd. This looks cool all on its own, but also sets up a crisp environment to bring in a peak flag or lollipop for maximum visibility.

Who it's a good fit for: The flat top pop up canopy perfect fit for indoor events where ceiling clearance might be limited. But don't worry about your tall guests. We didn't touch the standard head clearance and you can choose from our standard line-up of 6'8", 7'1", and 8'2". And we can accommodate smaller size footprints, including 8x8.

The details: The flat roof is intended for indoor use. Peaks are integral for precipitation flow if caught in a drizzle so the flat roof would be prone to pooling.
Overview
Each style of the MONARCHTENT is built on the original MONARCHTENT platform, so all the same goodies come with your custom tent package. We're talking a lifetime warranty against craftsmanship defects, heavy duty transit kit, and premium spiral staking kit. Furthermore, each style is compatible with our large catalog of MONARCHTENT accessories, including the counters, footplates, full and half wall panels, and flags.

And please, stay tuned. We're here to change the pop-up tent game, one sweet setup at a time, and we're just getting warmed up
Request A Quote or Get More Information
You can also call us at 1-800-950-4553 or skip the form and start a live chat by clicking the icon in the lower right.