5x10 Canopy Tent Made in USA
A 5x10 custom canopy is a smaller tent layout that's great for a bevy of niche use cases. TentCraft customers have used our 5x10 pop-up tents at farmers markets, security checkpoints, indoor brand activations, and more.
If you're tight on space at your next event, but still need to comfortably fit a table and some chairs under a canopy, the 5x10 is a great size option.
Perfectly positioned between our popular 10x10 canopy tent and square 5x5 canopy tent, the 5x10 is available in our lineup of pop-up tents.
A 5x10 is easy to transport and can be setup in about 5 minutes of less, depending on add-ons and accessories.
5x10 Pop Up Canopy Tent Models
Most people searching for a 5x10 canopy are looking for a pop-up tent —something that can be quickly deployed. Additionally, they want something that stands out at events and is versatile and functional enough for their use cases. Here's some basic information on TentCraft's 5x10 pop-ups, followed by our different models of handcrafted pop-up tents:
Cost: Starting at $999
Weight: 45-50 lbs
Setup Time: 5 minutes
Wind Ratings: Up to 35mph
What's Included?: Heavy-duty wheeled transport kit + heavy-duty stake kit
Turnaround Time: 3-5 days
Heavy Duty 5x10 Canopy Tent
Starting at: $2,199
When you need a tent to easily handle strong winds and rain, trust the TentCraft MONARCHTENT to get the job done. Our heavy-duty pop-up tent is available in a number of sizes, including the smaller 5x10 footprint.
The 5x10 size is lighter for transportation and set up, but also retains our certified wind rating of 35 mph when properly ballasted.
MONARCHTENT is made in America and features a collection of canopy designs, including the pictured standard peak design.
5x10 Flatroof Canopy
Starting at: $999
The 5x10 MONARCHFLATROOF custom canopy is perfect for businesses that occasionally need a setup for indoor events where there may be height restrictions. It's also a great solution for those who simply want to stand out with something other than a traditional peak. The heavy-duty version of this tent allows you to install a branded peak flag for greater visibility.
Pop Up Canopy 5x10 Examples
Accessories for Your 5x10 Canopy Tent
Our 5x10 canopy tents are compatible with our line up event accessories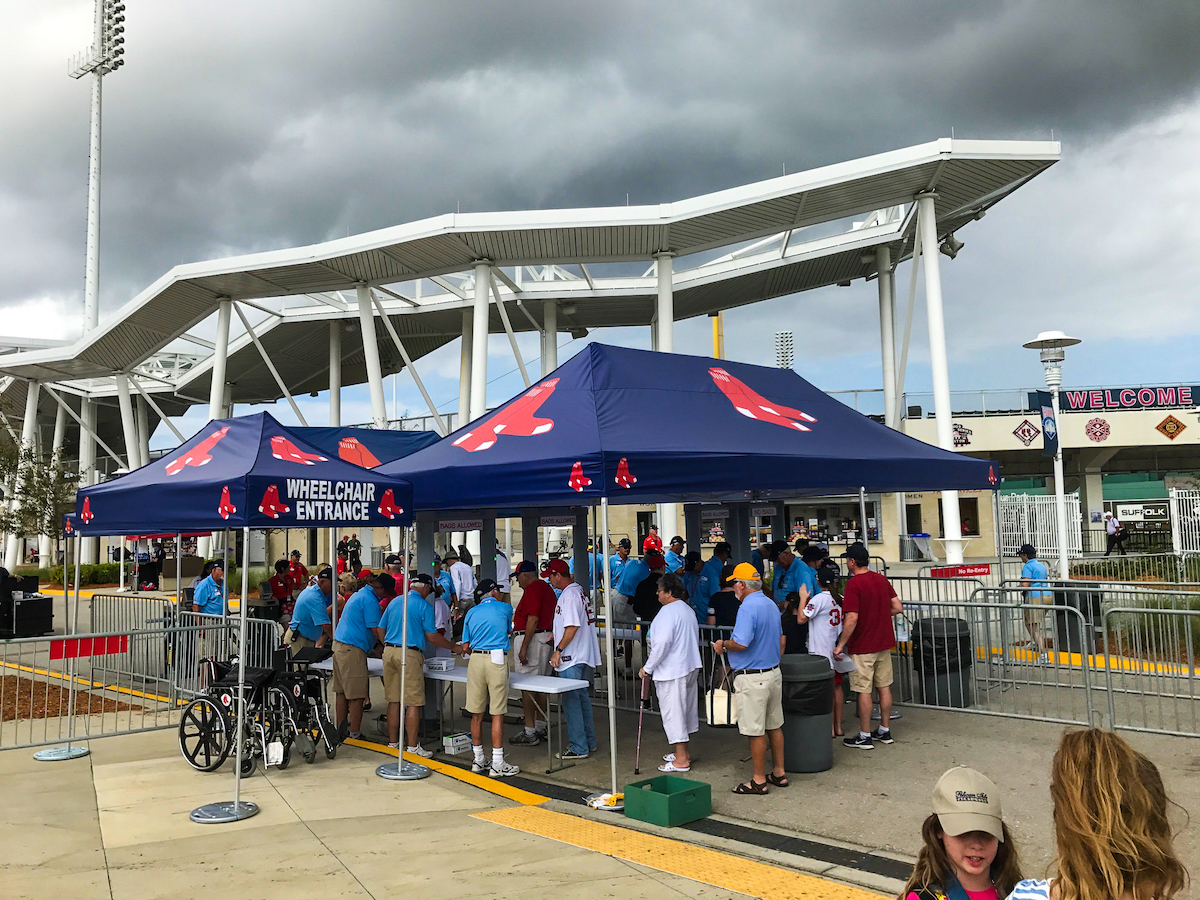 How Many People Can Fit Under a 5x10 Canopy?
With only 50 square feet of space, about 2-4 people can fit under a 5x10 canopy tent. As you add furniture, like tables and chairs, the space quickly fills up. If a bunch of people ran under it to shelter from a storm, you can probably protect about 10 people max.
Adding walls can make the tent's interior feel smaller, so keep that in mind if you plan on having a lot of people under a tent.
As shown in the photo, the Boston Red Sox organization uses a 5x10 pop-up in conjunction with larger pop-up tents for their wheelchair entrance to games at Fenway.
Let's Design Your Custom 5x10 Canopy Tent