50x50 Semi-Permanent Canopy Tents Made in USA
When you need a heavy-duty,semi-permanent custom structure in a 50x50 footprint, trust TentCraft's heavy-duty lineup of frame tents to stand up to tough conditions.
TentCraft sells 50x50 keder frame tents and custom truss solutions in that same footprint. Combined with our state-of-the-art custom printing abilities, we can transform your tent into something that makes a statement for large brand activations or unique use cases.
Use this page to learn more about custom structures we manufacture in the 50x50 footprint.
50x50 Keder Frame Tent
Designed for an open-air look and engineered to be left up for months at a time, TentCraft's 50x50 keder frame tent — we call it Future Trac — is perfect for major brand activations at large events that last for multiple days. It's also great for restaurants or other businesses that need protection from the elements, but don't want to build a brick-and-mortar structure.
Our Future Trac solution, when properly ballasted, is rated for high wind tolerance and is extremely safe as a semi-permanent structure.
The keder track makes installing the canopy quite easy. Once placed in the track on both sides of the structure, your install team can simply pull it through, resulting in a taut, water-resistant canopy that looks great — especially when you custom print your business' branding on it.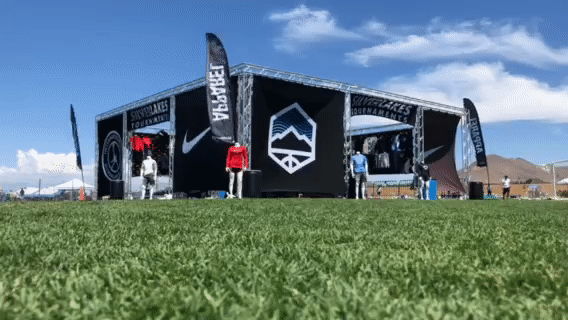 50x50 Custom Truss Structures
50x50 is the perfect footprint to create a major experiential activation using TentCraft event truss solutions. Whatever you dream up, we can make it a reality.
Many customers use their truss for custom backdrops, event entrances, and trade show displays.
Because truss is such a custom product, prices will vary greatly. Reach out to our team to pinpoint a better starting price for your project.
How Many People Can Fit Under a 50x50 Canopy?
With 2,500 square feet of space, more than 350 people can fit under a 50x50 canopy tent with no furniture underneath it. If you add a table and chairs and other furniture, that number drops to about 275 people.
Adding walls can make the tent's interior feel smaller, so keep that in mind if you plan on having a lot of people under a tent.
Build Your 50x50 Keder Frame Tent or Truss Solution