When temperatures flirt with freezing, you need a solution to keep you, your employees, and your customers cozy and warm under your canopy tent.
Fortunately (and unfortunately…) you can choose from SEVERAL heater options on the market. Many options are geared toward outdoor campers, but commercial-grade models, like the Solaira Cosy, which we sell as part of our event heating kit, are perfect for small business vendors, medical professionals, and experiential marketers who need to heat their pop-up canopy.
As a leader in the custom canopy industry, we've learned a thing or two about tent heaters over the years. You may like the professional heating solution that we sell, or opt for other options, like a propane heater. Regardless, a heater can really help your custom pop-up tent stand out.
We're here to help steer you in a direction that's a good fit for you and your business.
Best Electric Canopy Tent Heaters
During the height of the pandemic, we sold many electric heaters to medical professionals running mobile COVID-19 testing and vaccine sites. Electric heaters tend to be safer than gas heaters, but typically don't get as warm. If you need heat, we always recommend purchasing an electric heater if that's possible with your setup.
Honeywell 360-degree Heater
Pros:
Tabletop Heater. This is great for vendors who use tables under their pop-up canopy and want a heater near them.


1,500 watts. This is a lot of heat from such a small heater.


Affordable. You can typically find this heater for under $50.


Cons:
Quality control issues. A handful of customers have complained about this heater malfunctioning after multiple uses.
The Honeywell 360-degree is your budget option when it comes to electric canopy tent heaters. Priced under $50, this 9-inch tall, tabletop heater emits heat in all directions.
At 1,500 watts, it's pretty powerful for such a small heater.
Because of its design, though, you're unable to hang the heater from above, so it will take up space on your table.
Some owners have complained of the heater failing after multiple uses, but that's not the consensus opinion.
Solaira Cosy
Pros:
Minimalist design. This heater blends in nicely with the interior of your tent.


Easy install. The heater easily attaches to the center tent pole of your pop-up tent.


Two-color finishes. You can pick between a black or white heater.


Cons:
Best for low ceilings. There wouldn't be enough power on its own to heat extra-large, tall tents.


If you're looking for a commercial-grade canopy heater, we can't recommend the Solaira Cosy enough. It's the only electric heater we trust our team to sell alongside our lineup of custom tents. That's because it's weatherproof and uses safe, infrared heaters to warm up your tent.
The heater offers 1,500 watts of power (about 5,100 BTUs), which is plenty to heat a 10x10 and even a 10x15 tent to a comfortable temperature. A 1,500-watt heater can easily heat a 150-square-foot space.
And it also looks great. Solaira manufactures this heater out of aircraft aluminum that looks very modern — especially if you go with the white-colored option.
The Solaira Cosy, which costs about $560, easily attaches to the center pole of your tent. With the included clamps, you can easily guide the power cord to the closest outlet or extension cord.
LIRUI Electric Patio Umbrella Heater
Pros:
Adjustable heat. Choose between 500, 1,000, and 1,500 watts.


No-tool installation. It can fit any center pole between 28mm-58mm in diameter.


Lightweight. It's only 9 lbs.


Cons:
Not good for large tents. The heat is pretty direct, so you won't be filling a 10x15 or 10x20.


If you're looking for a compact, electric tent heater that's easy to install, check out the LIRUI Electric Patio Umbrella Heater. The unique design attaches to most center poles and emits plenty of heat to keep you comfortable.
This heater uses carbon fiber gold-coated heating tubes, which emits a more direct heat, as opposed to one that goes through the entire tent. That's why this is a better option for a 10x10 tent as opposed to something larger, like a 10x15 or 10x20.
That being said, there are three different heat settings, which is helpful in the event it gets too warm under your canopy.
The LIRUI Umbrella Heater retails for about $200.
Best Propane Canopy Tent Heaters
Propane heaters have come a long way in terms of safety, but we still recommend going with electric heaters.
Propane heaters can emit a lot of heat, which is why they are a better option for larger tents. For one-off events, we typically recommend renting a propane heater as opposed to purchasing one.
That being said, there are some options that might make sense for your setup that you use often.
Mr. Heater MH9BX Portable Buddy Heater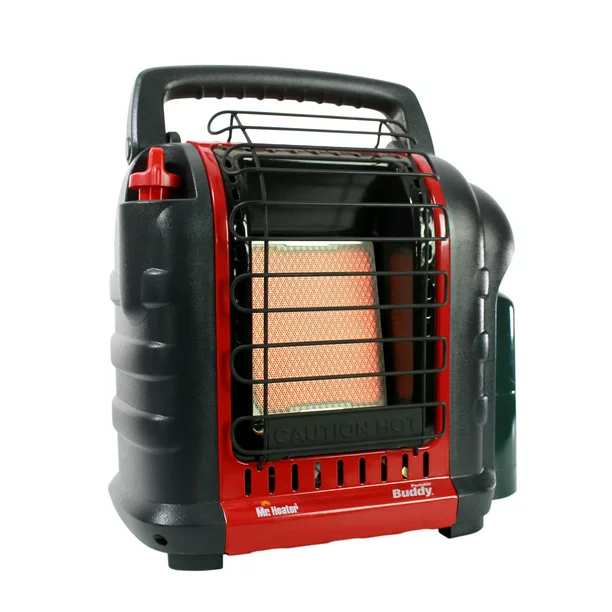 Pros:
Affordable. This portable heater costs you under $100.


Portable. It takes up about 1 cubic foot and is lightweight.


Safe. Includes an Oxygen Depletion Sensor and an accidental tip-over safety shut-off.


Cons:
Efficiency. It goes through a canister of propane in about three hours.


Vendors who use a pop-up canopy in the wintertime may choose to invest in a small, affordable propane heater, and there's really not a better option than the Mr. Heater MH9BX. It's lightweight, doesn't take up much space, and can add the perfect amount of heat to your tent when you need it most.
This 9000 BTU heater is perfect for a 10x10, but should also do a good job of filling a 10x15. Anything bigger, and you may want to purchase a second one.
The heater features all of today's modern safety features, including an accidental tip-over safety shut-off, which is critical no matter where you are using it.
One complaint about this heater is its efficiency. It can go through a canister of propane after about three hours of non-stop use. For events that are longer than three hours, we recommend purchasing extra canisters of fuel.
Master MH-18-PNCH-A
Pros:
Plenty of heat. This cabinet heater pumps out 18,000 BTU.


Safe. High-temperature limit shut-off, flame-out fuel cut, and a tip-over shut-off included.


Cons:
Portability is always important when setting up a pop-up canopy tent — and that includes your heater. Weighing in at 16 lbs., the Master MH-18-PNCH-A is a solid portable cabinet heater that doesn't require electricity.
This 18,000 BTU heater can easily warm an enclosed space up to 450 square feet, meaning it can easily heat a 20x20 frame tent, which is the largest size offered in our E-Series Frame Tent lineup.
Owners of this heater praise how quiet and lightweight it is, in addition to its ability to heat a relatively large space in a short amount of time.
Note that while the heater is portable, it does need to hook up to a propane tank, which can easily weigh 20 lbs. That's another reason we tend to push people toward electric heaters. But If electricity isn't an option for your location, a propane heater, like this Master heater, might be the better solution.
Heat Your Tent Today
Not sure what heater you need for your custom canopy tent? Or unsure how to achieve optimal warmth during your event? Reach out to a TentCraft professional today to figure out a custom solution that works best for you.