TentCraft Pig Roast 2022
Company Culture at TentCraft: The Fall Pig Roast
Summer is the busy season at TentCraft, so when fall hits, it's time for the company to relax together with our annual TentCraft Pig Roast.
This long-standing TentCraft tradition changes location from year to year, but the goal is always the same: Gather TentCraft employees and their families together for a day of food and fun.
"Traditionally, the Pig Roast comes in the fall as we come out of our crazy summer event season and start to catch our breath," said TentCraft CEO Matt Bulloch. "It is so nice to spend time as a team, away from work, to celebrate all the hard work that went into a successful busy season. And it is great to meet the teams behind our team — everyone's the family.
"I love seeing all the kids, siblings, and parents running around the bounce houses or checking out some of our products on display. Just as we are growing the business, we are growing families in our community, and it is so fun to have it all come together."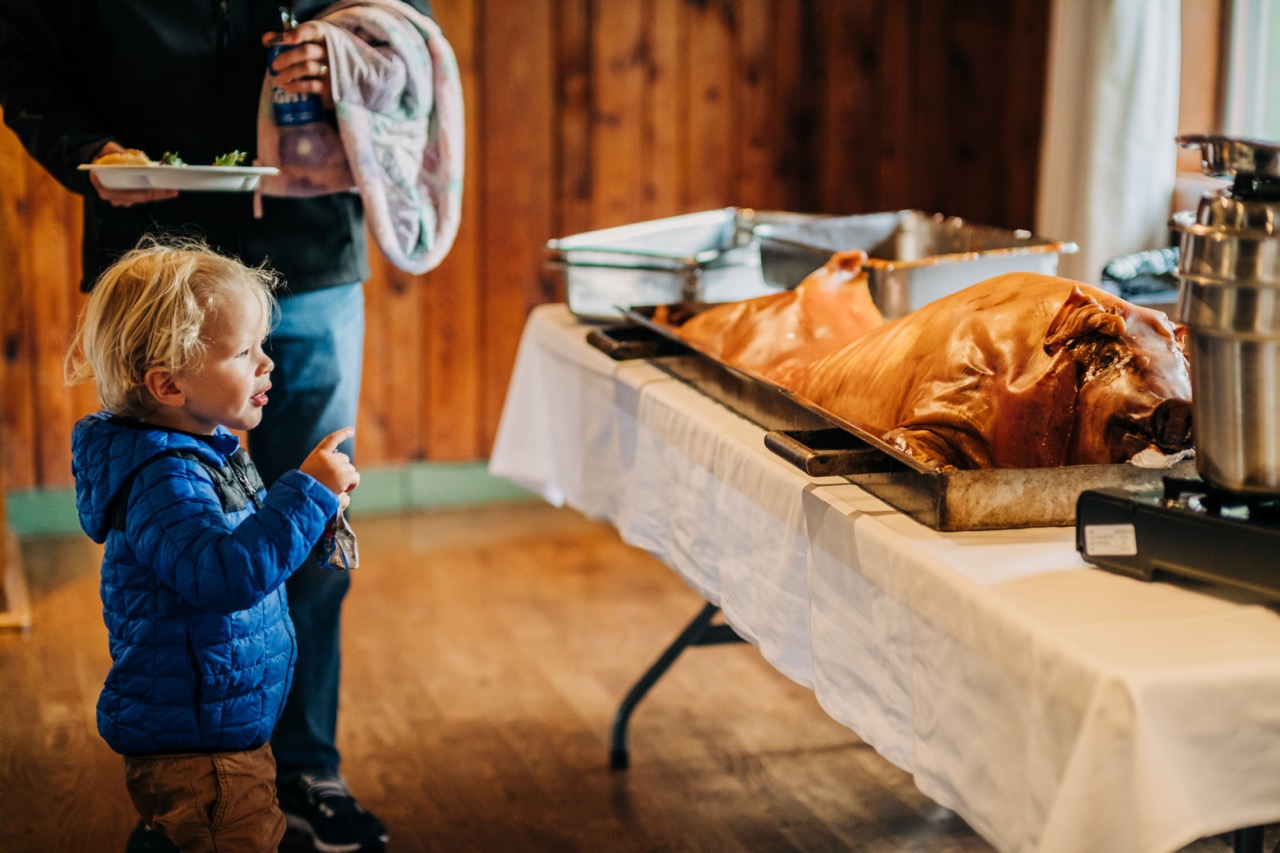 The Star Of The Show
We held our 2022 party at nearby Twin Lakes Park, taking over the lodge and playground with our large group of employees, family members, and friends. It's a great location for a group, in addition to a sizable area for dining, the lodge has an industrial kitchen — perfect for serving up the whole hog.
The menu may change, but one item always remains at the heart of this shared meal: A locally sourced swine. This year, the menu also included mac and cheese, bread rolls, salads, refreshments, and of course, dessert!
Our entertainment included two bounce houses, a face painter, and, for the first time, we brought some of our custom tents to show off to our friends and family including the MONARCHSTALL and all of our flags.
Coming Together
While many companies struggle to maintain company culture as their workforce becomes increasingly remote, the vast majority of our work still takes place onsite at TentCraft's production facility in Traverse City, Michigan.
But that doesn't mean we take our company culture for granted. Cultivating and facilitating the growth of our company culture is a consistent effort. This year, the Party Planning Team started working on the Pig Roast in June. By the day of the event they had invested more than 50 hours into this longstanding tradition.
Why spend so much time and energy on one event? Department of People and Space Director Rob Hanel believes events like this are more important than ever in the wake of COVID-19.
"We are all still rebuilding connections," Hanel said. "The employee connections made at events like these build bonds inside of work that is of intangible value."
A Tradition Of Fun
The first TentCraft Pig Roast, held in 2015, looked very different from this year's event. It was a weekend-long event and participants worked together harvesting, cleaning, and preparing the pig that would eventually become the main course. They also shopped for and prepared all of the sides, including an awe-inspiring amount of chicken wings.
Our tradition changed, as all traditions do. Still a farm-to-table event, we now work with a local caterer, leaving attendees free to focus on family and fun.
And there is quite a lot of fun. The October weather behaved perfectly, and our party spread out in the park, enjoying the playground and bounce houses, before heading indoors for face painting and food.
All in all, it was the perfect afternoon, and we hear that the 2023 event is already in the planning stages. For an event that has to top this year's fun? We expect nothing less.
2022 Pig Roast Photo Gallery