Buying a custom printed pop up tent for your business or organization should be a pretty straight-forward process, but with approximately ten million buying options on the table, you're not crazy if you find yourself running into a few stumbling blocks. Pop up tent frames come in a variety of durability lines, have endless printing capabilities, and enough product specific accessories to fill a catalog. All with a pricing spectrum wide enough to cover a train ride from NYC to Los Angeles.
There are two popular approaches to pop-up tents: business or pleasure. Of course, it's not unusual for those lines to get a little blurred (sponsored golf hole, anyone?) but typically if you're looking to purchase a customized canopy, there is an expectation that it will be used professionally. As we talk here about printed pop-up canopy tents, we're going to focus on those which have a business or organizational (teams, schools, etc.) priority. Who Does a Custom Printed Canopy Tent Serve?
Who uses a custom event tent?
The general answer here is an easy one. Pop-up canopies are a perfect fit for anyone who is looking for a branded booth with the bonus of shade and protection from inclement weather. The key point here is the branding because custom pop-up tents are marketing assets. They have the aforementioned functional use particularly as an outdoor canopy, but what sets them apart is the printable real estate. Fully branded, a custom pop-up visually calls your customers over to your temporary hub and if you're selling, huddling, or sharing information, it's invaluable to be so easily recognizable.

The more specific answer could go on forever. Marketers use custom printed tents. Sales representatives use them. High school cross country and track teams use them. So do the football, basketball and swimming teams. Breweries use them. Target uses them. The NFL uses them. Universities use them. Government agencies use them. Candy manufacturers use them. Car dealerships use them. Tailgaters use them. Farmers markets, gyms, Volkswagen, and wineries use them. If you're thinking "wow, that sounds like just about everyone," then you're spot on. Customized tents are used in almost every industry.
Where are custom pop-up tents used?
Outdoor events are certainly the obvious place. The functional use of a tent to provide some shade and protection from a drizzle makes perfect sense in the outdoor event space. If you've been to an outdoor trade show or an experiential activation, you've almost certainly swam in a sea of customized tents.

But don't count out the indoor events. We see a lot of printed canopy tents used indoors, especially at trade show displays where enormous rooms are broken into 10x10 squares. Attendees are expected to turn their tiny space into a brand cohesive booth that stands out from all the other generic squares around them. Oh, and fit boxes of product or marketing materials somewhere, kind of hidden so it's not a mess. Sounds tricky, right? It doesn't have to be. A well branded tent and a few tent accessories can quickly jazz up an otherwise boring booth plot, instantly creating the perfect brand impression.
Why are event tents so popular?
Because in general, we value convenience and working smarter, not harder. In the event world, there is nothing more convenient than the quick and smooth setup of a popup tent. Designed to be lightweight, they're easily transportable and generally fit in the back of a standard SUV, mini-van, or truck. No need for a trailer or a moving van, making it especially accessible for small business owners, one-person shows, and volunteers.

Another perk of being lightweight is that typically 1 or 2 people can quickly set up the tent solo. With telescopic legs, the frame can be expanded, locked into place, and each leg can be individually popped up to full height. Truss setups and pole tents often require labor teams or, at the very least, a handful of experienced folks to manage an assembly that can take upwards of an hour, so a pop-up canopy is especially attractive in comparison.


The Makeup of a Customized Event Tent
How is a canopy tent different from other tents in the market?
Accordion Style Frame

First, a pop-up style tent is just that: rather than needing any assembly during set up, it simply pops up. That means the frame folds into one piece when out of use, and easily unfolds and locks into place when in use. Setting up a pop-up tent should take less than 10 minutes, and when you're in the groove with a few events under your belt, usually under 2-3 minutes.

Custom Printed Canopy
A key feature of a custom canopy tent is naturally the printed canopy. Pricing is itemized in a myriad of ways, but the general scope of printing options can be broken down like this:


• Peaks and Valances Spot Printing:
the peaks are the pitched triangular portion of your canopy and the valances are the flat-edge, rectangular parts of your canopy. There are four of each on square or rectangular tents and you can put custom graphics on all or just a few. For example, you could print your logo only on the front peak, but each of the valances, or only on the front and back peaks and valances.



• Edge-to-Edge Printing:
this encompasses full bleed artwork on every surface of your canopy. It is ideal for custom color matching, as well as patterns, textures, and gradients. The printing process is typically UV digitally printed, which cures ink to the fabric with a UV light or a dye sublimation process, which embeds the ink into the fabric with heat.




Canopies are typically fabricated and printed on polyester or vinyl material, each with their own perks and drawbacks. Polyester is a pliable material that can be rolled and bunched without damaging the graphics. It can conveniently stay attached to the frame even while folded up and packed away in storage, without any risk to the design, eliminating an extra step from setting up. Vinyl is a more rigid material and to protect the graphics from scratching off, a vinyl canopy must be removed from the frame and carefully folded before storing away. Scratching graphics is a risk, but vinyl's advantage is that it is considered waterproof, while polyester is water resistant. Polyester and vinyl are both options for a flame retardant canopy, but it's not always automatic. Confirm with your vendor that their canopy substrate has the appropriate certificates to ensure it is truly flame retardant. You and the Fire Marshall will rest a little easier if you do!

Custom Tent Accessories
Whether you need functional accessories or additional branding space, it's really easy to build out tent packages to be visually unique and a practical solution. Compatible accessories are a sub-genre of the tent industry and there's a hardware or printed element to meet every obstacle.

Custom Printed Elements:
Wall Panels: not only can tent walls offer additional protection from wind and rain, they offer a huge amount of additional printable space. If your tent size is a standard 10x10, every additional tent wall is going to give you a bonus 8' x 10' billboard to broadcast your brand at eye-level.

Table Covers:
Printed table covers offer another two-fold solution. If your setup includes tables anyway, it's an easy decision to brand the space, creating a cleaner look and cohesion to the rest of the booth. They also add a functional feature, allowing users to hide a few boxes, marketing assets, or whatever under their table for easy access without visible clutter.




Peak Flags:
literally build up your space with peak flags that attach to the tip-top of your tent to easily make your booth stand out like a Shaq in a sea of Kevin Harts.




Counters
Functionality with a crisp design, counters are removable tabletops that clamp directly to the legs of the tent. Standing slightly taller than a classic folding table, they're a great way to create a clear point of service.




Footplate Weights:
however you choose to anchor your tents, it's a necessary step to a safe and secure event. Footplates are heavy weights that rest on the feet of pop-up tent legs to offer additional anchoring in conjunction with staking kits or operate alone when stakes are not appropriate.



Hard Cases:
For folks frequently shipping their tent or freighting it from event to event, a hard transport case is an essential insurance policy, protecting the frame and custom elements from a frankly perilous shipping journey. Typically made to order, they can be built to contain a tent, walls, event signage and every other element necessary for a complete setup.
Varying Degrees of Quality: What Makes a Tent Heavy Duty?
The first comparison that most buyers are running into is a powder coated steel frame vs. anodized aluminum frame. Steel tents fill the recreational grade marketplace, like those intended for backyard BBQs, family reunions, and the beach. If you're looking for a tent package that is considered heavy-duty and high quality, you'll want to seek out an aluminum frame.
Why are heavy duty tents aluminum?
The quick answer is because aluminum is a lighter, yet more durable substrate that results in a longer-lasting frame to support your custom printed investment. While steel is an economical alternative, it's incredibly heavy and manufacturers are forced to produced thin frame profiles to avoid the overall structure becoming too heavy for traveling and setting up. The result of a thin frame profile is a tent that is highly susceptible to wind and wear-and-tear damage. Because of the lighter weight of aluminum, frames can be built far more robustly even at a comparable weight to their less durable steel counterparts.

Consider the thickness of your tent frame like a comparison between a pop can and a soup can. The walls of a pop can are very thin, allowing you to literally crush the entire can with a single squeeze. A soup can is designed with significantly thicker walls that would take much more power to affect its shape. When determining the quality of your tent frame, consider aluminum to be an essential qualifier. Aluminum frames tip the benefit scales unfairly by being stronger and lighter, while the only benefit to steel is the lower cost of the material.
How Much Does a Custom Pop Up Tent Cost?
Well, it depends. It's not uncommon to see pricing from $500 up to $5,000, so let's dig in a little further to talk about why the range is so wide.


Size:
Time to get in tune with your inner Goldilocks, because there are a lot of tent sizes on the table and you might have to feel out the options to make the right call. Smaller tents are naturally going to cost less than their enormous counterparts, so plan to scale accordingly. You can expect tiny tents like a 5x5 and 5x10 to start on the lighter side of the cost scale, 10x10 and 10x15s somewhere in the middle, and huge 10x20s and 13x26s to have the highest price tag.

Quality:
Just like Goldilocks, you're going to have a few more dishes of porridge to test out. If durability is not your priority, a lower quality entry-level frame might be the right fit and there are cost-efficient models on the market that will start you at bottom dollar. When you start looking for high quality durability to last through significant use or is geared towards longevity, higher quality materials come in to play and that's where you start to see a rise in cost.

Print:
Are you imagining a white tent with your logo placed somewhere subtly on the front? Or are you a visionary with far more grandiose ambitions? As you add graphics to your logo tent, the price will increase as resources like ink and print time are equivalently increased.

Speed:
Each vendor is going to have a standard turnaround time, but that standard varies widely, depending on how much work they do in house and how much they're relying on importing goods from overseas. Importing custom goods takes longer since shipping across the ocean and passing through customs is time-consuming, while vendors who double as manufacturers can control their own speed and move much more quickly. Speed is going to impact your costs in two ways: the costs of international vs domestic labor, and rush fees. Imported tents are often made where labor costs are significantly lower than American labor, but if you need something very quickly, you may not have the luxury of time to work with an international distributor. And if you need even zippier speed, rush services are often available for a fee.

Customer Service:
Fully automated services that don't engage buyers with a customer service representative will have a lower cost since there isn't the overhead of a sales team to cover with each tent sale. This works well for design-savvy folks who know their way around a print template and don't need any guidance through the purchase process. Customer service focused vendors are going to provide more education to the options and advise buyers to a good fit to balance budget with the durability and print needs. These kinds of vendors have teams of smart advisors who have industry experience to enhance the purchasing experience, so they come at a bit of a premium.
Frequently Asked Questions:
Why should I invest in a heavy duty pop up tent over cheaper options?
It really actually depends on what you're using it for! If you need a tent for family gatherings, or as shade on your patio, a heavy duty tent might not make the most sense.

But if you are using your tent for professional use, a heavy-duty tent is an investment piece and as a marketing asset, will be recognized as a representative of you and your business. It will pay you back for your investment in a couple of ways.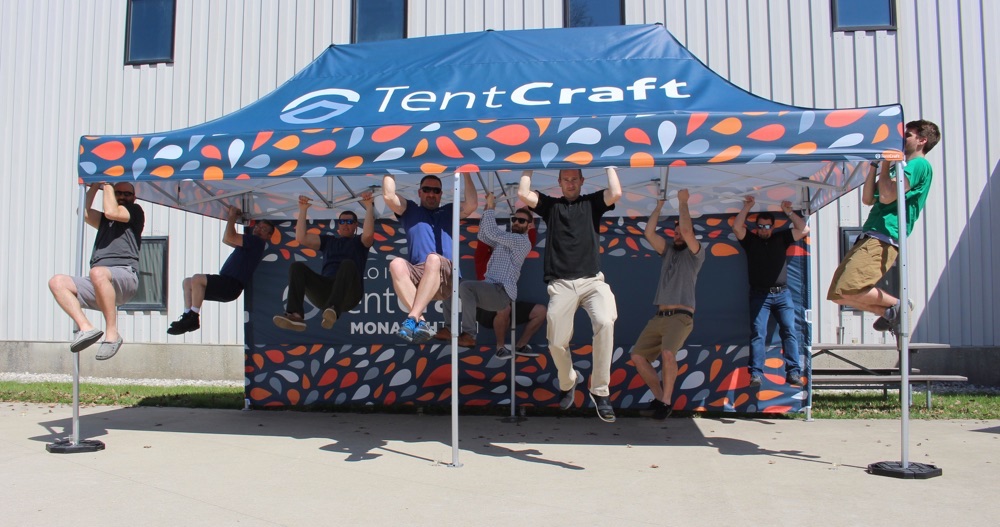 Time:
Sorting through the internet to find the right vendor and then working with your sales representative to hammer out an accurate quote and perfect mock-up is time-consuming. The average cycle is a little over two weeks, then add in the production and shipping time, you can easily have a month or two wrapped up in getting a custom tent. Now imagine doing that every year. Or in a lot of cases, every six months. Not only is it a waste of time that you or your marketing crew could be spending on better value-add projects, but it is also a waste of resources because don't forget, your time has value.

Money:
Spending $500 on a cheap tent sounds like a bargain until you're repeating your efforts over and over. You can quickly spend just as much on several replacements as you would on a single quality piece, so as you're determining the return on investment, consider the initial costs vs. lifetime costs.

Reputation:
Don't forget the people and organizations that will be represented by the tent. If it looks poorly made, or quickly becomes run down, that is going to be the major takeaway as your potential customers wander on by.
Can the color of the tent be customized?
Definitely. If you come armed with a Pantone color, your canopy can be customized to expertly match that shade.
What is the turnaround time for a custom pop up tent?
This one is vendor specific. For instance, as a US manufacturer, TentCraft has a standard 3 day production time, but anywhere from 3 days to 3 weeks is typical.
What format do you need the logo in?
The best format is a vector file, which means the image has been converted into an outline. Vector formatted files can be resized infinitely without losing any print quality. This is perfect for the large format printing used on custom tents, sidewalls, table covers and banners.

If you're not sure which of your logo files is a vector, check with your logo designer. Vector files are created by graphic designers using Adobe Illustrator or InDesign. There are a few other programs that create vector files, but those are the most common.


What do people normally buy?
Tons of variations are available, but the most common composition is a 10x10 tent with a full back wall and two half-size sidewalls.


Examples of Customized Canopy Tents.
What's the best way to anchor a tent?
Event industry experts recommend staking your tent because the holding power is unmatched by any alternative option on the market. If you're in a pinch and your tent is set up on concrete or indoors, sand bags or footplate weights are the next best thing. Sand bags and weight plates are designed to use weight to anchor your tent and will keep you decently parked but won't offer the same anchoring power as stakes, so use mindfully!
Not Sure How to Get Started? Here's the Process For Getting a Custom Pop Up Tent:
Request a Quote for a Custom Tent
Start by getting a feel for the costs of your custom setup. You'll talk to a sales representative about your priorities and determine which aspects will bring you the most value. For example, some folks need basic branding, and want their investment to be on a top-notch frame. Others only use their tent here and there, but want it to be fully printed. And quite a few are looking for the full package, spreading the focus of their investment over the entire kit. Once you receive the itemized quote, make sure the numbers make sense and then move on to the next step.
Get a Mock-Up
This is the fun part! Working with your vendor's team of graphic designers, you'll get to take part in the creative process. With your vector logo, Pantone colors, and some direction, they'll create a digital design proof that can be updated, revised and tweaked until everything looks A+.
Place Your Order
Once your mock-up is approved, all that's left to do is order your tent. You'll make your payment, provide a shipping address, and then depending on your vendor's turnaround time, you'll have a tent on your front doorstep 3-21 days later. Easy as that.
Overview
Ordering a tent for your business or organization doesn't have to be tricky, but there are a lot of options on the table that are worth educating yourself about. TentCraft is always a resource with a full team of advisors on staff to answer questions and help guide you to the best fit (even if it's not with us!). Give us a shout or request a quote anytime to connect with a real human here in Northern Michigan. Our team is made up of industry experts with years of experience in the experiential marketing space and are uniquely qualified to guide you through the process.