Custom Event Flags That Stand Out
Feather, Teardrop, Rectangular & Shark Fin | Starting at $199
Complement your custom tent with our collection of custom-printed event marketing flags. From rectangle to shark-fin designs, TentCraft can help your brand stand out from the competition at events with our quick-deploy custom flags.
MONARCHFLAG
The TentCraft MONARCHFLAG — a more affordable FlagStand XL alternative — is our product lineup's biggest and most heavy-duty custom flag solution. Equipped with a telescopic leg function that extends the entire flag to more than 16 feet tall, event attendees won't miss your business' next activation.
MONARCHFLAG is for those who need a heavy-duty solution — it can withstand winds up to 35 mph — that's completely customizable. You can custom-print both sides to complete your event setup to draw in more attendees.
Learn More About MONARCHFLAG
Custom Event Flag Shapes

Rectangular
Our most modest flag in the collection. Rectangle flags give you the most bang for your buck in terms of branding real estate.
Tear Drop
Simple, yet eye-catching. Our custom-printed teardrop flags can be printed single or double-sided, capturing the attention of event attendees from all directions.
Feather Flags
Our custom-printed feather flags can be produced in any color with your company's exact branding. TentCraft sells hardware options for indoor and outdoor activations.
Shark Fin
Add a touch of modern flair to your event setup with a custom-printed shark-fin flag that can be attached to the top of your canopy tent.
Promo Flag Specs
Promo Flags Ballast Options
Cross Base
Our flag cross base is an easy-to-install stand that can secure rectangular, feather, and shark-fin flags. Once installed, the stand can be anchored with your choice of weights, including TentCraft's 50-pound footplates.
---
Ground Spikes
One of the easiest ways to ballast your custom event flag on grass or dirt is by using our ground spike stand. The spike attaches to the base of the flag and then can be driven into the ground.
---
Water Ballast
Fill up this easy-to-transport water ballast and plug your flag's pole into its connector in the middle.
---
Tent Leg Attachment
Add some flair to your custom pop-up tent by attaching your custom event flags to the leg of your tent. Our easy-to-install spindle can be placed as high or low as you desire.
---
Promo Flag Gallery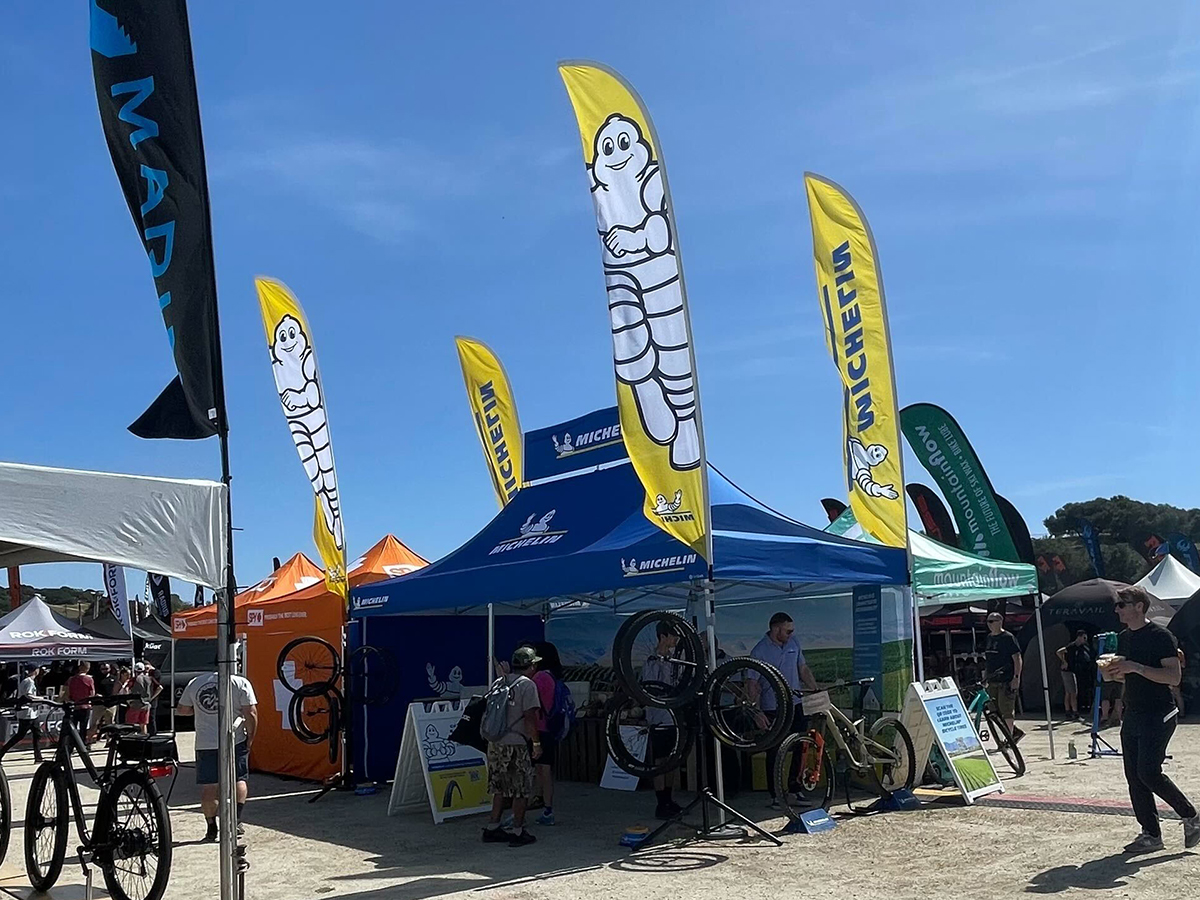 Here's How To Get Your Pricing On Your Custom Event Flag