Custom Team Tents for School Sports Teams
A custom team tent for your school's sporting organization is more than just a solution to shield your student-athletes from less-than-ideal weather conditions - it's also a point of pride.
TentCraft can design a custom tent that matches your school's branding, and one that looks MUCH better than your crosstown rival's tent.
We're pretty competitive over here, too, and would bet we can turn around your custom team tent faster than any other company in the tent industry. Our typical turnaround time is 3-5 days.
We accept purchase orders!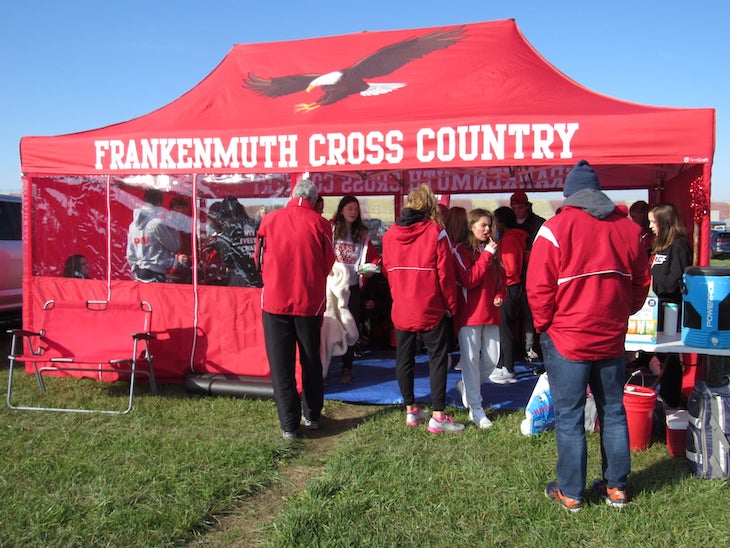 Track & Field and Cross Country Team Tents
More than any other sport, high school and college track and field and cross country teams rely on a quality custom canopy tent to protect athletes not just from wind, rain, and snow, but also from the sun's energy-draining rays on a hot day.
We've helped countless track and cross country teams design a custom-printed canopy that easily travels on the bus everywhere from a local meet all the way to the state finals.
TentCraft's American-made quality gives track coaches the confidence to have their student-athletes transport and set up their custom tent without worrying about it becoming broken.
And in the rare event that happens, our heavy-duty frames are backed by a lifetime warranty.
Learn More: Custom Track & Field and Cross Country Tents
Protection Your Team Deserves
TentCraft knows a thing or two about how to build a custom pop-up canopy that can stand up to tough weather. That's because we control the entire manufacturing process in the good ol' U.S. of A — and we have an in-house team of engineers who nitpick every little detail of our custom structures to ensure they last a REALLY long time.
Our heavy-duty MONARCHTENT frames come with certified wind ratings that start at 35 mph when properly ballasted. That wind rating is issued by a professional, third-party engineering firm and is backed up by a lifetime frame warranty.
For sports that routinely compete in unpredictable weather conditions, like track and cross country, we can add on walls, doors, and clear windows to your tent to keep your athletes warm and protected from the elements.
Your Team's Custom Printed Canopy Made to Perfection
School pride is important and TentCraft is here to create a tent that matches your school's colors and branding to a tee.
Our dedicated print and art teams are here to match your organization's colors to the canopy and help you incorporate a high-resolution graphic of your team's mascot and even some text on the valance.
Not sure what your canopy tent should look like? Our art team is here to help. Ask your sales representative for an "artist choice" tent and watch our magician artists create something that really stands out in a sea of tents.
More importantly, our printing technology holds for the long term. We use the dye-sublimation printing technique, which means the ink becomes part of the canopy fabric, so you don't have to worry about peeling or cracking down the line.
Your tent's design goes beyond what's printed on the canopy. You also need to decide on a size and layout. Most teams go with a 10x10 or 10x15, but larger teams can be accommodated with a number of sizes. You can also configure the layout of your tent with custom-printed back wall and sidewall options.
Custom Flags & Accessories
Do you really want to stand out at your next athletic competition? Complement your tent with a custom flag and banners. Our lineup of event flags includes custom feather flags, rectangle flags, teardrop flags, shark fin flags, and wind dancer flags. And all heavy-duty MONARCHTENTS include a free custom-printed peak flag or peak banner.
All flags can be completely customized with your school's branding. We print any color single-sided or double-sided.
Sporting Event Tents for Volunteer Workers
Those critical volunteers who help organize and put on sporting events also need protection and a branded presence.
At track meets, for example, many schools invest in a smaller pop-up tent, like a 5x5, for race check-ins, and then 10x10 for the timing crew. At a football game, boosters may set up a concession stand underneath a branded tent. And at a golf tournament, organizers may set up hydration stations throughout the course. (We also sell a custom table cover to really help you stand out!)
TentCraft is here to help those volunteers stay comfortable as they contribute to the success of youth sports.
Designing Custom Sports Team Tents
The true beauty of a custom team tent is that your tent doesn't exist today - and it's not collecting dust on a shelf in a warehouse. TentCraft follows a build-to-order business model, which allows us to cut down on waste and deliver your custom project in record time.
The process starts with a phone call to determine the size and configuration of your tent. The more information you can provide on your use case, the easier it is for our team of tent experts to come up with the perfect solution.
Next up is designing your tent. Most teams have a general idea of what they want their tent to look like and send us their artwork, but others consult our in-house art team to come up with a spectacular design. Our team is more than capable of creating an artist choice custom printed canopy tent for your sports team or working with you to execute your vision to perfection.
Once that's decided, our production team starts handcrafting your tent and typically turns around the project in 3-5 business days. We then ship it out to anywhere in the country.
Ready to design your team tent? Request a quote today and let's chat!
Team Tent Reviews
TentCraft offers the best customer service in the industry, but don't take our word for it! Read our nearly
800 5-star reviews
, many of which rave about our customer service.
Learn More: Athletic Team Tents