This weekend marks the celebration of "the most exciting two minutes in sports." That's right, folks—the Run for the Roses! The 140th Annual Kentucky Derby is upon us. If you aren't big into horse racing—or sports in general—do not worry. I have plenty of reasons as to why you should be psyched about the upcoming weekend (Seriously—I really do).
Let's start with a little background to help prove my point here. A huge part of my family is from Southwest Ohio—a little town called Cincinnati—right across the Ohio River from the good ol' state of Kentucky (a mere 1 hour 39-minute drive to Churchill Downs)
Growing up, the Kentucky Derby was always a big deal. My grandfather had all of the collector's edition commemorative glasses—most of which were passed down from his parents. Best of all, we would get to pick out our own hats to wear while we watched the race on TV. Needless to say, a full day with the family cheering on the horses wearing wild hats is why the Kentucky Derby is my favorite time of year. Now it's time to convince you to take an interest in this wonderful even. While there are numerous reasons as to why I think you—yes, YOU—should be taking a solid interest in this event, I shall begin with just three:
The Food. Unless you've already experienced a Derby party, I guarantee you have not had food this good. Forget the "Lady Fingers" and everything else that reminds you of the boring cucumber sandwiches. I'm talkin' pulled BBQ chicken, spinach balls, (yes, they are exactly what they sound like but don't worry, there is enough butter in there to make you forget all about the Spinach) and my all-time favorite—the Hanky Panks. Ridiculous name but absolutely frickin' delicious. Think cheesy sausage on a teeny tiny piece of toast. Not a big food fan? You're crazy?! Well, then try my next point.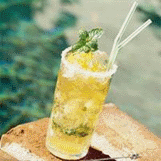 The Drinks. Alright, so food might not be your thing. I don't get it, but to each their own I suppose. As an alternative, I offer you (cue trumpets) The Mint Julep. A perfectly delicious blend of Powdered Sugar, Mint, and Bourbon—maybe a little more Bourbon than mint. One word: Scrumtrulescent (Will Ferrell, Inside the Actors Studio, anyone?). Since the recipe of my Great Grandmother was passed down to me, I've become quite confident in my bartending skills when it comes to this potent potable (Jeopardy, anyone?). The Kentucky Derby has a signature drink. How flippin' cool is that?! And how about the presentation? That alone should sell it. Yet, I do suppose that it's possible that you may not like Bourbon. Fine—check out the third and final sell below. This is a big one, folks.
The Hats. Seriously, guys—the Hats (I know you've been waiting for more hat talk). Short of the Royal Wedding, the Kentucky Derby has the single best "hat watching" that you'll ever find. It—is—hilarious. You get them in all shapes, colors and best of all—SIZES. There are some big ones out there. For example, one year I saw a lady wearing a hat so big, you literally could not see the top half of her body. So If you aren't into the race, the food or the drinks—PLEASE (I'm begging you), PLEASE watch for the hats. This is for you too, gents. Just look at this photographic evidence. The Ladies at the Kentucky Derby are not the only hat enthusiasts! These hats are—amazing!
So now that I've sold you on watching the Derby (the ratings will clearly be higher this year than any other because of this post), I hope that you'll be all in when watching the event. I mean, it's two minutes long (Official post time is 6:24 PM, EST on NBC). And—if by chance you find yourself "hat watching" during your own Derby party, keep in mind that TentCraft is also an innovator when it comes to designing fashionable items that provide shade. You might even call our
MasterTent,High Peak Frame Tent & Gybe Inflatable Tent the Triple Crown (see what I did there?)
So Happy Derby Day everyone! Enjoy this upcoming weekend with friends and family—and if you do partake in the Mint Juleps, please do so responsibly. I know I will. The Hanky Panks, however, are another story.